ASSOCIATES (2013, March, v. 19, no. 3)
Feature
News from Canada
Karen Hildebrandt
Member-at-Large, CLA Executive Council
karen.hildebrandt@concordia.ab.ca

The CLA Executive Council (EC) had their first meeting of the year in Ottawa February 3-5.
Following up on a member survey regarding the impact of budget cuts to Library and Archives Canada (LAC) and federal libraries, the EC met with two senior staff members of LAC. Both parties agreed to schedule regular bi-lateral meetings to continue discussion and the next meeting is planned to take place prior to the CLA National Conference at the end of May.
We also held a "Hill Day" as part of our meeting following on the success of the "CLA on the Hill" initiative from the 2012 CLA National Conference in Ottawa. Our day started with breakfast at the Parliamentary restaurant with MP Merv Tweed. We took the opportunity to thank Mr. Tweed for his support and persistence with his private members bill on the Library Book Rate. This bill allows libraries to ship materials across Canada, including rural and remote areas, at a fraction of the cost that regular postage would cost and it allows for more equitable access of materials for all Canadians.
After the breakfast meeting we broke into groups of two and met with a total of 16 MPs and key staff to thank them for their work in supporting the Copyright Legislation as well as the Library Book Rate. We also expressed our concern to the funding cuts that impact LAC and how that affects equitable access of our archival collection.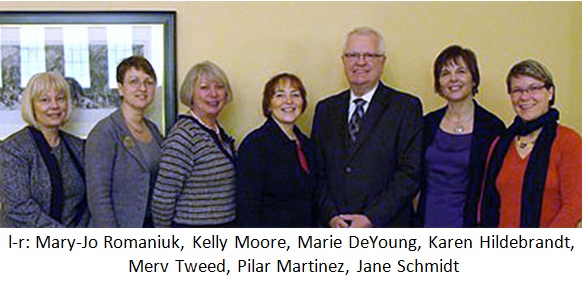 The EC will be meeting regularly via teleconferencing and our next face-to-face meeting will take place immediately prior to our Conference in Winnipeg.
882 views