ASSOCIATES (2013, July, v. 20, no. 1)
Spotlight
JP Pendleton, Auburn, Alabama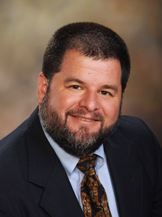 Head of Circulation and Reserve Department
Ralph Brown Draughon Library
Auburn University
pendlaj@auburn.edu

Where do you work and what do you do?
I work at Auburn University Libraries on the campus of Auburn University. I am currently the Head of the Circulation and Reserve Department.
How did you get involved in library work?
I worked for a year and so at 'Books a Million' and enjoyed working around books and people. A job opening was posted for Auburn University Libraries. It had better benefits and hours so I thought it was perfect fit for me, so I applied. The rest is history.
Describe Support Staff activities in your area
My department's main responsibility is to create a culture where a highly motivated staff offers a high level of professional customer service to all Library patrons, both internal and external. The department is composed of Circulation/Reserve unit, Continuing resources / Stacks Maintenance unit and a Financial Unit. Our basic function is to provide access to the general collections of the RBD (Ralph Brown Draughon) Library by circulating materials to eligible patrons. We also provide directional information to patrons and pick up and reshelve discharged items and materials not in their proper place. We also maintain order in the stacks and shelve current periodicals. One of the unique areas in the department is the Continuing resources / Stacks Maintenance unit. They handle all missing / traces, withdrawn materials and cataloging and inventory issues in library. Circulation and Reserve Department currently has a staff of nine and 45 students and we are a 24/5 library.
Final Comments
I am very happy with my position and the service that I provide to the Library and the Auburn University Community. I am very lucky to work in a library where support staff plays a major role and is asked for input on a continual basis.
831 views