ASSOCIATES (2013, July, v. 20, no. 1)
Feature
Looking Back While Looking Forward!
Jim Jackson
Law Library Supervisor
Law Library,
University of Exeter
J.G.Jackson@exeter.ac.uk

On the 9th April 2013 there was a quietly momentous event when the last meeting of the Affiliated Members National committee took place in London at the CILIP (Chartered Institute of Library and Information Professionals) HQ.
I say quietly momentous as this was not your average meeting where something is ending because no one cares any more or its purpose has been too difficult to continue. On this occasion it's because the original concept and purpose of the committee has been achieved and as a result the members are moving on.
Twenty Two years ago the then Library Association opened its doors and its membership to Library Assistants with a view to allowing them to join a professional organisation, which encouraged their staff development, and wanted them to help promote libraries and their resources. Central to this was the need to promote the skills and good practice used by library assistants, who felt, and perhaps still do, that their skills were unappreciated by so many – but at the same time used by so many!
In the space of one article it's not really possible to talk about all that the committee and the Group have achieved, worked for, had a good time doing and generally carrying out the original mission statement – but here's a personal view of how it all went and where it might go in the future.
I guess one of the really big events for 'us' (us being the Affiliates) was the Book IT project of 2000. We wanted to promote not only the new century but also the fact that libraries provide a wealth of information in a variety of formats. Also those libraries could cooperate and share not only access to resources, but also best practice for staff training. How could we do this? The project started back in 1999 and took nearly 12 months to prepare and more importantly encourage libraries to commit to a central theme and to allow staff to design how their library could be part of this global event. The 24th June 2000 was mid summers day and the event was to be centred on Shakespeare's play, A Midsummer Night's Dream. Each Library taking part would promote its resources in relation to this: book, video, play reading or storytelling. There were so many difficulties to overcome but rather than use space here have a look at http://associates.ucr.edu/jim1100.html. (1)
In the end over 86 libraries around the world took part in the event, bringing valuable news coverage from the BBC (British Broadcasting Corporation) and other news organisations.
The Affiliates Committee were there when the Library Association became The Chartered Institute of Library and Information Professionals and attended the launch party for the new organisation.
After this the Affiliates started to contribute to the CILIP Umbrella bi-annual conference organising seminars which related directly to library front line staff.
These proved to be appreciated and attendance at these seminars was always good. The Umbrella conference is a huge event where thousands of library staff gather to meet, discuss new ideas and come away energised with new strength to return to their own libraries. My memories of my first such event are remembered at http://associates.ucr.edu/crja1103.htm in Manchester 2003. (2)
These seminars/events which we organised, often in conjunction with other CILIP groups, were a huge success not only for the people organising them but for the group as a whole. To cover the costs associated with these events we needed to provide a program that was relevant and worthwhile! Each time we did, we always covered our costs and received good feedback. Most of all it was great fun even if it was a bit stressful.
The Affiliates National Committee was invited to contribute to the first meetings held by CILIP on what was to be called the Framework of Qualifications.
I was pleased to be invited to remain on the Board for the period of time that discussions took place. This introduced Certification, Chartership and Fellowship as a seamless flow of progression along the Qualifications pathway in CILIP. Karen Newton, Muriel Mitchell and myself were the first people to embark on the Certification pathway, we submitted our completed portfolio's in time for the 2005 Umbrella conference in Manchester. I was the first person to be awarded this, closely followed by Karen and Muriel.
This was a truly memorable occasion and one I think we were all justly proud. However the committee did not stop there and continued with other ideas to try and bring ordinary front of service staff into CILIP more fully. So we started discussions on how we could obtain full membership rights – including voting rights – for all members. In November 2008 we attended the Annual General Meeting of CILIP where the vote was passed to give all members voting rights. What is that old saying about 'one small step for a man and one giant leap for mankind'? OK, so not as big as landing on the moon, but in many ways it was. As five years previously the idea would have been impossible. We have many to thank for all the hours of discussion that took place and I hope that the work carried out will be fully recognised in the future. Refer http://associates.ucr.edu/journal/?page_id=237. (3)
Following on from this it soon became clear to the few remaining members that in many ways the committee had achieved all it had set out to do, all those years ago. The whole membership was consulted on what was wanted next and was anyone prepared to step up to take over the committee. At that time of course there was the financial crash around the world, and libraries and library staff became the target for budget cuts and layoffs. This is still the case in so many places around the world in general not only in the UK. The response from members was that they could not find another project for the committee to undertake in the current climate.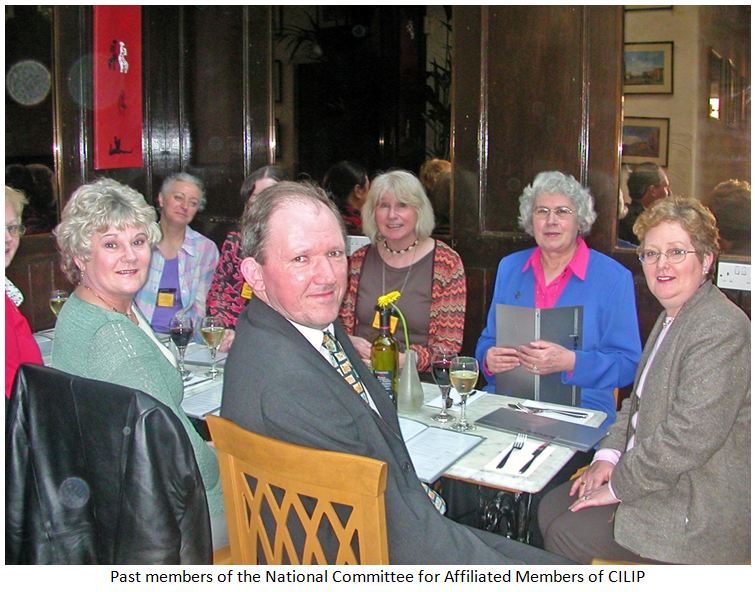 Rather than just give up it was decided that this would be a good time to discuss with CILIP changes to the membership styles of the organisation. If Affiliates had achieved its aims why was there a separate category for them? This became part of a wide ranging review of CILIP, which in many ways is still ongoing. There are now plans to have a simplified membership structure within CILIP and in due course you will apply for membership. Within that membership you can seek to obtain, Certification, Chartership or Fellowship depending on your career progression.
So in many ways this is good bye – and HELLO and welcome to YOUR organisation of which you can be fully part of – thanks to the work of the past and present members of the National Committee for Affiliated Members of CILIP.
References:
1. Jackson, J 'Where were you?' Associates: The Electronic Support Staff Journal, Vol. 7 no. 2, November 2000.
2. Jackson, J. 'Umbrella' The CILIP Conference Report 2003 Associates: The Electronic Support Staff Journal Vol. 10, no 2, 2003.
3. Jackson, J. 'The right to vote' Associates: The Electronic Support Staff Journal Vol. 15, no. 2, 2008.
An edited version of this article was originally published in the CILIP, 'Update' magazine in June 2013.
888 views