ASSOCIATES (2013, July, v. 20, no. 1)
Column
Be It Ever So Humble…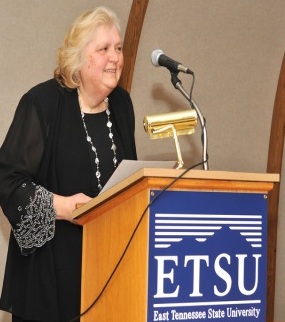 Sue Knoche
Medical Library Assistant
ETSU Quillen College of Medicine Library, Johnson City, TN
Knoches@mail.etsu.edu

Are we there yet? So goes a common expression by traveling companions who are anxiously awaiting the final destination, or maybe this phrase could be heard on the "I think I can, I know I can…" train? Have we all pushed ourselves and stressed out if we are doing all we can, to be the best we can be? How do you know you have arrived at a place in your life or career where you get a sense of satisfaction and joy? Sometimes with a sparing dose of common sense, practical ideas, or supplies we can be proud of our accomplishments and feel worthy of praise and a thank you. Yes, I am referring to being nominated by your colleagues or boss for accomplishments and awards with the accolades that generally accompany those nominations.
Awards are generally based on outstanding service or merit either in the workplace, library, community or organization and each recipient selected must meet specific criteria, which generally includes being a respected individual. In some instances a shiny plaque may be provided along with perhaps a stipend. Sometimes the award is presented at a reception. The feeling of being "proud as proud can be" is priceless. On the other side of the coin, some do not seek out an award as a symbol of recognition or validation because they are content with the wonderful feeling of accomplishment as they help others and make a difference in someone's life.
I was recently named East Tennessee State University Staff Woman of the Year 2013. This prestigious award with one previous recipient had many other impressive nominees. While I basked in the warmth of comments such as 'you soared above the rest,' I felt humbled and honored to have been nominated and selected. I was so pleased to have my colleagues present at the reception along with the other nominees, who were asked to stand and be recognized for their outstanding work. Each nominee was presented with a copy of their nominating materials in the event they were not informed of who the nominator was or what wonderful things were said about them.
In my opinion, awards sometimes define who we are or what we do. I think everyone would like to be acknowledged and recognized as the caring, intelligent, compassionate human beings we are. Sometimes all it takes is a simple piece of wood turned into a beautiful plaque or a shiny trophy to make one feel special, humbled, honored, and encouraged to continue to strive for excellence.
848 views