ASSOCIATES (2008, July, v. 15, no. 1)
Review
New Ergonomic Mousing Tool
RollerMouse
Contour Design, Inc.
http://www.contourdesign.com
Review by
Nancy Anderson
Member of the Wisconsin Library Association Support Staff Section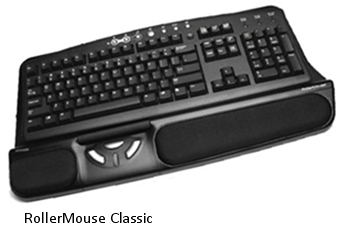 Two months ago I was introduced to the RollerMouse Classic manufactured by Contour Design. My job position as a government document cataloger requires computer work for the major part of my work day.
My supervisor is efficient at creating macros and programming keys to do the cataloging work; but I am not. I had changed from the normal mouse to the roller ball kind and found that did relieve a lot of strain but now I have both the roller ball palm mouse and the keyboard enhancement RollerMouse Pro. This allows me to switch off and the new version of the keyboard enhancement has larger buttons so I became easily adaptable to using both my right and left hands especially when scrolling through bib records, web sites, holding records, and more!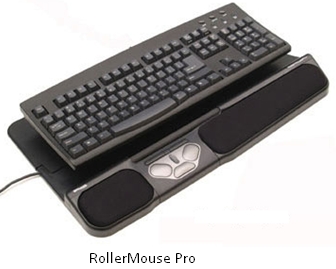 My supervisor found the reach to the regular keyboard a little cumbersome. The roller mouse attachment is about the size of a full width wrist rest. For someone of my stature it allows me to rest my elbows on my chair arms and use the keyboard for typing and mousing in a comfortable fashion. I was lucky to be able to try out a version before asking for one to be purchased for my work station.
This equipment is just shy of $200. I know I am fortunate that my library director is considerate of the staff and their ergonomic requests. Take a look at the website: http://www.contourdesign.com. This may be the answer to that carpal tunnel or forearm stress that you have been looking for!
1,006 views