ASSOCIATES (2013, November, v. 20, no. 2)
Spotlight
Jeff Cross, New South Wales, Australia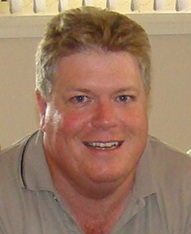 Illawarra TAFE, New South Wales, Australia
Why did you decide to work in libraries?
All of my adult life I have been addicted to learning, if I wasn't studying it was my desire to answer the unending question 'Why'. I love to watch documentaries and read books that are about anything, but I do have a fondness for the sciences, space (the outer type), history, geology (about earth mainly), and advances made by mankind. I am also somewhat addicted to new technology, not that I have to own it, but more to understand how it works, often pulling it apart and occasionally fixing it. Above all of this I love to help others learn and whilst I have some limited teaching experience, I really enjoy taking people on the journey to find out things for themselves. I also have started writing books, not published, but still dabbling. I have had a varied work life and now I feel it is the right time to pursue the passions I enjoy, and libraries are by and large the best fit for me.
What sort of library would you like to work in?
It is hard to say which I would like more as I have had experience at schools, public and university. I enjoyed them all as they all have different challenges, however I think I would like to work in universities as a first choice, but would not be disappointed with any of the alternatives. Having not had a full time position as yet I maybe be biased by experiences, and so I am open to any and all.
Of all the roles in a library which one/s would you like to specialize in?
Would absolutely love to be a research librarian, I think it is the best place to satisfy my two favourite passions, learning and helping people.
During your library training has there been any surprises or unexpected aspects of the job you have discovered?
The only real thing I guess has been a slight surprise is the amount of work that goes on behind the front counter. Most people see the circulation desk and think that the library begins and ends there, and looking from their perspective I can understand why they think that is the case. It is however supported by many other activities which all create the seamless library experience that most people enjoy. The available help for students is often misunderstood, I have come to realise that libraries are underutilised by students who could get the best help if they knew what the library staff already know, 'How to make the library work for you'. And also the myriad of resources that are available free, online and from your home pc, if you have a library card and a password.
Final comments.
I didn't realise the value that libraries are and give to their respective communities. It was only in watching my wife (a library technician) work and help others to learn, and in turn relay these experiences to me, that I realised what a valuable commodity libraries are. I look forward to the challenges that face the libraries of tomorrow as I realise that they are not a disappearing entity as some might think, but a community friendly organisation that is and will continue to morph into whatever the community needs it to become. Libraries aren't disappearing they are just getting better at what they do.
1,017 views