ASSOCIATES (2013, November, v. 20, no. 2)
Spotlight
Tim Yale, Ontario, Canada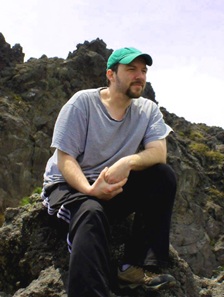 Algonquin College, Ontario, Canada
Why did you decide to work in libraries?
I worked for many years as an ESL (English Second Language) instructor in Eastern Europe, as well as South America and have always encouraged my students to expand their language skills through reading. I have always been an avid reader and reading has been a key part of language learning for me (I speak Russian, Spanish and French). After returning to Canada I was thinking about a career change. After of survey of local professional programs, the Library and Information Technician program at Algonquin College really stood out for its practical approach. I have always loved libraries and my background in education and languages seemed a good compliment to a library career.
What sort of library would you like to work in?
I would enjoy working in some kind of specialist library. My reading habits are very 'non-fiction' and the idea of providing access to specialist resources for research purposes is very appealing.
Of all the roles in a library which one/s would you like to specialize in?
Cataloguing/subject access/metadata are areas that I am keenly interested in. I have been the victim of bad catalogues and poorly designed user interfaces so I understand how important they are.
During your library training has there been any surprises or unexpected aspects of the job you have discovered?
The surprise has been that I like cataloging and that by library standards I'm an extrovert! Like most bookish types I prefer quiet evenings at home curled up with a good tome but it turns out that the ability to speak in public makes you an outlier in library circles.
Final comments.
I'd just like to add that honestly these are trying times for library students. Jobs can be scarce and expectations of what we can do a very high. I know that in my program the breadth of experience and other skills is very high but the path to employment is still very complicated. I can't speak to people's experiences in other countries but here in Canada hiring practices and terms of employment are changing drastically (contract vs. Full-time/ hourly vs. salary, etc). That's not to be too pessimistic but I hope that employers and library managers out there really understand what lengths new graduates are going to in order to enter the field and that they appreciate and nurture these efforts.
883 views