ASSOCIATES (2013, November, v. 20, no. 2)
Spotlight
Kylie Rose, New South Wales, Australia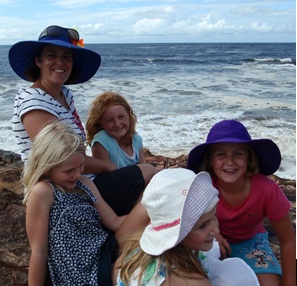 Illawarra TAFE, New South Wales, Australia
Why did you decide to work in libraries?
Up until recently I have always worked in disability care or child care. I spent 5 years taking my 4 young children to work with me and when my youngest was approaching school age I realised I could do more for myself, at least during school hours. Libraries had always appealed to me. I love books and I love technology. I liked that I'd still be helping people. It seems funny to say now but I imagined a quiet organized environment which was two things that hadn't existed in my life since having children.
What sort of library would you like to work in?
I especially like the public library system and I think I would most enjoy working in an environment that engaged the community in creative endeavours and supported social groups, particularly for teens. I love the concept of having a teen space.
Of all the roles in a library which one/s would you like to specialize in?
I would like to master the art of cataloguing. It appeals to my need for organization and I like that it requires precision, there is no interpretation, it just is how it is and there are plenty of rules to guide you.
During your library training has there been any surprises or unexpected aspects of the job you have discovered?
I find all technologies fascinating and I have been amazed at what's out there. I've read Women's Weekly from 1940's and discovered a photo of my great grandfather. I was completely blown away by the Lifelines multi touch table in the National library of New Zealand and I could not have completed my Diploma without the wonderful world of MOODLE (online education program) and of course the brilliant teachers.
Final comments.
My advice to anyone who is looking for a career in libraries is get down to your local branch and volunteer. I volunteered at my local library while I was studying and it really helped to see things in action and be able to ask questions as they occurred to me rather than later when the context was lost.
847 views