ASSOCIATES (2013, November, v. 20, no. 2)
Spotlight
Patricia Langille, Nova Scotia, Canada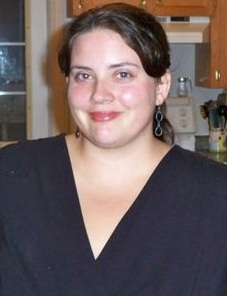 Nova Scotia Community College, Nova Scotia, Canada
Why did you decide to work in libraries?
After I finished my M.A. in English Literature, I found myself at a crossroads. The expectation was that I would continue on in my field and pursue another advanced degree, but I was tired of spending all my time working on large conceptual projects and was craving a change. I spent some time working in retail and as a tutor, but I knew I wanted something more. I was looking through the NSCC catalogue one day and saw the description of their Library and Information Technology program, and it just felt like a perfect fit. I started classes the next semester and I have not looked back since.
What sort of library would you like to work in?
One of the things I like best about my program is that we spend a lot of time talking about different sorts of libraries and the skills that would enable us to succeed in that environment. The instructors are really great at helping students identify the kind of library that would be the "best fit," and at the end of the program they arrange a work term based on our preferences and abilities.
Based on what I have learned about these different kinds of libraries, I have decided that I really want to work in an academic or special library. I have considerable experience using academic libraries and feel quite comfortable in that environment, but I also think my skills would transfer very nicely to any other library that focuses on specialized research as well.
Of all the roles in a library which one/s would you like to specialize in?
I would like to work in some kind of Information Services role. I have always enjoyed the research process, and I feel really passionate about conducting good research and teaching others how to find appropriate resources. Locating just the right book or journal article is really satisfying, and it is something I could see myself doing for a long time. I also enjoy cataloguing, with all the rules and structure, so I could see myself working in a cataloguing department as well.
During your library training has there been any surprises or unexpected aspects of the job you have discovered?
I think I had bought into the stereotype that libraries were pretty serious and research focused institutions, so I was really surprised to find out just how important customer service and people skills are. Now that I understand how different kinds of libraries function, it makes perfect sense of course. However, I think it is one aspect of the job that many people do not consider, and I now find myself telling everyone that gaining customer service experience is invaluable for anyone interested in working in the field.
Final comments.
When people learn about my academic background, they are usually very surprised to find that I decided to complete a technician's diploma rather than a MLIS, and I always find myself having to justify my choice. However, I think deciding to take this course is one of the best decisions that I have ever made.
Graduate school does a really great job of developing your research and critical thinking abilities, but I always felt as if I needed to have more skills that I could use outside of the academy. The course at the NSCC has given me so many practical and transferable skills, such as multimedia experience and website design, and I feel much more confident in my ability to actually perform in the job market.
The library job market is competitive, and I firmly believe that developing my skills on the job site will be a great way for me to find my career path and become a successful library employee. My mother always told me that you "have to pay your dues" and work your way up through the system, so I think approaching a library career from a practical point of view just made sense. I am sure that I will further my education some day and obtain the MLIS; however, until that time I look forward to being part of a dynamic and cohesive team that works together and provides great library service, regardless of educational backgrounds or titles.
860 views