ASSOCIATES (2013, November, v. 20, no. 2)
Feature
Touro Law School Gets 'Psyched' About Fall Cleanup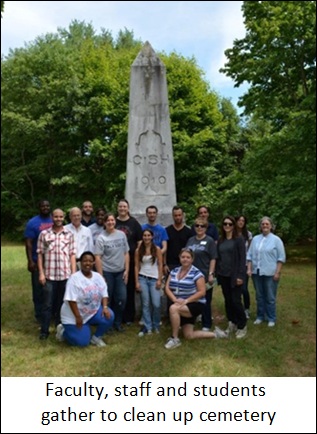 Kimberly Barbato
Six years ago, Touro Law School relocated from its campus in Huntington, New York to its current place in Central Islip. This major transition in the history of the law school meant not only changing physical locations but expanding the vision and mission of the school, thereby affecting and making a difference in the local communities of Long Island.
One such example of influence involved the adjacent cemetery of the former Central Islip Psychiatric Center, a potter's field sitting abandoned and forgotten since the closure of the hospital in 1996. Lying just to the south of Touro Law School, one would never know its existence; its serene fields hidden behind a curtain of overgrowth.
Enter Kenneth Rosenblum, Touro Law School's Associate Dean. Upon exploration of Touro's new surroundings, he discovered the unkempt potter's field – and it wasn't until he accidentally stumbled on a lawn-level marker bearing only a number that he realized he was walking on graves.
Due to years of neglect, the cemetery had fallen into poor condition. A significant portion of the headstones had been covered in earth and debris, some broken in pieces. Garbage and overgrown vines and shrubs were strewn about in a tangled mess. Entire trees were down. It's hard to believe that this is the final resting place of African American artist William Henry Johnson and controversial author and feminist Edna Gertrude Beasley.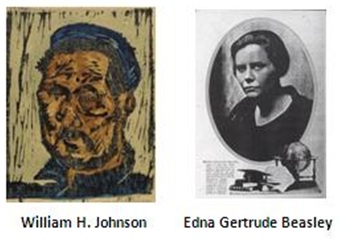 The state of the Jewish section of the cemetery was hardly any better. The worn-out gates bearing a Star of David emblem on each side had rusted over amongst the overgrown bushes. A few headstones were found underneath a tree stump. There are still graves yet to be found. At this time there are 530 graves, only 93 of which bear the names of the deceased. In life these people suffered; some of them were victims of the Holocaust. In life, they bore a number tattooed on their arm and in death they would continue to bear a number. Moved by this thought, Dean Rosenblum, along with Touro staff, students, faculty and members of the Jewish community, began an initiative to clean up and repair the cemetery. After six years, Touro was allowed full access by New York State to this cemetery.
This year, Touro decided to designate part of the cemetery cleanup as a first-year student orientation community service project. Staff and faculty were invited to join in, including members of the library and yours truly.

Over the following weeks and multiple trips to the cemetery, the mess began to clear: headstones were found, mapped, and made visible again, fallen limbs and trash removed, the grass was cut, shrubs trimmed back to a more manageable level, leaves raked and gathered. A memorial service was recently held in memory of those interred there, along with a burial of religious Jewish texts that were damaged beyond repair during Hurricane Sandy.
Plans are currently underway to install a new wrought iron fence, gate, sign, park benches around the perimeter, and new landscaping. This community service project is just one of many examples of the ways in which Touro Law School has affected Central Islip and made a difference in many Long Island communities.
For more information on this project, please visit our website at www.tourolaw.edu. You can also email Kimberly Barbato at kbarbato@tourolaw.edu.
1,036 views