ASSOCIATES (2013, November, v. 20, no. 2)
Spotlight
Kate Culver, Georgia, USA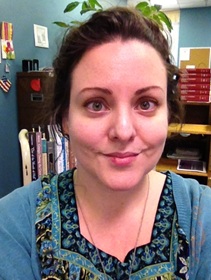 Georgia Perimeter College
Clarkson, GA
Reese Library
Georgia Regents University
Augusta, GA

Why did you decide to work in libraries?
I come from a military family and we moved around quite a bit when I was young. Every eighteen months, I was introduced to a new place, a new home, a new school, and hopefully new friends. With so many factors always in a state of transition, you need some constant to cling to in order to have a positive adjustment. My constant was the library. Without fail, no matter what part of the world we lived in, my mother would take me to the library on Saturday afternoons. This weekly ritual helped us both. Although all libraries are different, they carry many of the same books and authors. This familiarity was comforting. Libraries have always been a place I regard with high esteem and affection.
After many stops and starts in various career paths, including working for several years in a bookstore, I returned to the familiar and applied for a position at my local library. After eight years, I have yet to regret that decision. I work with wonderful, interesting people. I serve my community and university. I feel like I am contributing, in some small way, to someone else's constant.
What sort of library would you like to work in?
Because of my positive experiences in my youth, a part of me wants to work in a public library with children or young adults. Building a lifelong association with libraries is best begun with the young. However, working in an academic library also appeals to me. At universities, people are discovering new ways of thinking, learning about the world, and preparing for the future. There is something very exciting and appealing about contributing to the education and research of college students. Academic libraries are where people recognize the library as a tool, more than just a place of enjoyable escapism. Honestly, I think I could find happiness in any library environment.
Of all the roles in a library which one/s would you like to specialize in?
I enjoy the physical handling of books. I think ordering, cataloging, and mending books best suits my personality. I can find my zen in shelving books. Even with reference, I think my joy is in placing the appropriate book into a patron's hands. So, perhaps technical service/content management is where I'd like to focus most of my skills.
During your library training has there been any surprises or unexpected aspects of the job you have discovered?
I think the most surprising thing was how pigeon-holed we can become. It is too easy to stop seeing the library as a whole connected entity, and only see your small part in it. The additional coursework helped me discover different parts of the library. You just don't realize all that a department does, and how important it is to the total function of the library, until you work in it. I gained a new respect for my co-workers once I understood what it was they actually do. Also, the additional training removed some of the mystery, but not the majesty, of the daily operations by explaining the purpose behind why we do the things we do.
Final comments.
I recommend additional library training for everyone who works, or would like to work, in libraries. I encourage cross-training between departments. The library offers so many different types of services, that without additional exposure, you can miss the overall picture. Libraries are wonderful magical places with knowledgeable and interesting people working in them. You may not discover your niche unless you learn about them all.
I began my library career in Reference Services. After a few years, I had the opportunity to learn cataloging. Even though I had Technical services experience, I learned so much about acquisitions and serials through my additional coursework. The Access services department was a completely undiscovered world. With my Access services class, I was able to appreciate all that they do in that department and truly understand how essential they are as the 'face' of the library. My coursework benefitted me greatly when the opportunity arose for me to cross-train in that department. I have found the LSSC (Library Support Staff Certification) to be an invaluable asset in encouraging candidates, like me, to receive a deeper understanding of library operations and interconnectivity. It has also made me a more well-rounded and knowledgeable employee.
819 views