ASSOCIATES (2013, November, v. 20, no. 2)
Spotlight
Ros Jennings, Exeter, Devon, England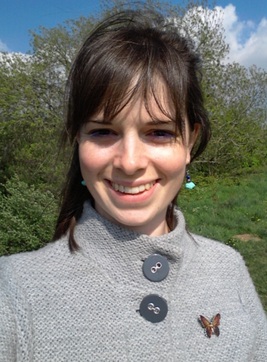 Information Assistant
University of Exeter
Where do you work and what do you do?
I work as an Information Assistant at the University of Exeter in the south-west of England. I work in the Forum Library and one of the site libraries called Research Commons. The Forum Library is the main library on campus and gets extremely busy especially working on the enquiry desk. This library had a major refurbishment a few years ago which updated and expanded the original building and connected it with the Forum building, bringing together all the student services under one roof. This has made the library more popular as it is now so central to where students need to be on campus, so it is a lot more convenient and useful for them. The Research Common Library houses the older and lesser used material as well as the Special Collections and the Bill Douglas Cinema Museum.
As an Information Assistant I work as part of the customer services frontline team helping students and staff with their enquiries. As well as working on the desk and answering library emails, roving is a big part of the job, which involves answering enquiries out on the library floors and showing people how to do things such as finding a book on the shelves and using the self-issue machines.
I am also part of the Lost Books team, which investigates books that have either been lost or have been claimed returned. Each week these books are checked for and the library users are kept informed by email. If after so many searches the book is not found, the patron is given the option to pay for the replacement or provide an acceptable replacement copy. There are no two cases that are the same – I've heard it all from the book being left on the train to the book that was definitely missing and then mysteriously appears …
A big part of my role is working in the interlibrary loans team. My responsibilities include posting back ILLs, renewals, responding to email requests from other libraries to borrow our books and then processing and mailing the requests. I also receive ILL books and articles on the system when my colleague is away.
I also have other tasks I am responsible for. I order all the stationery for the libraries. Every fortnight I fill in an expenditure form with the order and send it off to purchasing and ensure that the stationery cupboard is stocked and organised. I am also in charge of keeping the 3 notice boards in the Forum Library up-to-date and presentable with various posters and information. At Research Commons, I update and input the statistics, including head counts, gate counts, enquiries and reservations and I update the opening hours on the library web pages.
How did you get involved in library work?
After finishing my A-levels and not knowing what to do next, I went travelling around New Zealand and Australia for a few months to try and find out what I wanted to do. I decided I wanted to go to university and after researching into possible courses, I was amazed that I could do a degree in librarianship which I knew would suit me because I have always had a passion for books, reading and being organised. I did my degree in Information Management at Aberystwyth University and it really showed me the opportunities that were possible in this field. As part of my degree I did a 4-week placement in a busy central public library where I worked in each of the five different departments which really showed me what working in a library was all about. After my placement, I was taken on as a casual library assistant covering when and where needed. When I finished my degree, I then got a full-time job working in a small academic library, that specialised in art, music, dance and writing. Set in beautiful grounds and with students doing performances and exhibitions all the time there was never a dull moment.
Describe Support Staff activities in your area.
I am a member of the Chartered Institute of Library and Information Professionals (CILIP), which helps me get the latest library news and developments and hear about other sectors outside of academic libraries. There are plenty of opportunities for training both onsite, which has included assertiveness and web editing and courses run by CILIP. I recently attended a CILIP conference on Marketing Libraries that allowed me to see how libraries market their services and to network with other members of the profession.
Final Comments.
I really love working in libraries and find it both fun and satisfying helping people with a variety of enquiries and showing them how to use the catalogue and then seeing them have the confidence to use it themselves.
I am currently working on CILIP Chartership, a professional accreditation which is a really useful exercise of building a portfolio of evidence to demonstrate my personal and professional development. Going through this process has shown me how much I do in my role and what I'm capable of, giving me more confidence. The process has allowed me to look at training and processes in a reflective way to see how things can be improved or done differently. I have actively taken part in activities including taking minutes and attending meetings and it has allowed me to be more open to any opportunities available to me.
750 views