ASSOCIATES (2007, November, v. 14, no. 2)
Feature
Cafes in Libraries
Karen Albury, Ida Brown, Jody Crocker, Denise L. Gamble, Sally Iverson, Peggy Johnson, Renee M. Kilduski, Joan Scott, Wilma Turetzky, Mary Ellen West
A recent trend in libraries is to provide snacks, coffee, and other drinks for the library users. Here's what the library staff say about their experiences.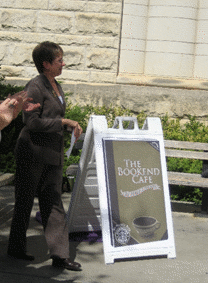 Hale Library
Kansas State University
Manhattan, KS
Right after the library renovation of Hale Library in 1995, we had a snack bar in our 24 hour student study center. No food was allowed in the library, but the 24 hour study center is within the library building without direct access to the library itself. This snack bar had salads and sandwiches, soup in the winter, snacks, and coffee. It was considered a success by the library, but the operators closed it because it didn't make enough revenue.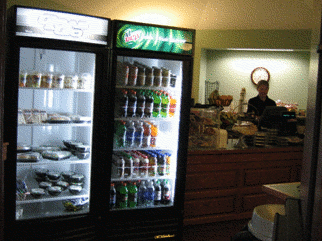 Fast forward to today. Our new cafe opened August 20th. It was placed in a small room that was originally intended for telephones when the library was renovated in the mid-90's; cell phones took care of that necessity. We had an online contest for K-State students to name the cafe. The hundreds of entries in the contest were condensed to 5 finalists. An online vote determined the name: The Bookend Cafe. The winner of the contest received an iPOD; the two runners-up received gift certificates to the Union. The new name was unveiled by our library dean, Lori Goetsch, on Sept. 27, 2007.
It will be interesting to see how this works over the school year. I enjoy having the cafe open. I usually eat in the staff lounge and bring my own lunch. Now I occasionally get my lunch from the cafe, especially their delicious soup. They offer two different kinds of soup each day for lunch. The Bookend Cafe has breakfast rolls, sandwiches, salads, and cookies in addition to the soup. Starbucks coffee is the number one beverage, but the cafe also offers juices, water, and pop. The new cafe is managed by the K-State Student Union. Here's the Union's link to information about the cafe: http://www.union.ksu.edu/bookendcafe/
The food policy has been changed within Hale Library. Previously, covered containers for drinks were allowed, but no food. That policy did not keep the food out of the library. No one was willing to be the food police.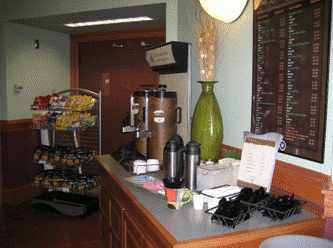 Now food and drink are allowed, but we expect our patrons to clean up after themselves. Here are some of the highlights about the policy and some of the specific points as approved by our Library Leadership Council:
The new policy has been relaxed to accommodate library users, recognizing that "being able to eat and drink while you work" allows patrons to make better use of their time. At the same time it notes the unique challenges food and drink in libraries pose and emphasizes the need for patrons to "be good stewards of your library and its collections by being responsible with library materials."
Food and drink are permitted in all areas of the Library except Special Collections/Archives on the 5th floor.
Drinks should have a secure lid to minimize spills.
If you spill or see a mess left behind, please let a staff member know right away.
Please dispose of wrappers and containers in the available trash cans.
No coffeepots or cooking appliances are allowed.
No deliveries, please.
(Photos include the interior of the Bookend Cafe and Dean Lori Goetsch at the official naming of the cafe.)
Jody Crocker
---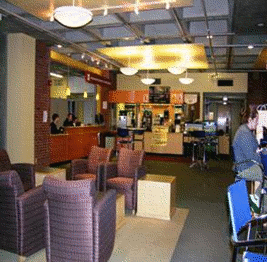 Clement C. Maxwell Library
Bridgewater State College
Bridgewater, Massachusetts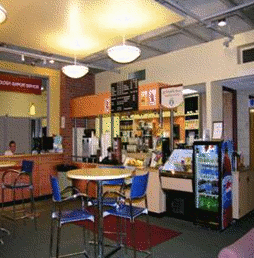 Starbucks, which has been in operation for 3 years, is located on the Ground Floor of the Library. The space was previously used as a mailroom. Also, located on the Ground Floor are the Academic Achievement Center, Graduate Education Offices, and IT Support. There are plug and play stations for laptops, small tables and stools, and soft seating available. Sodexho, the campus food vendor, maintains the café. Starbucks sells coffee, soda, water, yogurt, sandwiches, chips, and salads.
Allowing food and drink in the Library has not caused any problems. Patrons appear to be respectful and clean up after themselves.
Starbucks is open 8:00 am to 8:00 pm Monday-Thursday and 8:00 am to 2:00 pm on Fridays. They are closed Saturday, Sunday, during breaks, and for the summer. The Library is open: Monday-Thursday 7:45 am to 11:45 pm; Friday 7:45 am to 5:00 pm; Saturday 8:30 am to 4:30 pm; Sunday 12:00 pm to 11:45 pm. During midterms and finals, the Library is open until 2:00 am; however, Starbucks is not.
Starbucks is very popular with both staff and students. I enjoy having Starbucks downstairs. The location is convenient; the coffee and food are good. Unfortunately, the Library does not profit from the sale of any products. At first I was concerned that it was going to be too crowded, noisy, and messy but everything has worked just fine.
Mary Ellen West
---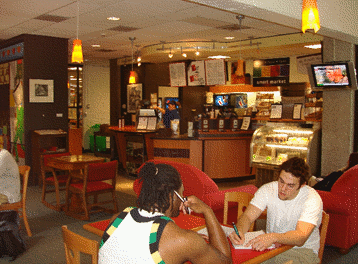 Cunningham Memorial Library
Indiana State University
Terre Haute, Indiana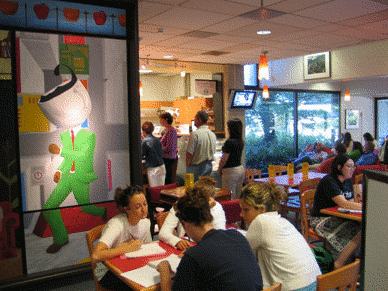 In the Cunningham Memorial Library, at Indiana State University, we have had a coffee bar in our lobby for at least three years. Previously the space where the shop is located was an unbecoming lobby with a few chairs, a vending machine, and an in-house phone. The library sponsored a contest to name the coffee shop a name that would be associated by the campus community as being the Library's coffee shop. One of the library faculty won the contest by naming the coffee shop "Cup and Chaucer Cafe'." The first coffee bar the library had was operated by a local coffee house manager in town who also had a kiosk in our student union. The library's first coffee shop was fairly successful, but the manager had problems maintaining regular hours because of staffing problems. For the past year though, the coffee shop has been operated by the University's campus food service. Since the change in management the coffee shop has maintained a dependable staff and has provided regular hours to the clientele. Many of the University's students are commuters who have a regular job and then drive directly to campus thus not having much time to eat or have time to themselves. The coffee shop is a real Godsend for these commuting students since it provides Starbucks coffee and light items to eat for a meal like salads and sandwiches. The shop is closed during the summer session but is open from 8:00 a.m. to 9:00 p.m. daily except on Sunday. Unfortunately due to budgetary reasons the coffee shop is no longer open on Sundays.
The coffee shop is wildly successful and a popular spot for both students and faculty. Daily the library staff see students using their laptops to wirelessly connect to the University's network in the café working together on assignments. Or one might see students using their laptops for entertainment during their leisure time in the cafe. But most of all it is very gratifying for the library staff to see a faculty member meeting with their students in the coffee shop for an informal class. Seeing scenarios such as these occur daily makes the library staff confident in the choice to provide and maintain a coffee shop as an integral part of the library.
Wilma Turetzky
---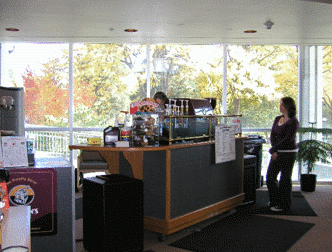 Eastern Washington University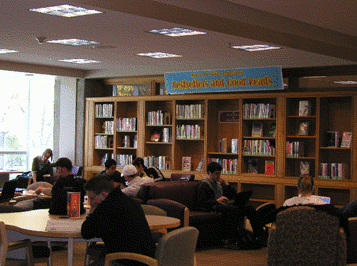 We just started a coffee bar here at the JFK library, located on the main campus, Spring Quarter of 2007. This was our initial trial period so it wasn't starting when the peak of students are attending as they are in the fall. The numbers were low, but that could be due in part to it being so new. It was closed during the summer, but opened up again this Fall Quarter. It has received good reviews. The students and staff love it! We had a library wide contest to come up with a name for the shop. The dean picked the winner. The name of our coffee shop is "Thirsty Minds." It is staffed by our university food service which has, despite the low usage, agreed to continue the service for the library. The beverage and food policy is based upon Washington's Administrative Code which states that beverages must be in spill proof containers with a secure lid and consumption of food is only permitted in the coffee/lounge area. The food/drink policy was revised to allow food and drink. Currently, besides coffee, it sells bottled juices, water, and cookies and muffins. It has a full service of flavors comparable to other espresso stands on campus and is open during the times students need access the most including some extended hours in the evening. It is open Sundays, and Monday through Friday, and is closed on Saturday.
So far the reports this Fall Quarter are that the number of coffee consumers is up slightly, but that is still a good sign that interest is increasing. We anticipate that those numbers will increase further as we get closer to mid-terms. Despite the slow start it overall has been well received and has been worth the extra effort. We have it located at the front of the library across from our circulation desk. It is located next to large windows with views overlooking the center of the campus. Previously the area was used as a social area, study area. We still have it that way, but have recently included a best seller/great read section for people to browse/read the latest titles while enjoying their coffee. We also bought special furniture with cup holders and trays for study materials. There were some concerns that the noise level would be too loud or disruptive since it is located across from the circ desk, but the latest reports from circ. are that the noise level is minimal and that it's not that noticeable until they are making coffee and the noise that makes isn't that bad. Farther down the line we will see more long-term effects and/or results. There will be additional changes made as we go along after we receive more feedback from library patrons. In a day of ever changing needs libraries are trying a variety of innovative things to meet the needs and interests of their patrons. It is a challenging and ongoing process.
Ida Brown
---
Anonymous
The coffee bar took over the space for a book shop to raise money for "Friends." It was also a much-appreciated "perk" for staff and students that was good publicity for the library (although occasionally swamped by dealers).
The coffee bar is maintained by a for-profit operator (Starbucks), presumably. Its construction was financed by the library with the foolish expectation of profit-sharing, which now appears to be unlikely do to the contract terms.
The impact on staff is that it has vastly increased the need to clean up after students who carry their purchases throughout the building. Most patrons are too lazy to walk 100 yards to another coffee shop, so they like it (or perhaps it is the feel of "being a Starbucks customer" they like). Many probably feel the coffee shop is more important than the library. The library administration changed the food and drink policy from none allowed to accommodate the shop.
The most objectionable aspect of such things is that the road to commercialization of information provision is a short, narrow, one-way, sometimes imperceptible path to dependence on profit-making, which can result in corporate control of what information is made available and when.
---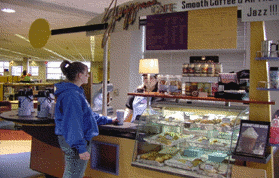 Shawnee State University
Portsmouth, OH
Our library added the Jazzman coffee bar last year and it has been very well received. It is run by the cafeteria. They make their own hours and are closed during breaks and in the summer.
The student's biggest complaint has been the prices are too high. They have extra large everything and I would like to see some normal size stuff at a cheaper price. This semester they have added salads, sandwiches and fruit or pudding cups. I think this has gone over very well. In fact, some faculty are holding classes in this area.
As for the space, the library gave them a small section on the main floor. They put in tile flooring and some soft seating, a couple tables, and we moved our current newspapers to that section. Food and beverages are allowed in that area. Only covered cups are allowed elsewhere with the exception of the vending area on the lower level. There we have tables set up so students can study and snack.
Joan Scott
---
Wilson Library
University of Minnesota Libraries
One floor above my office in Wilson Library is the Academic Blend coffee Shop. It is fabulous. I use it just about every day. Our food service was going to shut the café down for summer, but employees collectively asked to keep it open on reduced hours, so we could still access it. And it has been open for the summer – wonderful! I've used it for informal meetings several times. There are always people there.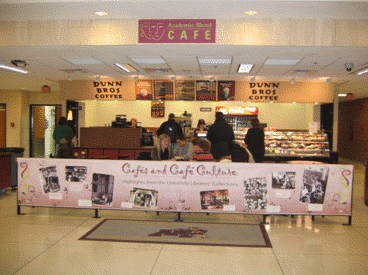 University Dining Services (UDS) runs the coffee shop. The coffee and branding for the coffee products is "Dunn Brothers" – which is a Minnesota owned company. We do have Starbucks on campus, but I enjoy supporting a more local business.
Denise L. Gamble
Our coffee shop, Academic Blend which features locally roasted coffee from Dunn Bros. opened some months ago here in Wilson Library, U of M. I love the smell of fresh coffee, very inviting, even if I'm not buying any that particular day. The pastries, salads, and fresh fruit sold there are from the University Dining Services.
It has certainly made the normally empty space in the basement an active place and I have seen several staff engaged in quick meetings there over coffee. I see lots and lots of students in line buying coffee and goodies along with many staff. (They do not make blender drinks because of the noise factor.)
I think that overall this has been a very positive addition for the libraries. I have taken advantage of the convenience of our coffee shop many times, but also, I like to support other locally-owned coffee shops that are close to campus.
Sally Iverson
The University of Minnesota Libraries has opened two coffee shops in two of our major library facilities. The Wise Owl Cafe was the first, which opened nearly two years ago, and is located in an area that had previously housed a mediated photocopy service and a few tables with public access computers — and across from a circulation service desk. The photocopy service had been closed for more than a year because of low use. The space was reconfigured and the computers retain and located along a wall. The second facility, The Academic Blend Cafe, which opened last winter, is in a basement lobby, and also went into an area then used for a mediated photocopy service. The service was retained and relocated, combining it with a circulation desk. The result of the combination was to extend access hours for the basement entrance to the library and provide a single service point for patrons on the basement level.
The coffee shops fall within the campus food service University Dining Service). This unit (UDS) staffs and maintains the coffee shops and ensures that it is kept clean. All food service operations on campus are run by UDS. UDS employees are paid the campus salary rates, which are higher than that paid in most external cafes.
Based on sales activity (provided by the campus food service), both coffee shops have high traffic. Patrons with whom I have spoken are enthusiastic. Library staff demand for summer coffee shops service hours helped the food service decide to keep to keep open the one coffee shop that was to be closed for the summer.
Our libraries permit beverages in covered containers in the libraries. Food is prohibited. We have not seen an increase in patrons seeking to eat food in the libraries. Both coffee shops have generous seating areas that patrons often use to eat food they have bought elsewhere or brought from home. This seating makes it easier for us to enforce our no food policy elsewhere the buildings.
Hours: In one building we were able to provide a secure perimeter around the coffee shops and shuts off the rest of the library. This coffee shop opens at 7:00 AM, before the library, which opens at 8:00 AM. The second coffee shop is in a library building that used to open at 7:00 AM, but we had reduced hours and were opening at 8:00 AM (because of budget constraints). With a cost-share arrange with campus food service, we were able to begin opening the entire library at 7:00 AM again. Both coffee shops close mid-afternoon, and neither is open on Saturdays or Sundays.
One of our goals was to provide an informal venue to students and faculty to meet. This has been one extremely successful outcome of the creation of the coffee shops.
Peggy Johnson
Image courtesy of University of Minnesota Libraries
---
Westerville Public Library
Westerville, OH
We had a coffee bar at the Westerville Public Library for about 6 months in 2000, but it was poorly managed by its owner and was not a financial success. When the coffee bar closed, we had patrons constantly ask us to open a new one.
In April of 2003, we forged an agreement with Starbucks. The library purchases Starbucks products and was trained by Starbucks in their methods, but we own the operation, maintaining control over the service, employees, and hours of operation.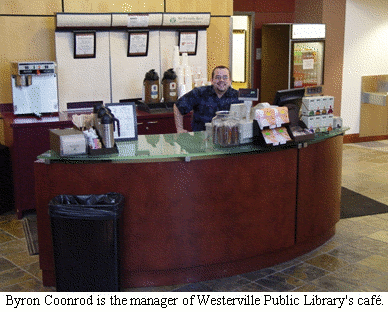 The coffee counter is staffed by one full-time and two part-time library employees. We have about a half dozen staff members from other departments who volunteered to be cross-trained to fill in at the coffee counter as needed. They fill in at lunch time or when the regular coffee counter staff are sick or on vacation.
The coffee service opens the same time as the library and closes 30 minutes before the library does.
The coffee bar is the first thing you see when you step into the library's atrium. The circulation desk is on your right; the coffee bar is straight ahead (where a seldom-used desk for volunteers used to be). The coffee bar seems to set the tone for the library—casual and welcoming.
If usage is any indication, our coffee service is quite a success. We approached the whole venture with the intention of providing a service, not as a source of revenue. We try to sell each item at a price that allows us to break even, but we often make a profit anyway. Right now we offer two flavors of coffee, one regular and one decaf, with optional flavored syrups. Other drinks are hot tea, hot chocolate, and an entire cooler full of bottled beverages. These cold drinks are our best sellers. The snack foods we offer are biscotti, bags of pretzels or chips, and freshly-made Otis Spunkmeyer cookies that we bake in a toaster oven.
As long as there is a lid for their beverage and their food is of the snack variety, patrons are free to eat and drink anywhere throughout the library building. After all, they are undoubtedly eating and drinking when they use library materials at home. We have not had any significant problems with spills or food-related messes.
When the aroma of Starbucks coffee and freshly-baked chocolate chip cookies wafts through the library, it can be quite a mood enhancer for staff and patrons alike. These are the smells we associate with the kitchens of friends and relatives or other pleasant places. A cup of coffee can mellow out a cranky customer, crying children can be appeased with a cookie, and tired employees can get a needed lift from the food or drink of their choice. At our break-even prices, the snacks and beverages at the coffee bar are affordable comforts, too. Some staff members keep an open tab at the coffee bar that they pay when they receive their paycheck.
The coffee bar is now such a popular part of the library it is hard to imagine being without one.
Karen Albury
---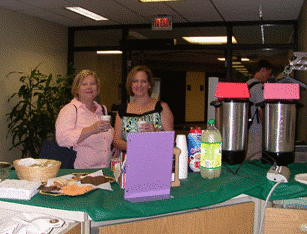 Library of the Health Sciences – Peoria
College of Medicine,
College of Nursing and College of Public Health
Peoria, Illinois
Here is what we do at LHSP. This isn't a coffee bar, but it is as close to it as we can make it right now.
As you walk down the hall you smell the coffee and you realize that it must be Break the Rules day at the library. You stop by and get yourself a cup of coffee and a cookie. While in the library, you might chat with the library staff or look over the new books on display or check to see if the latest issue of your favorite journal has arrived. You also might look at the latest database and get a quick demonstration on how it works.
Break the Rules occurs once a month a the Library of the Health Sciences in Peoria, the medical library that supports the College of Medicine, College of Nursing and College of Public Health in Peoria, Illinois. We are one of the three regional sites of the University of Illinois Chicago. We provide coffee, tea, hot chocolate to drink and cookies and assorted other treats for the faculty, staff and students. The refreshments are set up at the circulation desk near the library entrance. People stop by throughout the day to get a snack or drink. We support this venture with an honorarium that a librarian donated to the library. The staff also donates cookies, trail mix, and fruit. Our students have really appreciated this little extra and our faculty and staff enjoy coming in on their breaks.
Renee M. Kilduski
---
6,910 views