ASSOCIATES (2008, July, v. 15, no. 1)
Review
Become a Word Cloud Artist in Just Seconds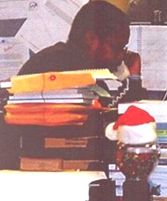 Wordle
http://wordle.net

Review by
Michael D. Brooks
Saint Joseph's University
Philadelphia, Pennsylvania

It's a long, hot summer. You're restless, the kids are restless, the patrons are restless, and everyone is getting on everyone's last nerve. How do you resolve that? A variety of ways, but one way in particular will contribute to getting those creative juices flowing. And all you have to do is be able to write.
If you can write (and you know you can), you can become a word cloud artist. Yep. You can write anything you want (within ethical reason) to your heart's content and display your masterpiece on the Internet. Or, if you prefer, print it out and hang it up for display in the office. And it's all done by using an easy application called Wordle.
Wordle, the brainchild of program developer Jonathan Fienberg, is a fun application that can used by anyone with a text document. Simply type in a series words and sentences on the Create page, manipulate their configurations, and presto you have a masterpiece good enough to display on a webpage, a blog, or hang on the wall in your office or at home. A friend of mine who is the Head of Metadata and Cataloging at her university library used the site to list her department's goals and accomplishments and then she took a screenshot of the resulting word cloud, turned it into a jpeg, printed it out, and hung it up in the office for the staff to see. She's now hooked on Wordle. She's the one who turned me onto it.
Wordle produces a word cloud, much like a tag cloud, from any document based on the frequency of words within a document. The service is free with a licensing agreement with Creative Commons; a couple of donate links are available for those who wish to help fund Fienberg's work on further developing his application.
If you like creating work clouds or just looking at others clouds you can peruse the Gallery at your leisure or check out the FAQ page to see if any of your questions have already been answered. In addition to maintaining and developing the Wordle application, Fienberg also maintains a Wordle blog where he keeps Wordle fans apprised of changes, improvements, and tips.
Another cool feature of the site is the application's ability of creating a word cloud of any blog supported by RSS feed. Out of curiosity, I typed in the URL of my own blog (blatant, unabashed self-promotion coming up): My Library Job. The result was very cool. You'll need the latest version of Java to see the results, though.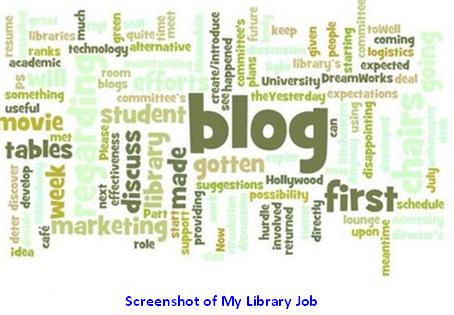 Wordle can be fun, a word of caution: Wordle can also become addictive.
The following are the URLs to most of the menu links which appear on the Wordle Web site:
http://wordle.net
http://wordle.net/create
http://wordle.net/donate
http://wordle.net/faq
http://wordle.net/gallery
http://blog.wordle.net
The Creative Commons homepage:
http://creativecommons.org
The My Library Job homepage:
http://www.mylibraryjob.blogspot.com
©2008 by Michael D. Brooks
First Serial Rights Only
---
Michael is an Acquisitions Technician at St. Joseph's University in Philadelphia, Pennsylvania. Michael serves as the Associates guru for web pages reviews, product reviews, interviews, and articles. Check out his blog at http://www.mylibraryjob.blogspot.com/.

1,299 views