ASSOCIATES (2008, July, v. 15, no. 1)
Spotlight
Linda Anne Divan, Cedarville, Ohio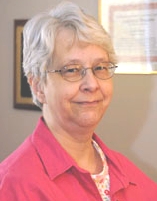 Where do you work and what do you do?
The small rural town of Cedarville, Ohio has been my home for 32 years, and the library (http://www.cedarville.edu/academics/library/) at Cedarville University has been my "home away from home" (aka employer) for 31 years. Here's how the campus website describes us: "Home to 3,000 Christian students, Cedarville is an accredited, Christ-centered, Baptist university of arts, sciences, professional, and graduate programs. Cedarville is located in southwestern Ohio on a beautiful 400-acre campus."
The library has grown and changed immensely since 1977. When I started, we had about 7 full-time employees and 10 part-time or student workers. Today there are 24 full-time employees and about 45 student assistants. As an employee at that time, I was allowed to provide input when our new library was designed, and was part of the library moving experience in 1987. And of course technology has brought many changes. Sometimes I feel ancient when I say "I remember when you had to fill out a card for every book you checked out, and I wrote out overdue notices by hand, and our periodicals list was on a Rolodex". I even used the electric eraser to make corrections of catalog cards!
In 2006, I moved to my current position of Library Systems Coordinator. When people ask me what I do, I give this explanation : "I try to keep the library computer happy". My main responsibility is taking care of our ILS (III). Fortunately, our campus IT department takes care of things like firewalls and the general maintenance of the computers (more than 70 in the library). I am becoming increasingly involved in managing online resources, and continue to do the authority work and a few hours per week of cataloging.
If you want to see the details of what I do from day to day, you can check out my blog at http://librarysystems-linda.blogspot.com/. I started it shortly after taking on this position as a way to track what I do, as well as let the bosses know what I'm doing. I'm the first person to have this job, and when our director created it, he had an idea of what I would do, but no idea of how time consuming the different tasks would be or what else I may need to do that we hadn't thought of. The blog is my way of letting the bosses know what I'm doing, as well as keeping track of how and when I solved problems, in case they come up again.
How did you get involved in library work?
Many of my earliest memories involve the library, books, and reading. When people would ask "what do you want to be when you grow up?", my answer was always "a teacher or a librarian." I did teach for 3 years (first and second grades), and moved from Toledo, Ohio to Cedarville for the third year. One of my friends was the circulation supervisor/interlibrary loan librarian/reference librarian at Cedarville College (now University). In February of 1978, she announced that she would be getting engaged soon, would be married by the fall, and did we know anyone who would like her job? I applied and was hired, thus beginning my time here in the library.
Since then, I've worked in several jobs in several departments in the library. At one point, I thought I wanted to go back to teaching, found a job, gave up the one here. Then the teaching job fell through, but I'd already been replaced. That was when I became the Audio-visuals Coordinator. I did okay hauling around film projectors, even getting them to the second floor of some buildings, but when we started moving to using videos and we needed to move monitors around campus (and no buildings had elevators), I realized that I couldn't continue in that job. Fortunately for me, the Serials Assistant left at that time, and I moved to that job at the same time that we moved into our new library building in 1987. Since I checked in the magazines on OCLC, and they moved our OCLC computer to the new building a week before the rest of the library moved in, I was the first library employee to get to work in the new building!
After that, I bounced around to various jobs in tech services, depending on what needed to be done as technology and our staff changed. I thought I'd made the final job change when I became Senior Cataloger several years ago. Then, in the summer of 2006, the director decided that he needed to have someone explicitly responsible for the ILS and other computer-related areas. I knew this was one idea he'd been thinking about for a while because he asked me to keep track of the "systems things" I did for about a year before that. Since I'd been doing those things unofficially as the person with the most interest and experience with both the library and computers, I was the logical person to fill the newly-created position.
Final thoughts
I love my job! I've been able to spend most of my adult life working in a library, surrounded by books and other sources of information and inspiration. I'm fortunate to work in a library where the efforts and talents of each employee are recognized and valued, regardless of the degrees we have (or don't have). I've never felt marginalized because I decided not to pursue an MLS. I'm doing work I enjoy, and helping the library fulfill its mission (http://www.cedarville.edu/academics/library/about/mission.cfm).
I use my teaching background and abilities to teach preschoolers at church. I also teach my co-workers new things about the computer programs we use. And my current position allows me the flexibility to volunteer several hours a week a nearby elementary school. So the answer to "What do you want to be when you grow up?" is now "A teacher AND a librarian."
1,095 views