ASSOCIATES (2008, July, v. 15, no. 1)
Column
Library Life:
A Column of Eclectic Rantings
Katie Buller Kintner
Msm00@yahoo.com

You know how it is when you don't have much to talk about with someone, you can always chat about the weather?
Well up here in Oshkosh, Wisconsin and beyond, we have had plenty to talk about weather wise lately. This is stuff I remember as a kid—snow piled 12 feet high next to the road, jumping off chicken coops into snow drifts, building snow forts, snowmen, snow women, snow dogs, cats, you name it. All great fun…when you are a kid. Now that I am well beyond my kid years and really approaching retirement, this stuff ain't fun anymore.

I was so looking forward to spring, when the birds would be chirping, lilacs blooming, the weather is sunny and NO SNOW.
Yeah, well that came and went so fast I hardly even noticed it. Then came the rain. Okay, it's not quite biblical rain yet but one day it sure felt like it. I guess this is what happens when the approximately same amount of moisture that we possibly had all winter decides to come back in just a few hours. Remember, snow has a lot more air in it!
So one day I was at work here recently when I noticed that it had begun to rain outside. No, rain is not the word…what would be a good word? Gush? Pour? Inundate? Flood from the sky? Buckets? Buckets may be the closest—it was if a giant bucket of water had been turned over on Oshkosh. There was no air left to breathe, just giant waves of water coming down from the sky. Holding a teaspoon over your head would be about as effective as umbrellas were.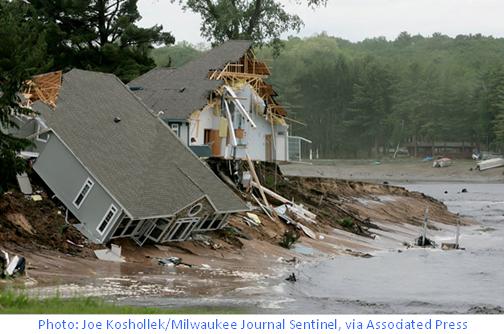 It kept coming down and pretty soon people were coming in to wait it out. Someone mentioned that cars were stalled in the intersection outside. Not a good sign.
So, hoping that it would let up soon, I kept working and keeping an eye on the rain but it did me little good. The stuff just kept coming down. When the time came to close up and leave, it was not a drive I was looking forward to. I had twelve miles of uncertain roadway ahead of me and I was wondering if I would even make it home that night.
I tried going down my usual route but as I drew close to an intersection, I saw cars stalled in it, the water up past the bottom of the doors. Taking an opportunity to turn around, I did so quickly and tried another route. More inundated intersections. Like a mouse trapped in a maze, I kept trying other streets, turning around and going another direction, working my way toward higher ground. Finally, I found a way through an intersection that was not yet too deep and made it out to the highway, which was on high ground. It was wet but okay.
So, I made it home to our rural farmhouse without further incident. Hubby crawled home on what is usually known as Algoma Boulevard, but that day it was Algoma River as the water was up over his wheel wells. It was not pleasant.
I suppose our house escaped problems because the area around it was open and we were on a septic system, not a sewer. Friends in Oshkosh went home to find water halfway up the stairs, furniture, appliances, storage items ruined. Further south in Fond du Lac, major highways were closed. People were not allowed in or out of town because the flooding was getting so deep. Some people taken off the road in Oshkosh, where you could go no further south, had to spend the night in shelters.
This was not the worst of it. My empathy goes out to the people in places like Iowa that got hit even harder than we did. This is our version of a hurricane, folks, only we don't have a three or four day warning to batten down the hatches and get the heck out. It may not be as destructive but it can certainly be very heartbreaking.
For days afterward, driving through Oshkosh, you could tell exactly where the flood waters damaged homes by the piles of trash on the curb. Amazingly (and stupidly) enough, passersby were picking through the sewage soaked stuff and taking some of it away. Remind me to avoid garage sales in Oshkosh for awhile.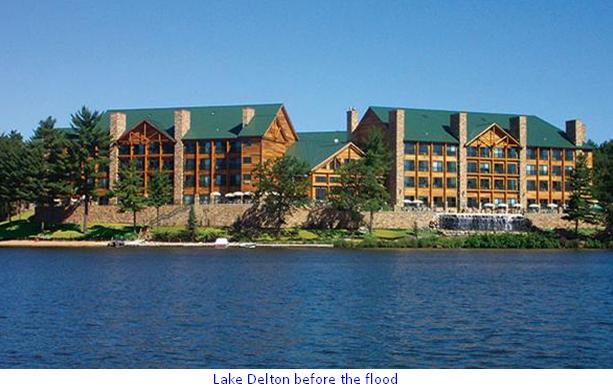 Even though our rural home didn't suffer any damage, my own heart broke a little later when an old friend disappeared. A lake I grew up near, swam in, rode the Wisconsin Ducks through and always said a mental "hi" to when I went by disappeared in a matter of a few hours.
Lake Delton was an artificial 267 acre lake created early in the 20th century by a Chicago businessman for his family's pleasure. After the stock market crash of 1929, he sold off pie shaped pieces of property surrounding the lake, the "point" of the pie being located smack dab in the middle of the lake. However there was public access to it and as kids, Lake Delton was one of our favorite spots to go swimming or just enjoy a nice day.
When the earthen embankment holding the lake back from the Wisconsin River crumbled under rushing water a few weeks ago, it took only about three hours for the lake to empty. Expensive homes went tumbling down washed out banks and broke apart. At least two of them went on down the Wisconsin River, scattering debris, appliances and their owner's precious memories for miles along the stream as they went. One house was left dangling over a precipice (note to self: if I ever build a house, find out who that builder was!).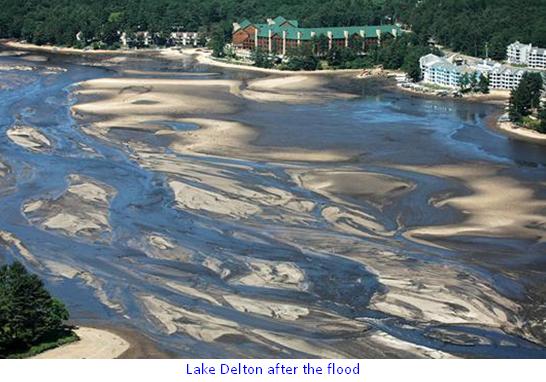 A friend who lives further downriver told me she was finding such articles as hand blown glass Christmas ornaments still in their boxes and entire trusses from the roofs of these homes. Docked boats were left high and dry on beds of wet sand and mud while a county highway was completely washed out and impassable. The famous Tommy Bartlett Water-ski and Stage show, always on Lake Delton, is now just a stage show.
Economically, the loss of the lake was surprisingly not too bad. The homes of course were a loss and a few businesses were affected by it. Now if you take a "Dells Army Duck" ride (look it up), instead of plunging down Suicide Hill to splash into Lake Delton on these amphibious vehicles, you cruise down Highway 12 in traffic to dive into the Wisconsin River at a point further downstream instead. When we took that ride the other day, we saw pieces of the lost homes sticking out of the river and a refrigerator deposited on a bank not far from leatherback turtles sunning themselves. It was a sad reminder.
Any way, that's the report from us waterlogged folks in Oshkosh. Hopefully the rest of the summer will go much better and winter won't be such an arctic experience this year. Have a great summer, everyone!
---
Katie has been writing for Associates since the inaugural issue in July 1994. She occasionally gives highlights of her career as a library assistant but often focuses on life in general. Katie lives in Wisconsin.
987 views