ASSOCIATES (2008, July, v. 15, no. 1)
From the Editor

Welcome Carla Bussey. Carla Bussey has filled one of the vacant positions on the Associates Editorial Board. Carla has been at the Library of Congress for 27 years. She's held various positions, such as a Work Study Student, Library Aide, Secretary to the Chief of the Geography and Map Division, Library Assistant/Technician, and currently holds the position of Librarian (Acquisition Specialist) in the ACINU Section, Anglo-American Acquisitions Division, at the Library of Congress. She was co-editor of the Library's Gazette for four years, responsible for the column that highlighted employees' length of service, appointments, promotions, reassignments, resignations, and retirements. Carla is now pursing an undergrad degree from the University of Maine at Augusta where they offer a BS as well as MLS in Library and Information Science via distance education. Her goal is to obtain her degree in the next two years. Carla has already edited an article and has assisted another author for this issue of Associates. She has also come up with several ideas to publicize Associates. Carla has been added to the Associates "Contacts" page at http://associates.ucr.edu/journal/?page_id=3.
Congratulations Jim Jackson. Jim, who is the Associates Contributing Editor, has been featured in the print publication "Building your Portfolio: the CILIP Guide," by Margaret Watson (Facet Publishing, 2008, ISBN-13: 978-1856046121). Jim wrote about his own experience and advises others how to obtain Certification.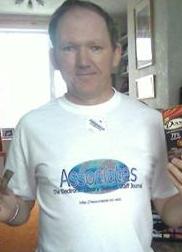 Associates authors at ALA, Anaheim. On June 30, while picking up pens, note pads, and bookmarks from various vendors at ALA's exhibits hall, Jim Clark, Assistant Editor, and I had pleasure of meeting two Associates authors. Kevin Dudeney attended the ALA meetings from Sydney, New South Wales. Kevin is a Library Technician at NSW Department of Corrective Services. He has contributed several articles for Associates, his last in the March 2008 issue. Tina Gunther, Cataloging Technician I, Biola University Library, La Mirada, California, is also known as the "Lib Typos ListKeeper." In March 2006, Tina wrote about typos made in the transcription of descriptive cataloging in online catalogs.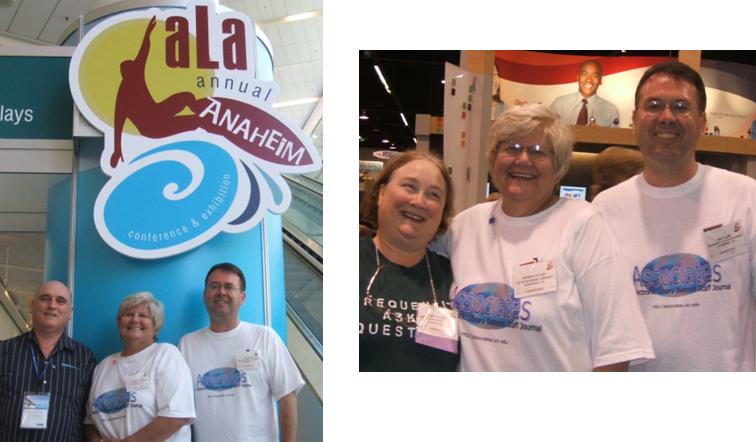 Associates bookmarks are available free for distribution at paraprofessional conferences or any conference, meeting, or activities of any library staff. Associates is the only journal for library support staff that supports all library paraprofessional organizations, conferences, and activities although not affiliated with a specific organization. My thanks to the paraprofessional conference organizers who have distributed bookmarks at their conferences this year. Write me at rivwe@ucr.edu to request a supply.

21 Contributors to the July 2008 issue of Associates
764 Associates email edition subscribers
1090 Associates web notification subscribers
900 RSS feed subscribers (approximately)
85 Holdings for OCLC #30846821–the OCLC record for "Associates [electronic resource] : the electronic library support staff journal."
Subscribers to Associates via the newly created RSS feed will receive a notification that Associates has been published and available at the http://associates.ucr.edu web page.
The July 2008 issue has many articles that will interest all library staff. My thanks to all contributors, authors, subscribers, and readers for your support of Associates.
Wendee Eyler
Editor and Publisher
University of California, Riverside
rivwe@ucr.edu
1,114 views