ASSOCIATES (2008, November, v. 15, no. 2)
Feature
Library Newsletters: When People Hear "Drumbeats," They Listen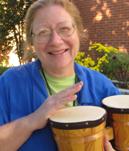 Linda D. Lemery
Circulation Coordinator
Mary B. Blount Library
Averett University
344 West Main Street
Danville, Virginia 24541
linda.lemery@averett.edu
One of the most frequent problems across workplaces is impaired communication. The pace of life is so fast these days that it's difficult to keep up with new developments, issues, challenges and opportunities. Libraries are not immune to this phenomenon.
Beyond my job as Circulation Coordinator at Mary B. Blount Library at Averett University, I have shared responsibilities for interlibrary loan, course reserves, and stacks maintenance, and I also manage the Library's work study student program. Like some other academic libraries, Blount Library cannot operate–for the eighty-to-ninety hours we are open across a seven-day workweek–without work study student help. We depend on these wonderful young people to help us meet the library needs of the greater Averett student body.
I have been in my job three years and eight months. I realized one month into my job that though library personnel tried very hard to communicate with each other face-to-face, there wasn't always time to communicate everything orally. Blount Library has four librarians (including the Library Director), four paraprofessional library staff members (of which I am one), and three night supervisors. Since we don't have regularly scheduled meetings and the meetings we do have are generally time-limited, there was no way to communicate changes, things to watch for, and so on. In addition, I have anywhere from eight to twenty-four work study students during a given semester. It's even more imperative to communicate with our work study students since they are present during irregular shifts, and it's impossible to communicate with them all orally.
As a solution to this communication problem, I developed a simple email newsletter designed to share communications with our work study students. Originally I thought I would do the newsletter weekly, but that was too ambitious a timeframe for my own workload to permit. If I wait a month between issues, there is too much information for the newsletter and students won't read it. Sending out a newsletter every two weeks seems to work well. An optimal length and format consists of a document in 12-point font, no longer than two single-spaced pages in outline form. I craft the newsletter in Microsoft Word and then copy/paste the content into email so that the content is right there and the students can just scroll down and don't even have to open up an attachment. I named the newsletter "Drumbeats," because when people hear drumbeats, they listen. After altering student names to protect privacy, I've included a past issue of "Drumbeats" for reader review (see sample below).
The first newsletter went out to our students in February 2005. Our night supervisors heard about it from the students and wanted to be added to the email list so that they too would be in the communication loop. The Library staff members heard about "Drumbeats" next and asked to be added to the recipient list. Finally I asked our librarians if they wanted to be added to the recipient list and they thought that was a wonderful idea and so I added them too.
Soon library staff members and librarians were asking if I could put notes about various issues in "Drumbeats," which meant they were beginning to use it as a communication tool. I try to place library personnel submissions in the next issue of "Drumbeats" if at all possible. If I publish an issue on a Friday, I send out an email request for submissions one week prior, with a submission deadline of Wednesday at noon. Sometimes I defer my own less critical announcements in favor of including a submission from a library personnel member. I also include submissions from students.
I frequently get questions from work study students who've read "Drumbeats" and have follow-up questions. I welcome those questions. The more informed our student workers are, the better services we can offer to the greater Averett population.
For paraprofessional personnel who would like to enhance communication within their libraries, "Drumbeats" could serve as a model they could adapt for use in their workplaces. After all, when people hear drumbeats, they listen. :)
---
Linda Lemery held positions in clinical laboratories as a medical technologist at the bench and in management and education before flinging herself into the always fascinating but sometimes baffling world of the academic library. While still in clinical laboratories, she threw her energies into learning how to write, which led her down two roads: writing articles, columns, personal essays and [mostly unpublished] fiction, and serving as an editorial board member for a continuing education product and as a generalist series coeditor and eventually project editor for another continuing education subscription series. Linda now writes as the spirit, the topic, and [most importantly] the deadline move her. She holds some degrees and certifications, wonders why the world seems increasingly mystifying, and welcomes communications from readers.
1,116 views