ASSOCIATES (2008, November, v. 15, no. 2)
Feature
Leadership for Library Support Staff
Kevin Dudeney
NSW Department of Corrective Services
Kevin.Dudeney@dcs.nsw.gov.au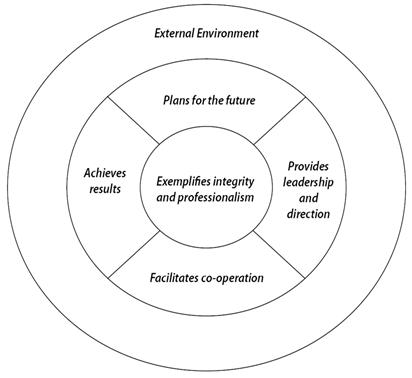 The model to the right shows the many elements relating to leadership for Library Support Staff. At the centre or core of the model, be for any leader or aspiring leader, is Exemplifies Integrity and Professionalism. Within this element there are four aspects that a leader needs to have:
Integrity: actions are consistent with what he/she says is important; models professionalism.

Flexibility: welcomes change and accommodates new ideas and approaches.

Continual Learning: demonstrates awareness of own strengths and development needs.

Resilience: the ability to maintain stable work performance while under pressure and cope with stressful situations.
Integrity and professionalism for a leader is essential as this element in integral to the next layer. Without it a person can not be regarded as a leader.
The second layer is about carrying out the work of a leader which involves:
Plan for the Future,
Achieving Results,
Providing Leadership and Direction and
Facilitating Co-operation.
Once again there are a number of aspects that makeup these four elements.
Plans for the Future
Strategic View: assesses and develops future oriented visions and strategies that are linked to a sound knowledge and understanding of the organisation's direction.
Action Oriented: a concern for improving and doing better, associated with proactivity; takes calculated risks to pursue goals.
Thinking Skills and Judgement: listens actively and reads widely; applies good thinking to all aspects of his/her work; makes consistently sound decisions base on available evidence.
Provides Leadership and Direction
Leadership: understands and can articulate the organisation's vision; consults with others in decision making and provides positive feedback; coaches, mentors and develops others.
Team Management: works co-operatively with others; believes in the value of teamwork; provides constructive/realistic feedback; works to resolve conflict.
Facilitates Co-operation
Communication: applies effective communication styles across a broad range of groups and subjects; is articulate about issues; expresses themselves clearly and succinctly with supporting arguments; listens well to others.
Achieve Results
Results focus: a desire to achieve; committed to accomplishing challenging objectives; creates and manages change effectively; measures and monitors outputs and takes responsibility for results.
Business acumen: demonstrates an understanding of financial and business matters; ensures financial decisions reflect service priorities and meet budget requirements.
Technical competence: applied use of technical knowledge and expertise to solve problems or address emerging issues; willingness to take advice from specialists and act on this knowledge.
The third or outer layer is how the leader or the leader's staff interacts with the library's External Environment. How they understand the external environment and how it impacts upon the workplace and the profession, whether it is user expectations, understanding and knowledge and user access, library vendors or the larger organisation the library is a part of.
Although, this model has been explained from the core to the outer layer and looks at how one layer forms the basis for the development of the next layer, it can also be used from the outer layer to the centre. There may be times when the External Environment may dictate to the leader how they have to plan for the future, achieve results, provide leadership and direction, and facilitate cooperation. Whatever actions take place within the second layer, and whatever the demands or constraints of the outer layer, a leader's integrity and professionalism should be the basis or core of their actions.
---
Kevin Dudeney is an Australian Library Technician from Sydney, New South Wales. He is employed by the NSW Dept. of Corrective Services and the Convenor of the ALIA National Library Technicians Group.
1,509 views