ASSOCIATES (2008, November, v. 15, no. 2)
Spotlight
Carlin René Sayles, Washington, D.C.
Where do you work and what do you do?
I work as a Senior Library Technician, on the Collections Maintenance Team (CMT) in the Geography and Map Division (G&M) of the Library of Congress.
G&M provides cartographic and geographic information for all parts of the World, to Congress, Federal agencies, State and Local governments, the scholarly community, and the general public.
G&M is the largest map research library in the world and has over 5.2 million maps; 90,000 atlases; 300 globes and 26,000 electronic resources. The division from end to end is over 3 football fields long and houses current and historical cartographic items. CMT presently consists of six support and two professional staff members. Patricia (Pat) McCray and I are responsible for accessioning with special ink and processing all incoming materials to the Division. The cartographic formats, that is, maps, atlases, globes, and CDs, are acquired via Government Deposit, Government Transfer, Copyright, Exchange, Purchase, Gift, and State Department Map Procurement Program. Maps are distributed to a regional cataloger and once they are cataloged, they come back to CMT for further processing. They are then placed in an acid free folder, labeled and added to the collection every 6 weeks. We add around 1,000 to 1,200 maps 8 times a year. Atlases are separated by hard or soft covers. Hard covers are cataloged, labeled, and filed immediately and soft covers are separated by nine different styles and sent out for binding. E-Resources are also cataloged and labeled immediately and filed. As Sr. Technician, I serve as trainer and mentor to new staff in all aspects of maintaining and preserving G&M's vast collection. It is with a collective team effort that items are timely processed, accessioned, labeled, cataloged, and stored for use by our readers, Congressional members, and staff.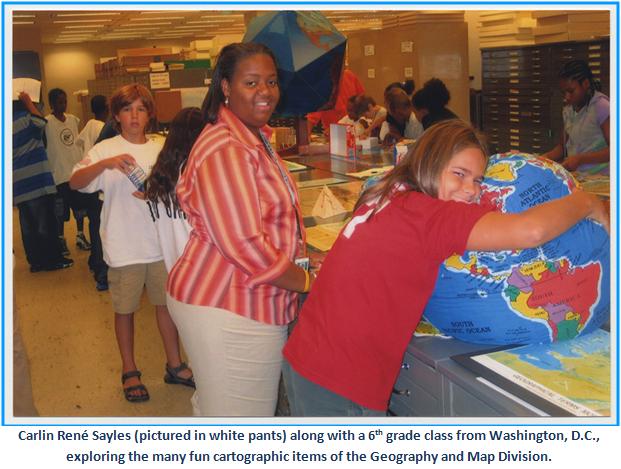 How did you get involved in library work?
I have always loved libraries and worked as a library aide throughout my school years, so I find it somewhat humorous that I had never heard of the LC prior to my employment. To me, the librarian is the smartest teacher around. He or she must know how to service every person that walks into the Library and his or her particular subject … from A to Z. Upon graduation from college, I saw an advertisement for a Junior Fellowship position at the LC and decided to apply. Since I majored in geography, I was most excited about the possibility of getting a job right out of college and in my chosen field. It doesn't happen often, getting a job in your major, and I was lucky to get on board. I've been employed at LC for 17 years now and it really doesn't seem like it. I'm sure it's because I enjoy what I do. I never thought in all my years I'd end up in such an amazing institution. Many people ask is it hard to work here with so much knowledge, beauty, grandeur, and history surrounding you all the time. I always say, no … not at all. I am one of many support staff that help to make the Library of Congress, the oldest federal cultural institution such a splendid place to visit, research, and work. I am very proud to serve in that capacity.
Describe support staff activities in your area.
I am fortunate enough to be on the front line seeing most of the cartographic items coming in through acquisitions. Eight years ago, I put together a display of all the cartographic materials that were geared for children. The material covered an area of 45 x 7 feet! I had found so many things you couldn't see the bottom of the map case. Puzzles, a rubix cube globe, a puzzle globe, maps on cloth, playing cards, an atlas as small as your hand, a map Christmas card, beach ball globes, basket ball globes, map calendars, pens, yo-yo's, and the list goes on and on! My co-workers as well as the Chief of the Division, Dr. John Hébert, were amazed that so many interesting and fun materials were housed in G&M. Everyone agreed it was too bad that the patrons were not seeing these items. And suddenly it hit me! I asked my Chief and supervisor, Michael Buscher, for permission to conduct tours of the division, showing exactly what I had laid out. They agreed and I've been giving tours of G&M and absolutely loving it ever since. I've started a program touring school groups, scout groups, and bible schools. Not wanting to restrict myself just to kids, I've branched out to adult groups as well. But there is nothing like seeing the young children, our future leaders', ask questions with such excitement and thirst for learning and say at the end of a tour "thank you" or "that was awesome!"
I conducted a tour for a 65+ Senior's Group in April 2008. The group of 25 senior ladies will be returning on October 24, 2008, to view our Bible Lands Collection, which I'd mentioned to them on their first visit. Thus far, I have toured 1,375 with as many as 70 participants to as little as two participants in a given day. The tour is divided into four parts and lasts a minimum of 1 hour and 15 minutes to 2 hours depending on the group size and how much time they have available. Group tour participants include adults, kids, teachers, parents, and librarians. I would love for as many people as possible to get the tour of the actual collections, but some are not able to physically make it, so in these instances, I do my best to bring the division to them. I bring games that I have creatively made up and many visuals. I've been told that my presentations go over very well but I seem to come in third to anybody with food or an animal. Go figure! I receive the nicest gifts and letters from my tour participants and they are very touching. My most favorite line is "I will visit the library once I am of age" and that I have a "cool" job and they want to become a librarian when they grow up. I love sharing my love of geography, history, and maps in hope that I have and will touch some person's life where they want to further explore the wonders of the world, geography, libraries, and the Library of Congress in their future.
Final Comments
Carlin (René) Sayles is a Senior Library Technician with 17 years' service in the Geography and Map Division. She runs a GED school in the evenings, also sharing her love of history and geography. She has a 10 yr old daughter who also thinks Mom's job is 'cool'. Please feel free to contact her at 202-707-8551; csay@loc.gov should you be in the area of Washington, D.C. and would like a tour of the Geography and Map Division.
996 views