ASSOCIATES (2008, November, v. 15, no. 2)
Review
Library Support Staff Blogs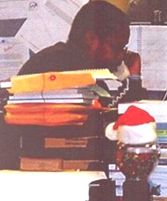 Review by
Michael D. Brooks
Saint Joseph's University
Philadelphia, Pennsylvania

When I sat down to write this article, I had every intention of going through and providing a comprehensive list of blogs that were of interest to library support staff. I had no idea how difficult it was going to be finding them. I thought it would be interesting to write about blogs maintained by, contributed to, and created and written by support staff. Little did I know what I was getting myself into.
According to Technorati, (www.technorati.com) there are currently over one million blogs. Despite that humongous figure, it turns out that the number of support staff blogs is incredibly small — at least I wasn't able to find a whole lot of support staff blogs. It appears that library support staff are seriously underrepresented in the blogosphere. So what I decided to do is:
List the blogs I was able to find that were of interest to support staff regardless of the status of the individual(s) and institution(s) maintaining them.
Enlist the services of readers like you.
If you maintain a blog, write one, or know library support staff who do, just drop me a line and I'll make sure I link to them from my blog.
Now I'll begin first by highlighting my own blog: My Library Job (mylibraryjob.blogspot.com).
I began my blog as an experiment back in February 2008. Since I'm a writer, I decided to blog as an exercise. I thought it would be good practice to write every day about something I did on my job. My intention was to discuss what I do and possibly help someone else along the way who might be doing similar work. Since that time, the nature of my blog has changed. I no longer blog daily. I'm now blogging about the promotional efforts of the library staff here at Saint Joseph's University. Even though the emphasis is now on the social marketing efforts of my library, I do occasionally '"vent."
Granted, I'm not privy to all the information around here, but by being a part of the marketing committee, I am in a position to know a few things that may be of interest to others who are in similar situations.
As some of you who read my blog may recall, I mentioned a while ago that my library was preparing to establish a blog marketed toward our students. Unfortunately, that effort has not yet come to fruition, but we're still working on it. And now, onto that list I promised…
I have just one caveat: some of these blogs are not current. However, some of the information contained in them may still be useful.
In the Library with the Lead Pipe.
http://inthelibrarywiththeleadpipe.org/

Blue Cat's and Sticky 23
http://bluecats23.blogspot.com/

Library Technicians: Education, Training, Practice, Career, Jobs, Etc.
http://lit2542006.blogspot.com/

Alliance Library System
http://www.alliancelibrarysystem.com/

Library Supporter
http://librarysupporter.blogspot.com/

The MLexperience
http://mlxperience.blogspot.com/

Library Marketing – Thinking Outside the Book
http://librarymarketing.blogspot.com/

Library Playground: Libraries, Technology & Me
http://libraryplayground.wordpress.com/
I apologize for the brevity of the list, but as I said, library support staff appear to be seriously underrepresented in the blogosphere. So I encourage you all to take a step into Library Web 2.0 and utilize the new media tools that are available. You'll be amazed at who just might share your interests.
©2008 by Michael D. Brooks
First Serial Rights Only
1,311 views