ASSOCIATES (2008, November, v. 15, no. 2)
Spotlight
Karen Newton, Sunderland, England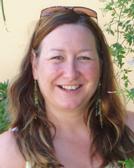 Where do you work and what do you do?
The City of Sunderland has a population of just under 300,000 and is the largest city between Edinburgh and Leeds. It is situated on the north east coast of England, with access to some of the most beautiful countryside and beaches in England.
As well as the main City Library Sunderland City Council has 19 branch libraries and 3 mobile libraries. One of our oldest libraries is in the village of Washington and is close to Washington Old Hall. This is a charming 17th Century manor house, which still has some remnants of the original 12th Century dwelling that was home to the direct ancestors of the first President of the United States, George Washington.
In 2006 we signed a unique Agreement of Friendship which has linked Sunderland with the American Capital. This Agreement of Friendship means that over the next five years, the two cities will collaborate on a host of activities to create closer friendship and co-operation between both cities and develop programmes of mutual benefit for the people of Sunderland and the people of the District of Columbia.
I have worked for the City Of Sunderland Public Libraries for over 30 years, working in a wide variety of posts and locations, including branch libraries, Schools library service, the City Library and Arts Centre and a Patient's library at the local hospital.
I am currently working as a Project Coordinator within Culture & Tourism, which has to be the most varied of posts I have ever undertaken. Yesterday I was writing a brief on the proposal to re-launch our Home Readers Service, this afternoon I am working with the Events Team to create a Santa's Grotto in the library as part of Sunderland Christmas Experience 2008, and tomorrow I am working on a project to increase the use of recycling across the department – there is never a dull moment!
Before this post I worked as the Assistant Manager in the City Library and Arts Centre, here in Sunderland at branch libraries throughout the City and on 2 of our 3 mobile libraries.
Mobile libraries are one of my passions, I am the Honorary Secretary of the Branch & Mobile Library Group of the Chartered Library and Information Professionals (CILIP) and I have recently completed a report which includes options how to progress Sunderland's Mobile Service along with examples of best practice from around the UK and abroad.
With the support of my employers, I attend the University of Northumbria one day a week, taking a Bsc [hons] Information Science degree. This will take four years in total and is well worth the hard work involved. I cover modules such as Project Management, Knowledge Management, Data Regulations and Ethics and Web Page Design. I can only say that the quality of the tutors is such that I have managed to pass all modules with flying colours – so far.
How did you get involved in library work?
As a 14 year old I had to do a school project on Australian Flora and Fauna. I had no idea what this was, so I went to my local library at Houghton – Le – Spring. The staff looked it up in the card catalogue, searched the shelves and found an Encyclopedia Britannica for reference which I could copy from. At that time there were no computers or photocopiers, not even a fiche reader – just excellent staff! The information was ok, but for a 14 year old it was very dull, all text, no pictures, but I duly wrote it all down and left the library.
As I walked past the building I heard a frantic knocking on the glass and as I looked up I saw a beaming Library Assistant holding up the most wonderful, glossy book on the nature of Australia, which had just been returned – I was in heaven. It was then that I decided I wanted to be that person, the kind of person who can find hidden treasures and share them with everyone and didn't think that just because I was a child I was not worth going the extra mile for.
Two years later – I started work at that very branch library and haven't looked back.
Describe support staff activities in your area
The library assistant plays a very big part in Sunderland Public Libraries. Apart from the City Library, all our branches are staffed only by Library Assistants. We are given support from a team of Assistant Librarians and Specialist Librarians, who are only a phone call away, but the day to day management of the library falls to the frontline staff.
There is a constant system of training and upskilling for all staff, whether you work 3 hours or 37 hours.
Apart from our professional duties, we host a range of events from coffee mornings, reading sessions to events for the communities we serve. Adult education classes are held at most sites and we have a number of shared services sites which incorporates Customer Service Centres.
These sites are staffed by library staff in the smaller libraries, or jointly with Customer Service staff in the larger venues and offer information and advice on a wide range of Council services. These can include:
Housing and Council Tax Benefits
Council Tax Enquiries
Children's Information Service
Environmental Services -refuse and recycling collections
Welfare Rights
Final Comments
I have seen a lot of changes at Sunderland Libraries, especially in the last few years we have been together and I hope to be around for a lot more years. I am fortunate to work for an authority that is investing a lot of money and time in refurbishing and building new service points and investing equally in its staff. We have a strong professional team of which I am proud to play a part and have made many friends of colleagues and borrowers throughout the City.
If you want to know anything else about Sunderland Public Libraries, please see our web pages at www.sunderland.gov.uk/libraries and if you are in the area please call in and visit us.
957 views