ASSOCIATES (2009, March, v. 15, no. 3)
Review
Library Support Staff Blogs: Part II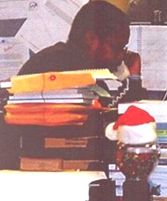 Review by
Michael D. Brooks
Saint Joseph's University
Philadelphia, Pennsylvania

In the previous issue of Associates <http://associates.ucr.edu/journal/?page_id=240>, I lamented the woefully small number of blogs by, about, or for library support staff, and asked that anyone with a blog, or that knows of one contact me.
Well, I am pleased to report that I have a Blogroll linking the following blogs:
Aus Library Technician
http://auslibrarytechnician.blogspot.com/
Circulating Zen
http://kittent.wordpress.com/
Journey of a Kitten
http://www.kittent.com/
Library Technician
http://librarytechnician.blogspirit.com/
Library Technicians–Blogs, Pictures, and more on WordPress
http://en.wordpress.com/tag/library-technicians/
Library Technicians
http://librarytechnician.wikispaces.com/Blogs
Librarydude!
http://librarydude.blogspot.com/
LibTech Life
http://librarytechnician.wordpress.com/
Nova Scotia Association of Library Technicians
http://nsalt.blogspot.com/
PLS Member Library Assistants
http://plslibraryassist.blogspot.com/
Typo of the day for librarians
http://librarytypos.blogspot.com/
Writer's Scratchpad
http://writersscratchpad.blogspot.com/
As with the list in my earlier review, some of these blogs haven't been updated in a while. Others are regularly updated; others are updated irregularly. Not all of them are dedicated solely to library work, but all make interesting reading. Enjoy.
©2009 by Michael D. Brooks
First Serial Rights Only
1,413 views