ASSOCIATES (2009, March, v. 15, no. 3)
Spotlight
Veronica Richard, University of Michigan
Where do you work and what do you do?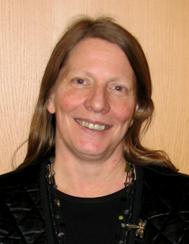 I work as the Senior Clerk in the Administrative Services Unit at the University of Michigan Law Library in Ann Arbor Michigan. My supervisor, Mary Clemence, and I work with Margaret Leary, the Director of the Law Library.
The Mission Statement of the Administrative Services Unit is to "Make sure we have the resources we need and use them to achieve the Library's mission. Do whatever doesn't fit into another department." This includes human resources, space planning and management, salary and operations budgets, policies and procedures, and interacting with units outside the Law School.
My title has changed over time and so has what I use to do my work (remember typewriters, anyone?). The actual tasks are much the same: hiring and training students, purchasing supplies and equipment, rearranging and renovating library space, responding to inquiries and complaints, and the dreaded "other duties as assigned," which can cover anything from reporting a leaking toilet to rescuing a squirrel from the light well. I love the endless variety—you never know what the day will bring! I'm a permanent member of the Student Training Committee, and have served on several task forces and committees in the Library, the Law School, and University-wide.
In Administration we don't have much to do with the actual books, so I've found ways to interact with the collection, including barcoding for our Circulation Unit, filing looseleafs, and supervising the packing and unpacking of all the books in our Reading Room while it was undergoing extensive restoration/renovation. I currently spend a half-day a week in Acquisitions, using Innovative Interfaces' Millennium system to process invoices for payment.
How did you get involved in library work?
I've worked in libraries since my first "job" as Library helper in elementary school. I went to a one-room schoolhouse with 50 students from kindergarten to 8th grade. The library was a corner of the schoolroom delineated by bookshelves, with a small table and a few chairs. A grownup assistant acted as librarian and she asked volunteers to help her out, and my hand was the first in the air. I checked books out, reshelved books and helped students find materials. I loved the smell of old books, the peaceful atmosphere, and the happy faces when someone found a book they really loved. I worked in libraries either as a volunteer or paid employee throughout high school and into college, where I worked at the Purdy Library at Wayne State University as a work-study student in Technical Services filing Library of Congress cards. After a stint working for a solar energy company, I came back to libraries in 1985 when I answered an ad in the newspaper—and I'm still here almost 25 years later.
Describe support staff activities in your area.
Admin hosts a "first Wednesday" staff coffee break the first Wednesday of every month, where we provide donuts or other goodies. Staff gets together in our break room for coffee, treats, and a chance to catch up in a relaxing atmosphere. We have potlucks for Thanksgiving and Christmas, and occasional pizza parties during the year. That's not counting the people who love to bake and bring in treats to share for no reason at all!
Almost everyone on staff serves on library-wide committees and task forces. Library units are doing more cross-training, and we have a wealth of educational opportunities available through Human Resource Development and other departments here on campus. We encourage staff to attend training sessions and workshops, both inside and outside the University, and many take the opportunity to do so. We have staff going to the Innovative Users Group conference, and the OCLC ILLIAD Users Conference this year. I recently attended a 6-session class "Foundations of Supervision" which is open to all staff including non-supervisors. I know several of my co-workers have signed up for the Spring session.
Final Comments
I can't imagine doing anything else. This library is the perfect work environment for me—the only way it could be better is if I was allowed to read books while I work!
If you're interested in more information about us, see our website: http://www.law.umich.edu/library/info/Pages/default.aspx. And if you're in town, stop by the Library—I'd be happy to show you around.
975 views