ASSOCIATES (2009, March, v. 15, no. 3)
Feature
Wanted – New Blood!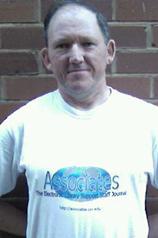 Jim Jackson
Associates Contributing Editor
Law Library Supervisor
University of Exeter
J.G.Jackson@exeter.ac.uk

When I first wrote for Associates back in November 1994 (Vol. 1 no. 2 <http://associates.ucr.edu/1194featur10.htm>)–it was like the dawn of a new age. There was nothing like it in the world– and that is still the case today! The tales of my entering this 'brave new world' were recorded for posterity–something that I am grateful for and have a pride in.
It's something we all do, I suspect: take pride in our work even when no one seems to notice what we do each day. As the purpose of this journey was to take others with me, I am delighted that so many ideas from other people have matched my own and that together we have advanced in status and recognition for library assistants all over the world. Particularly here in the UK, library assistants have had the opportunity to gain relevant qualifications and awards, such as the Information and Library Service National Vocational Qualifications, ( ILS NVQ's ) and the more recent Certification award which forms part of the Framework of Qualifications ( FoQ) offered by CILIP
(Chartered Institute of Library and Information Professionals) <http://www.cilip.org.uk/qualificationschartership> plus an opportunity to sit on the new Policy Forum committee at CILIP.
While my own CPD (Continuing Professional Development) has revolved around CILIP and its activities, I know from other library assistants that they have also used the maxim of 'If you can–I can'. If you look back at the start of the work carried out on the ILS NVQ (Vol. 2 no. 2 November 1995 <http://associates.ucr.edu/fjac1195.htm>) and also for the Framework of Qualifications Certification award (Vol. 10 no. 3 March 2004
<http://associates.ucr.edu/fjac304.htm>) this was all driven by library assistants keen to develop themselves and other similar staff. A huge variety of people have contributed to the development of both these projects and the FoQ now clearly offers great potential and opportunity to CILIP members. The contribution of ordinary members to such important projects demonstrates the importance of library assistants in the library and information world. Our views and aspirations do matter and can form part of new policies. If you are interested in the development of the FoQ you only have to look at the various articles that I have written charting its progress over the years (Vol. 11 no. 3 March 2005 <http://associates.ucr.edu/305fjac.htm>).
The important part is that library staff of all types and grades have worked together to produce something worthwhile which will improve services and be respected by employers. There still seems to be a huge gap between management staff and front line staff when it comes to decision making. By all means let senior managers or directors take the final decision but don't make it without listening to front line staff. They will be the ones having to explain new rules and policies to the library user. I have been fortunate to be asked to speak at numerous events for library front line staff on aspects of training library assistants. I never ceased to be amazed by the sheer enthusiasium of staff, for their job, their users and their own personal development. It was great to speak to you and meet all of you. I hope we learnt something together. Some of these meetings came about as a result of people being involved in the Book IT Project of 2000–and I wonder how many faithful readers still remember that? (Vol. 7 no. 2 November 2000 <http://associates.ucr.edu/jim1100.html>) and <http://www.cilip.org.uk/specialinterestgroups/bysubject/affiliatedmembers/read_about/pastevents/BookIT.htm>. Perhaps by now just a dim memory but of the time it was revoluntary and all inclusive. A brief summery of the concept is that on Midsummer's Day June 24th 2000 libraries all over the world held an event to promote Shakespeare's play Midsummer Night's Dream. It was a novel way to promote the use of books, DVDs, videos, and films and was a huge success with libraries all over the world taking part. Most important of all was that library assistants and front lime staff all over the world organised their own events. There was no tedious form filling or registration. People 'did their own thing' and it proved a huge success–and reported by the BBC media as the event of the summer. I was delighted to lead this merry band of library workers and we all had a great day.
In November 2004 I wrote a piece for Associates called 'Innovative ideas awards to library staff ' (Vol. 11 no. 2 <http://associates.ucr.edu/1104jac.htm>) where I looked at how new ideas from staff can save an organisation money and improve services–always a good thing in times of recession and budget reductions. I looked at the Robinson Award as a prime example and an award that it still running. In fact, it's still open for applications up until 30th April this year. So it's not too late to apply. (See http://www.cilip.org.uk/aboutcilip/medalsandawards/RobinsonMedal.) This award seeks to reward excellence and innovation in library administration. It is aimed at front line staff in particular those working at the paraprofessional level, regardless if they are single entrants or as part of a team. I would urge you to think if you have a project that would match the criteria, and seen an idea develop and enter the Robinson Award.
All these projects have relied on the 'new blood' of people with imagination and a willingness to have a go. Now the time has come for me to ask you all to take on this role of promoting the value of library assistants all over the world–as this will be my last column for Associates. I feel it is time for me to stand aside and encourage others to take over from me, and for their ideas to take the place of mine.
I have enjoyed my time at Associates, especially the last few years as Contributing Editor. I have been supported hugely by Wendee Eyler our Editor and other members of the Editorial Board. It has been Wendee's drive and expertise that have transformed this journal from a small text-based journal into the web-based journal we have today with a worldwide repute–and we should all offer our thanks to her for this contribution.
I look forward to reading all of your exploits and ideas in future editions of Associates – The Electronic Library Support Staff Journal.
1,105 views