ASSOCIATES (2009, March, v. 15, no. 3)
Association/Conference Information
National Library Workers Day — April 14, 2009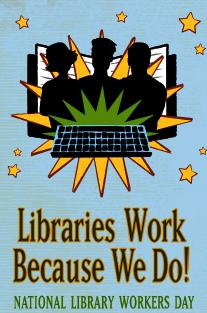 What is National Library Workers Day? A day for library staff, users, administrators and friends groups to recognize the valuable contributions made by all library workers.
On Tuesday, April 14, 2009, during National Library Week, schools, campuses and communities across the country will celebrate National Library Workers Day and the valuable contributions of librarians and library support staff. Libraries are places for opportunity, education, lifelong learning, and free and equal access to a world of resources without regard to age, income, or background. None of this would exist if it were not for the people who work in libraries.
Library workers organize and maintain everything that is in the library. Materials need to be selected, ordered, processed, and then made available for users. From a book for research or leisure reading to a laptop that can be checked, a skilled and dedicated human is responsible for its presence in the library. Library workers—catalogers, circulation clerks, pages, reference librarians, security guards, student assistants, systems engineers, web designers, and youth librarians, to name a few alphabetically—provide access to the past while preserving the present.
Those in public service, whether it's in a public, school, or university library, are skilled and knowledgeable researchers who know which tool to use for which information need, navigating through a variety of electronic and print resources: almanacs, bibliographies, catalogs, databases, dictionaries, gazetteers, encyclopedias, reviews, and yearbooks.
Library workers do all this and more, even though they are rarely thanked and so often poorly paid. When town, school, and company budgets become tight, library staff are often the first group to be cut. Yet, working in the library is rewarding for most people because it involves giving a service that contributes to the overall quality of life in a community. Positive work should be recognized in a society that values knowledge, learning, and opportunity.
For more information and ideas for celebrating National Library Workers Day on April 14, see the ALA/APA website at: http://www.ala-apa.org/about/nlwd.html
1,014 views