ASSOCIATES (2009, March, v. 15, no. 3)
Spotlight
Patricia Brewer, Washington, D.C.
Where do you work and what do you do?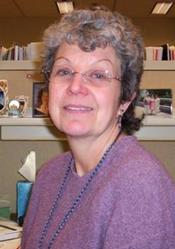 I work as a Senior Library Technician, U.S. Anglo Division – Canada & Oceania Section of the Library of Congress (LC).
I have worked at the Library of Congress for just about 10 years now, starting in the Special Materials Cataloging Division (SMCD)/Music Sound Recording (MSR) III. I created Initial Bibliographic Control (IBC) records for CDs, which included various projects. The collections and staff of the Music Sound Recordings Team of SMCD moved to Culpepper, VA, about 70 miles southwest of Washington, D.C. I was unable to relocate and was placed in the Arts and Science Cataloging Division where I was trained extensively on the Copy Cataloging Pilot Team, where I worked for almost two years. During this time, I was responsible for creating and revising copy cataloging IBC records for a variety of materials and formats in an automated cataloging environment. I descriptively catalog original records, which are made within established standards. Searching entries is done in automated catalogs using the Z-processor, which imports various bibliographic databases. On a daily basis, I search and analyze Classification Web and LC's database to verify subject headings and to formulate call numbers.
In October 2008, the Library implemented a reorganization by merging acquisition and cataloging functions. The new Acquisitions and Bibliographic Access (ABA) organizational structure comprises 9 new divisions of which I was placed in the U.S. Anglo Division, Canada & Oceania Section. The Canada and Oceania Section acquires materials via copyright, exchange, purchase, and gift and exchange from the geographic areas of Canada, New Zealand, Australia, and Oceania. Our team consists of 1 supervisory team leader, 2 Catalogers, 3 Acquisition Specialists, 1 Cataloging Technician, 1 Copy Catalog Technician, and 4 Acquisition Technicians. The merger will streamline workflow, resulting in better utilization of staff. An acquired book will go to one Division instead of several for centralized processing.
How did you get involved in library work?
I began my library work right after high school at the National Library of Agriculture. I was asked to take courses at the USDA Graduate School and received the Library Technician Certificate of Accomplishment. I found this has helped me excel to my level of proficiency, for example, with promotions, awards, etc. Even though I have been at the library a short time, I bring with me 34 years of library experience from the Smithsonian Institution and the National Agricultural Library.
Describe support staff activities in your area
With the merger of cataloging and acquisitions, support staff activities for myself consist of routinely searching for and use of bibliographic data from foreign libraries, Z-processor, LC Web Classification used for searching LC subject headings in order to compose a call number and retrieve data to a basic bibliographic record, creating IBC records, copy cataloging, updating records, ILS, remote database and Internet searching, shelflisting, reviewing records for accuracy and completeness before distribution to other libraries. We are all in the mist of transition; I look forward to learning new skills in the acquisition workflow process and working with such a dynamic diverse team.
Final Comments
I feel most fortunate to work at the Library of Congress, the nation's oldest federal cultural institution. LC is the world's preeminent reservoir of knowledge providing resources to Congress, Federal agencies, State and Local Governments, scholarly, library and the general public community. I love the work that I perform here at LC and having the pleasure of working and processing the many materials in all types of formats. I served as a member of the Council on Library/Media Technicians (COLT), an affiliate of the American Library Association, which has addressed the issues of concern to library support staff personnel. The issues cover areas such as technical education, continuing education, certification, job description uniformity, and the more elusive goals of gaining recognition and respect for the very professional work that we do. I attended the 26th Annual Conference on Library Media Technicians, Inc. (COLT), New Orleans, LA. In attending the many different conferences/workshops, you meet so many people from all over the world in the library profession and you gain so much information and foresight on the library community as a whole, which provide individuals with personal and professional growth.
1,091 views