ASSOCIATES (2007, November, v. 14, no. 2)
Spotlight
Kerrie Blyth, Burnie, Tasmania
Where do you work and what do you do?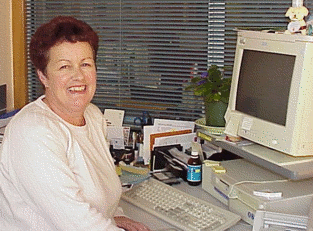 I am a library technician who this year has taken the step out of a comfortable 18 year position in libraries to accept the challenge of a brand new position in TAFE (Technical & Further Education) as a resource development advisor (RDA)
So what do you ask does an RDA do? Well I have now been in the role for 6 months and the time has flown by so very quickly. I have responsibility for about 400 full-time and part-time or casual teachers in TAFE Tasmania covering the whole of North-West Tasmania. TAFE have campuses in Devonport, Burnie and Queenstown and an annexe in Smithton.
I am part of a state-wide team called Learning Resource Support and our purpose is to support teachers and delivery teams in resource development and the use of learning technology. We work closely with teachers on the development of a wide range of resources, from simple handouts to interactive multimedia experiences. We offer coaching in skills for using learning technology. Being regionally based ensures that the RDA's can work closely with and support, the teaching staff. Some days I may be running a workshop for an entire delivery team or conducting a one-to-one coaching session at my desk. I need to continually research new technologies, trial them and decide whether they are appropriate for particular causes.
Overall it is a very busy job with immense variety and I am enjoying the challenge of learning a new role.
How did you get involved in library work?
After the birth of my three children I felt a strong urge to be engaged in some type of study, and after looking around decided upon the library technician program being offered at our local TAFE (Technical and Further Education) College. At the time I had no idea just where a combination of study, work, professional membership, networking and some luck would take me. Ultimately all of those things have helped me to enjoy a career in Vocational Education and Training as a library technician, teacher, mentor and currently a resource development advisor.If I look individually at the things that have helped me achieve a steady income, job satisfaction and a comfortable niche in the world of education I would start with study.In 1982 when I took on one unit of study per semester at TAFE it seemed that to actually finish the course and gain a qualification was far into the future. However that was of little consequence as I felt taking small steps was the only way I could manage and still feel comfortable about returning to study. The desire to study and commit to lifelong learning remained and I think it was largely due to the enjoyment I felt during those first few years. I have upgraded my library qualifications each time there has been a change and currently hold an Advanced Diploma in Library Studies. I was also encouraged to study for qualifications to allow me to become a teacher within TAFE, these too have changed over the years and at present I am but a whisker away from completing the Certificate IV in Training & Assessment. Teaching in the Library & Information Studies area and at the same time working as a library technician in TAFE, gave me a wonderful connection with the students and the chance to use our library as a true training library. I also took on part-time jobs teaching communication, research and information technology (IT) units for a number of teaching departments.Becoming a member of ALIA (Australian library & Information Association) www.alia.org.au in 1995 and helping my peers establish a Tasmanian branch for library technicians was another huge step for me. Through my involvement with ALIA, I have met an extraordinary group of people around the world, learned many new skills and participated in a wide variety of events, as an elected office bearer, organiser, team member, educator, presenter and participant. One of the highlights was receiving the Dunn & Wilson Award in 2001 which allowed me to travel to the UK and investigate the education and training of library paraprofessionals there and in the USA, NZ and Australia. I presented my findings in Brisbane at a National Library Technician Conference http://www.alia.org.au/awards/dunn.wilson/2001/
Describe support staff activities in your area
I have been a member of ALIA (Australian Library & Information Association) since 1995 and during the first decade of my membership I was actively involved in organising and attending activities to support the education, training and networking needs of paraprofessionals in the library and information sector. Tasmania as an island state of Australia, suffers a little from the geographical divide associated with being an island. This means that it is harder to attract larger scale events and speakers to travel here and we have to make a greater effort to participate in an online environment or be prepared to travel long distances. Generally though Tasmanians accept and support any quality activities arranged for them and are prepared to travel after working hours if necessary to take part in arranged activities.
Final comments
The Library Technician movement in Australia is very strong and I believe it continues to thrive because of the immense variety of skills and knowledge we have and the enthusiasm and commitment we throw into our profession. Our ALIA Library Technician group has a national committee as well as groups in each state of the country. Every two years a National Library Technician Conference is held in one of the capital cities, this year it is in Melbourne. Details of the conference to be held Oct 9th – 12th can be found at http://www.alia07.com/
Kerrie Blyth    ALIATec CP
Resource Development Advisor
Learning Resource Support
TAFE Tasmania
PO Box 1234 Burnie
Tasmania 7320
Australia
Kerrie.Blyth@tafe.tas.edu.au
861 views