ASSOCIATES (2009, July, v. 16, no. 1)
Spotlight
Janette Telford, New South Wales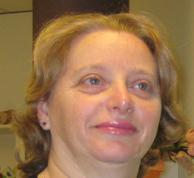 Where do you work and what do you do?
I work at the Australian Catholic University, MacKillop Campus, which is located at North Sydney, New South Wales. The Australian Catholic University has 6 campuses along the east coast of Australia. The campuses are located at Brisbane (Banyo), Sydney (North Sydney and Strathfield), Melbourne (St Patrick), Ballarat (Aquinas) and Canberra (Signadou). Each campus specializes in particular areas of study with MacKillop Campus specializing in Nursing, Business, Informatics, Environmental Science and ELICOS.
I am currently the loans coordinator and supervise a number of staff. These staff has duties including Inter Library Loans, Inter Campus Loans, Online Readings, Course Reading and shelving.

How did you get involved in library work?
I have always been interested working in libraries; even at school I was assisting the librarian in high school. After leaving school I was lucky to be placed in a public service job in a library and was able to attend TAFE part time to obtain my Library Technician Certificate. Since obtaining this certificate I have been employed in many organizations and positions and have gained a wealth of knowledge.
For two years I was a volunteer working in Tonga at Atenisi University and High School. This gave me experience in dealing with issues not usually associated with Library Technicians. This included assisting in organizing the Library week activities, attending meetings with fellow library officers, cataloguing the collection using Library of Congress and dealing with a small one person library with a small amount of facilities.
Some of the interesting experiences included having children perform their interpretation of a book in front of the King of Tonga's grandchildren during Library Bookweek, having students fish out of the windows of the library for lunch and having to wade through knee deep water to reach the library after a cyclone. Other activities included revitalizing Bookweek with the other library staff and seeing the expansion over the years to include both English and Tongan poetry and quizzes.
Another interesting experience was conducting reader education classes with the High School students. As this was the first time the students had been given any formal training this had a huge impact on their use of the available books.
I have also presented papers at various Library Technician conferences and also at the LIANZA conference in New Zealand. I have been a member of Australian Library and Information Association (ALIA) since 1989 and have held many positions on both the NSW Library Technicians committee and National committee. During 2009 I was presented with the Associate Fellowship by ALIA. To obtain this I completed the 3 years for the continuing professional development course run by ALIA.

Describe support staff activities in your area
The support activities run in my office include:
Interlibrary loans – recently the university has commenced using a new ILL system within the UNILINC libraries. My library together with Charles Sturt University, Southern Cross University and Police Academy are trialing a new ILL module of the library system (ALEPH 500). This has led to a steep learning curve by all staff involved.
Intercampus loans – this is a loan service between all campuses of the Australian Catholic University. Items are requested via the OPAC and dispatched to the appropriate campus for pickup by the student or staff member. Holds can also be placed on items at other campuses provided they are not on course reading or restricted loan.
Course reading – are items placed by staff that are relevant to the unit of study they are teaching. This includes set texts and suggested readings for each unit. The items are kept here between 1 or 2 semesters depending on the course. All items placed on course reading are available to be viewed on the OPAC.
Shelving – this is done by our library assistants who divide the collection according to demand. Also these staff repair books and other items, end process items and assists with ICL when required.
Online readings and e-reserve – these are done by separate staff. Online readings are kept on the copyright database and are linked to the units housed on blackboard. E-reserve is where they keep the unit outlines for both staff and students to have access to. Past exam papers were kept here but are not on a separate link.
Reference desk or information desk – during the semester I am rostered on the information desk to assist the students with reference queries.

Final Comments
Working at the Australian Catholic University has provided me with experiences in both supervision and understanding of how a library works. At present I have almost completed by Bachelor of Science (Library Technology) with Edith Cowan University and hope to further my studies in librarianship in the future.
894 views