ASSOCIATES (2007, November, v. 14, no. 2)
Spotlight
Suzanne L. Sager, Portland, Oregon
Where do you work and what type of work do you do?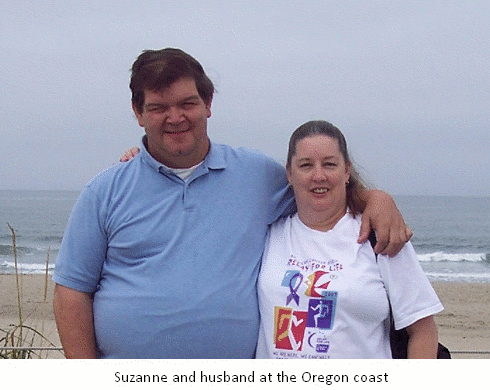 I am a Library Tech 3 Cataloger in the Branford P. Millar Library at Portland State University located in downtown Portland, Oregon. The Cataloging Department of Technical Services is located in the Smith Memorial Student Union which is a different building than the library. I catalog mainly monographic material using OCLC and Innovative Interfaces. I am also responsible for keeping and reporting statistics for the Cataloging Department. There are several things that I really appreciate about my job. Being a Library Tech. 3 in the Cataloging department is both challenging and interesting as there have been many changes in the last 21 years I have worked here. When I first started, we spent an average of an hour a day working on a computer that was located in a shared area. Now there is very little that can be done without a computer. I'm very fortunate in that Helen Spalding, the University Librarian encourages support staff to attend library conferences and to get involved in professional activities. Support staff are also allowed to use work time to attend library associated meetings and conferences. The library also has a program that allows support staff to use paid leave while pursuing their MLS. This really helped me while I was attending the LEEP program at the University of Illinois, Champaign-Urbana.
How did you get involved in library work?
I became involved in library work completely by accident. Although I had always loved reading and spending time at the library, I never imagined myself working in a library. I earned an Associate of Science Degree in Accounting at Clackamas Community College and while there, became certified as an Income Tax Preparer. My sister-in-law planned on taking the state test for the clerical assistant positions and suggested that I take the accounting clerk test. When we arrived at the test site, I found out that it would not be possible for me to take the accounting clerk test as they first needed to verify my qualifications. Instead I was able to take the clerical assistant test and at that time, the support staff positions in the library were considered clerical positions. Within a short time, I was invited to interview for a clerical assistant position in the Cataloging Department of the Library at Portland State University. I later learned that my experience with Income taxes, along with my Accounting degree, helped me to attain the position. While working at Portland State University, I have also taken advantage of their staff tuition benefit by earning a Bachelor of Arts in History with a minor in International Studies.
Describe support staff activities in your area.
The most important source for support staff activities in Oregon is the Oregon Library Association Support Staff Division (OLASSD) which offers an annual conference as well as other workshops. The conference has been held in different locations throughout the state and includes a variety of topics geared towards support staff. OLASSD also participates in the Oregon Library Association's annual conference by sponsoring both pre-conferences and workshops. OLASSD offers a basic and a intermediate book repair workshop taught by Kris Kern and Carolee Harrison both of whom work in the Preservation Department at Portland State University. OLASSD also has scholarships available for support staff to help pay for continuing education and membership in OLA. I originally became involved in the OLASSD by volunteering to serve on the conference committee. Since then, I have also served as a member-at-large, recorder, conference chair and chair of the Executive committee. I served as the treasurer of the Oregon Library Association from 2001-2005 and was recently elected to serve as their representative to the American Library Association. I also served on the Estacada Public Library Board for 8 years and the experience helped me to understand some of the issues facing public libraries.
Final comments:
I can't emphasize how important it is for support staff to join and become involved in their state Library Association. The American Library Association also has the Library Support Staff Interests Round Table and has lower dues for support staff. There are so many opportunities that are available for support staff and we owe it to ourselves to take advantage of them. Some of the benefits of being involved include networking, learning new skills, and using our expertise to help others. Contact your state Library Association to find out how you can become involved. There are also many continuing education opportunities that are available for support staff. The Pacific Northwest Library Association (PNLA) offers a Leadership Institute every two years and support staff are encouraged to apply. I attended the 2007 leadership institute that was held at the Tamarack Resort in Donnelly, Idaho. The experience has really helped me in my professional activities as well as in my work at Portland State University. Anyone who is interested should check the PNLA website at http://www.pnla.org/ in February or March of 2008 for information on how to apply. I believe it is very important for support staff to become involved in leadership positions in order for us to have a voice. I have been active in the Oregon Library Association for several years and as a result have had the privilege of meeting and working with many dedicated people who are involved in the library profession.
886 views