ASSOCIATES (2009, July, v. 16, no. 1)
Feature
Wikis: Tools for Success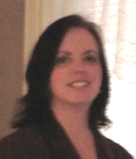 Joyce Vermillion
joycevermillion@yahoo.com
Most, if not all, of us have at some time on our journey along the information superhighway, come across a wiki. The most famous, or perhaps infamous, of these is the online encyclopedia, Wikipedia.
According to Wikipedia, a wiki is defined as "a collection of web pages designed to enable anyone who accesses it to contribute or modify content, using a simplified markup language. Wiki's are often used to create collaborative websites and to power community websites."
Some wiki hosting sites offer a free basic edition. More advanced editions are usually available for a fee.
I was personally introduced to the wiki when I received an assignment to develop one for our departmental manual. Unlike Wikipedia, which is a public wiki, our wiki would be private, requiring a log-in to access it. Some of the benefits of a wiki include:
Ease. Building a wiki is incredibly easy, not unlike using a word processing program.
Files can be attached, links inserted, as well as pictures or clipart.
Unlike the hard copy manual, the wiki allows you to link directly to the web pages containing library policies. When changes are made to a policy, you no longer have to go in and change the hard copy to reflect this.
Anyone with the log-in can go in and make changes.
Access to a message board can be linked to from the home page, allowing time sensitive messages to be viewed and archived if appropriate.
Delving into the world of wiki's proved to be a challenging and exciting adventure. Having completed this project, I sat looking at the numerous manuals, procedural notebooks, and folders that I use for my own student workers. Why not?
I introduced my student workers to the wonderful world of wiki's. We began with the premise that we would put our student employment manual, procedures manual, and student workbooks on the wiki.
To familiarize the students with the wiki I asked each of the students to create their own "home page". I downloaded a handful of avatars they could use to spice it up and told them to decorate it in any way they wished.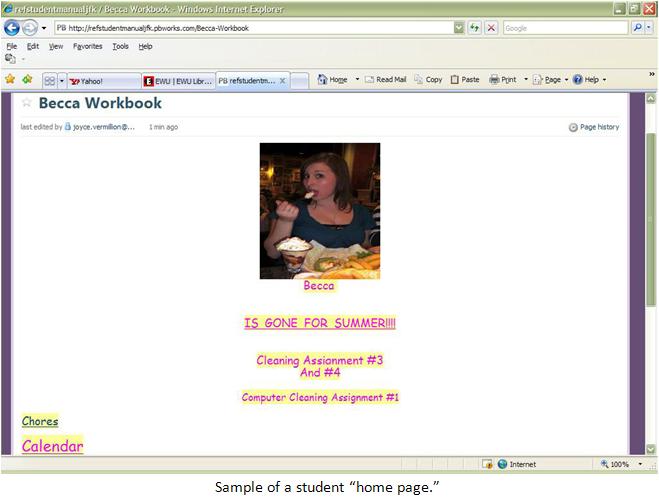 Now familiar with the wiki and how it worked, we loaded calendars, chore lists, procedures, and schedules onto their home pages.
The students greeted this new format with enthusiasm and the ideas kept pouring in. We added a message board, a page to track progress of special projects, timesheet due dates, training tutorials, and a supervisor's page where they can leave me messages.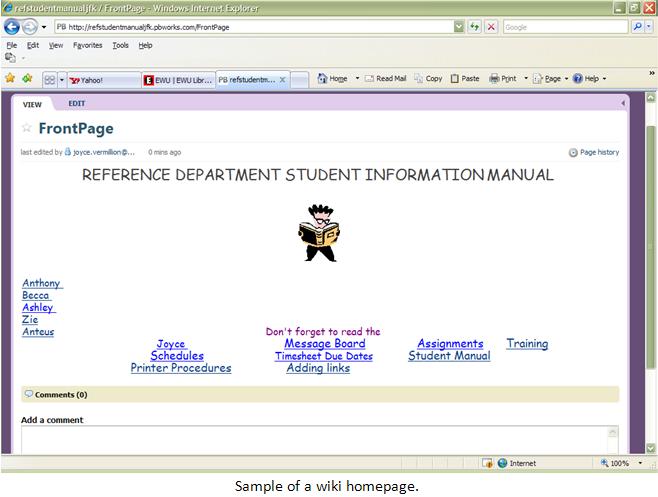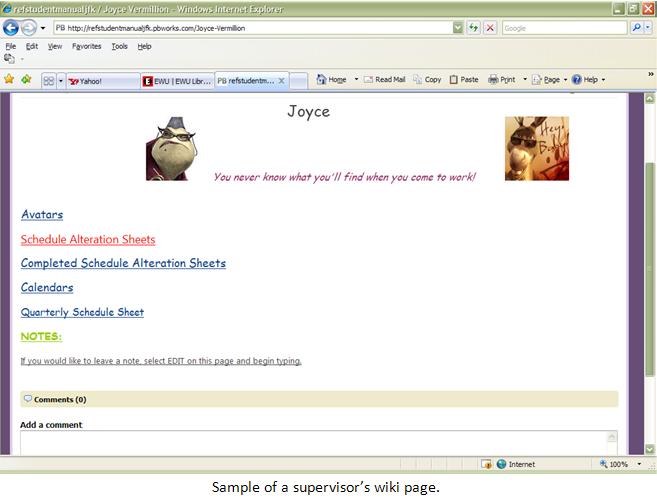 The message board has the added advantage that if I'm working from another location or home sick I can log on and post pertinent messages. The same can be said for the students having an opportunity to communicate easily with each other when they don't work the same shifts. They can post requests for shift swaps, coordinate on projects, and post problems they've run into.
At times we can be reluctant to embrace technology, but taking that step outside of our comfort zone can result in a streamlined and efficient method of performing our jobs. Since creating our Student Employee wiki our paper copies have become nearly obsolete, although we do keep them on hand for backup purposes.
Speaking from experience, I encourage everyone to take that journey into the wonderful world of wikis.
---
Works cited:
Wikipedia 2009.
<http://en.wikipedia.org/wiki/Wikipedia:About>
2005 – 2009 PBworks.
<http://pbworks.com/?utm_campaign=wiki-link>
---
Joyce Vermillion is a Library & Archives Paraprofessional V in the Research and Information Services Department at Eastern Washington University Libraries. She is also a professional freelance book indexer.
1,273 views