ASSOCIATES (2009, July, v. 16, no. 1)
Spotlight
Allison Sloan daSilva, Reading, Massachusetts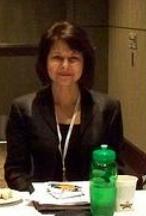 Senior Library Associate
Reading Public Library
dasilva@noblenet.org
Where do you work and what do you do?
I have worked as a paralibrarian at the Reading Public Library, Reading, Massachusetts for over 18 years. I started as a Circulation Technician at the service desk helping patrons check materials in/out. I accepted a promotion to the Technical Services Department and then was promoted within the department to Senior Library Associate. My primary responsibilities include Interlibrary Loan (ILL) and ordering/processing audiobooks. Over the past 12 years both of these jobs have grown and changed based on the www and internet access both for library staff and for patrons.
An ILL request is escalated to me if a library patron is unable to locate an item using the online catalog with access to materials in the 28 libraries within our consortium, or via the Massachusetts Virtual Catalog which offers easy access to materials in public, academic and special libraries throughout the state. I search statewide and nationwide to request items point-to-point (PTP), and through a central site with OCLC membership, to locate and retrieve items. My job includes maintaining a database of all pending requests, processing items into our system once they arrive, contacting the patron to let them know their book/DVD/CD has been retrieved, and removing the items from the system before processing them to be sent back to their home library.
Audiobook ordering used to mean transmitting the orders by telephone or fax. Now I input ISBNs and use web based vendor sites to order CD audiobooks, and rarely an audiobook on cassette. My job starts when the librarian selects the titles to order, and includes identifying the best vendor, inputting the orders, receiving, processing, billing, classifying and adding temporary MARC records or attaching items to existing records in the system. It is everything from buying the audiobook to readying it for the patron to check out.
I regularly participate on several inhouse committees such as program planning for a Library Open House or Book Talks. I also serve as the Recording Secretary for the Reading Public Library Board of Trustees. I am on the Executive Board of the Massachusetts Library Association (MLA) Paralibrarian Section, having served as Chairperson, Past Chair, and currently Conference Committee Member at Large. On that committee I am involved in coordinating programs for the MLA Annual Conference and working with subcommittees for Paralibrarian Awards and a statewide Paralibrarian Recognition of Achievement which recognizes and standardizes the qualifications of paralibrarians.
How did you get involved in library work?
I had worked in the library to earn pocket money when I was in college. In my first career as a legislative aide and lobbyist, I spent hours in the library, doing research on legislation and working with librarians to develop databases. Later I volunteered in the elementary school library when my daughter started first grade. Once both my children were in school all day, I applied for a position working 14 hours a week at the Circulation Desk of my home town library. Along with customer service skills, I was hired because I had computer experience. The library had just computerized the check-in system, and there were plans to eliminate the "card" catalog and move to an online catalog. I never anticipated the part time job would develop into a career as a paralibrarian, and that I would still be working here 18 years later, and advocating for paralibrarians.
Describe support staff activities in your area
The Massachusetts Board of Library Commissioners (MBLC) and MLA are great supporters of paralibrarians, which is what we call non-MLS degreed library support staff. With MBLC and MLA support, the rejuvenated MLA Paralibrarian Section has developed amazing programs to include and encourage paralibrarians as contributing members of libraries working as a team with librarians and administration. The MLA Paralibrarian Section has two awards: Outstanding Paralibrarian and Paralibrarian Advocate. Nominations are submitted from all over the state, with people writing about the amazing work and contributions of paralibrarians in all kinds of libraries; and about librarians and paralibrarians who have gone above and beyond to advocate for paralibrarian careers.
The MLA Paralibrarian Section has worked hard to develop the PARA (PAralibrarian Recognition of Achievement.) This program offers a Notice of Achievement based on demonstrated accomplishments of paralibrarians in 5 areas. Notices have been presented for Levels I, II, and III. The PARA offers a standardized confirmation of paralibrarians skills and contributions, from educational background to conference participation, writing and speaking, technical and administrative abilities.
To much fanfare and hooplah the MLA Paralibrarian Section has organized a statewide Book Cart Drill Team competition. Sponsored by DEMCO, teams perform and compete at the MLA Annual Conference. Team building, marketing and branding, and public relations are just some of the positive results from a library book cart drill team.
Final Comments
I am lucky and proud to be involved with paralibrarians who are active and contributing to the library community in Massachusetts. And Massachusetts paralibrarians are lucky to have the support of the MBLC, MLA and library directors across the state. Please visit our web site for more information about the Massachusetts paralibrarians : http://www.masslib.org/sectionsandcommittees/paralibrarian.htm
1,372 views