ASSOCIATES (2009, July, v. 16, no. 1)
Column
My View from the Back Room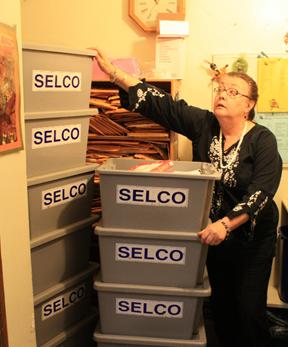 Carol Borzyskowski
Library Associate II
Winona Public Library
borz@charter.net
www.winona.lib.mn.us

BUCKS FOR BOOKS! Your library is a great value!
First off I have to say that money being tight has not caused me to lose any weight. I am throwing that in because everything else around the library has been tightened up, been reduced, and running much leaner.
We are dealing with funding cuts and facing more next year. By next column I should be able to tell everyone just where the bloody axe chopped. In this year of 2009 we are down 65 staff hours. The work they did, did not go away, in fact the library is busier than ever. So that means everyone has picked up extra jobs but not extra time. We go home tired at night. We have had full time staffers, including the librarian, grab a book cart and shelve, put out newspapers, and sort magazines, CDs and DVDs. We are all pitching in just so the material is out there for our patrons.
Now when it comes to materials this year our budget is $0. To get any new books at all we had to dig into our Memorial Fund. We have had a couple of small fundraisers, and we started a BUCKS FOR BOOKS fund. The Bucks for Books is right on the Circ desk to be noticeable. It had been moderately successful, but nowhere close to the amount we lost from our book budget.
Because we are able to purchase only a small amount of new materials our Inter-Library loan traffic has really increased. We are lucky that other libraries are willing and able to send us the requested materials. But with increased Ills, staffing becomes even more of an issue, so now everyone is taking a turn at pulling, packing and unpacking.
As we look to 2010 the predictions are pretty dreary. We may be looking at more reduction in staff and that will lead to a reduction in hours open to the public. That in turns leads to more materials to check in and reshelve with fewer people to do it and less time to do it in because patrons will be returning items when we are closed. The book return will be jammed!
Our library is funded by the City of Winona, which uses the money from Local Government Aid to provide basic services to smaller "out-state" cities. It was designed so outlying areas could still enjoy the advantages of cities with a bigger tax base without choking on crazy high property tax rates. Winona has an awful lot of non-taxable land due to three colleges and many churches within the city limits, so the Local Government Aid helps pay for basic services including: Police, Fire, Streets, Library, and Parks.
In theory, Local Government Aid is great. But when the state has a big deficit and the governor looks for places to cut then LGA funds are on the block. The results can be devastating to small cities and towns. To make matters worse the state is on a fiscal year of July to July (and why is that anyway?) That has never made sense to me, use the regular calendar–that is why we have it! The city is on a calendar year and by the time we get our chunk of change, the money is already spent. And when you get a lot less than you were promised and budgeted for, things have to be cut!
When you look at cutting basic services, choices have to be made between having less fire and police personnel, or library staff. As important as we feel the library is to a community, the reference librarian cannot respond to your house fire. This is pretty dramatic because it pits essential services against non-essential services. But it is really Emergency services verses Everyday services. The library is probably the service you would miss the most because the chances of having a fire are very low.
Public support is high. We have been letting the public know the library is in peril. We have produced a really sharp looking informational report for City Council to read, and it is full of positive comments from patrons. To make up lost LGA funds the city is looking at cuts and raising the property taxes. We hope we can continue to serve our community without being a burden on the taxpayers, and we hope the taxpayers feel that their library is a great value!
1,146 views