ASSOCIATES (2009, July, v. 16, no. 1)
Feature
Greetings from Canada
Karen Hildebrandt
Convenor CLA LTIG
karen.hildebrandt@concordia.ab.ca
We have just celebrated our Country's Birthday on July 1 and although summer has arrived, the days are already beginning to become shorter.
Spring was a busy time for library conferences so I took the liberty of including the library associations and the conference theme for each one.
The British Columbia Library Association (BCLA) 2009 Library Conference
Be Curious: Think, Share and Discover
Alberta Library Conference 2009
Cultivating our Future: Seeds for Success
The Alberta Association of Library Technicians (AALT) Conference 2009
Celebrate!
The Saskatchewan Association of Library Technicians (SALT) will be hosting Fall Workshops and Annual General Meeting late October this year.
The Saskatchewan Library Association (SLA) Conference 2009
Branching Out
Manitoba Libraries Conference 2009
Future Generations: Evolving Services
Ontario Library Association Super Conference 2009
You Live, You Learn: You, Your Library, Your Community
Ontario Association of Library Technicians/ Association des bibliotechniciens de l'Ontario (OALT/ABO) Annual Conference
Possibilities/Possibilités
The Library Boards Association of Nova Scotia and Nova Scotia Library Association (LBANS/NSLA)
The Juggling Act: Finding the Balance
Nova Scotia Association of Library Technicians NSALT)
Libraries: From the Inside Out
Atlantic Provinces Library Association (APLA)
Sharing The Library Experience
Canadian Library Association
CLA/ACB 2009 National Conference and Tradeshow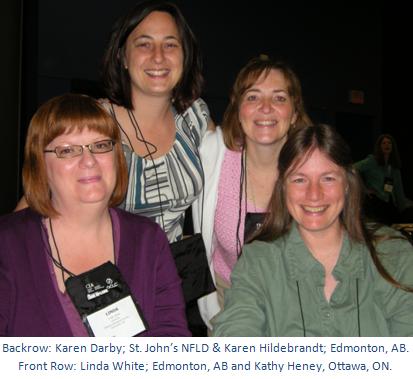 When I consider the wonderful professional development opportunities that are provided within a conference program I find myself almost in awe of the talent and skills of the presenters as well as have great appreciation for the conference program committees that put together the great programs. It isn't an easy task so kudos to all those that have worked on all these conferences. I also apologize in advance to anyone whose conference program I may have missed.
Anyone who has gotten to know me over the past few years has learned that I'm very passionate about what I do. I'm proud to be a library technician and I've always felt it important to be involved in my professional association. It's my way of giving back to the profession that has been so good to me. I have had so many opportunities made available to me in the past few years and this is especially so since I became the convenor for the Canadian Library Association Library Technician Interest Group (CLA LTIG) in 2004. I've had the opportunity to travel across my country so that I could attend the CLA conferences. The sessions have all been great PD opportunities but it wasn't just the sessions I attended that benefited me, it was also the great networking opportunities. Each year CLA LTIG hosts a Library Technicians supper one evening during conference. We have between 18-20 people attending on average. For many LITs this has now become their conference highlight. We have an opportunity to share ideas, meet new friends and become reacquainted with our old friends and we leave the conference energized, enthused and ready to try out a new idea or concept. This past conference we had someone from the furthest point west to the furthest point east at the table with the attendees from the other provinces in between. It was the closest to having our own mini library technician national association right there.
I imagine that many of you try to take advantage of the PD opportunities that are provided within your own associations as well. If you haven't had the opportunity to attend your local library conference yet, please consider doing so. If you've attended the local one and you have an opportunity to attend a national conference, I would strongly encourage you to do so.
Looking at all the conference opportunities and the programs they offer, I just wish I had the funding to attend them all. Unfortunately that isn't likely to happen unless I win a big lottery.
In the meantime, conference committees are already gearing up to plan for their 2010 conferences so it's not too early for you to start socking away some money so that you can attend. You'll be glad you did.
878 views