ASSOCIATES (2009, July, v. 16, no. 1)
Association/Conference Information
The CILIP Umbrella conference at University of Hertfordshire – Hatfield 14th –15th July 2009
Jim Jackson
This bi-annual conference took place again at the University of Hertfordshire, a relatively new campus and one which is expanding already with a large building project called 'The Forum'. This is due to open in late 2009.
The conference was entitled "Making Connections – The Power of People, Partnerships and Services.' There are various strands of seminars going on simultaneously. You have to make a decision on which to attend and which to miss, which can be hard but there is always the trade exhibition to attend and the conference meeting area to meet up with old friends and colleagues to discuss topical ideas and projects.
The conference opened with a plenary session lead by Charles M. Brown, Director of the Public Library of Charlotte and Mecklebury County – USA. His theme was managed change. He discussed in some detail the challenges and initial outcomes of leading his organisation through the transformational changes required for the 21st Century. He discussed what happens when tradition and an organisation's innate culture collide with the need for change through innovative and novel approaches to library services. He was keen to stress the importance of staff participation in the process, and that having input from staff aids the design and implementation of revised services and new services. Without staff input that was valued, any plans which depend on acceptance by the public start off at a disadvantage.
A chance for a quick chat after breakfast one morning outside the campus restaurant was a good start to the day.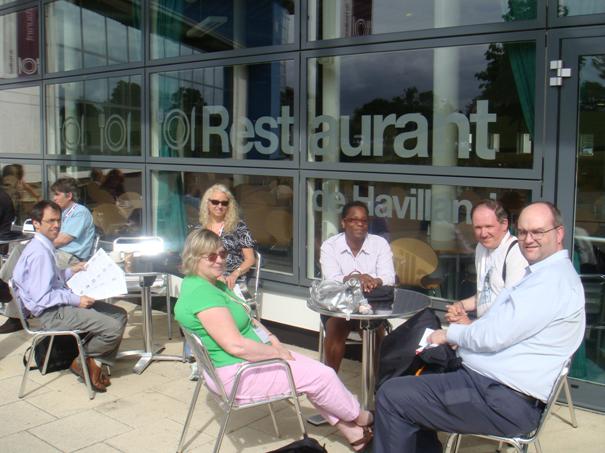 After an inspiring start I attended my first session entitled "From ACLIP to MCLIP– How to Get There From Here." The Framework of Qualifications ( FoQ) is a vital part of CILIP's qualification process and the Affiliated Members Group were at the forefront of the FoQ. Michael Martin spoke about some of the theory behind moving from ACLIP on to the Chartership and MCLIP while Carol Humphreys gave a practical insight on how the obtain Chartership with CILIP. Chartership is a 'Gold' standard for qualified librarians. Lunch was served in the main exhibition hall and gave an opportunity to eat as well as discuss with a large variety of suppliers new topics and new products that were on the market. It was also an important time to meet up with colleagues who you might previously have only spoken to on the telephone or more likely emailed.
Then there was a session entitled "Hells Angels with Shelving – Towards a 21st Century Mobile Service." This was a session run by Karen Newton, Anna Strange and Rachel van Riel. They gave a brief history of mobile libraries – which stretches back further than you might think, and also a look forward to what mobile libraries provide now, and might provide in the future. There was chance to discuss the problems of mobile libraries, funding for new enlarged vans, fuel costs and staffing. Mobile libraries can provide a full service of book loans, but also many other services including internet access for areas which might not have any other public access available. With so many government agencies telling people to look on the internet for information, on child care, employment rights, health issues, a digital divide is forming between those who do and those who do not have access. Mobile libraries form a valuable link to communities in rural areas and areas of great social need.
After this stimulating talk there was the conference reception and again a chance to meet and talk, and perhaps talk to some of the people who have never attended before. The social aspect of the conference is very important, I think, and does encourage valuable networking with people all over the country. Below is a photograph of some of the Affiliated Members National Committee preparing to go out for the Gala Dinner.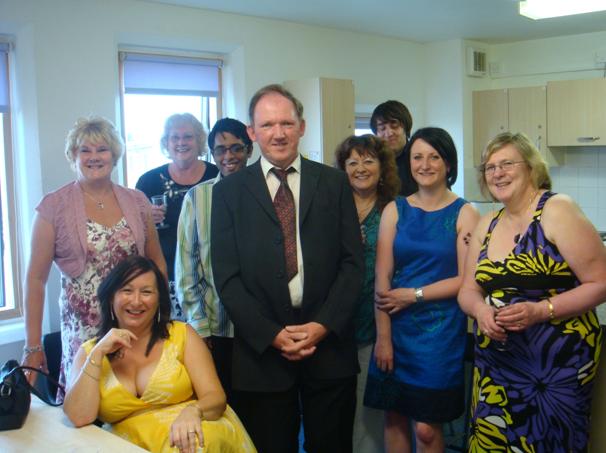 A Gala Dinner at RAF Hendon at the Aircraft museum took up the evening. A truly memorable event as the tables were laid out underneath the wings of a Lancaster bomber with a chance to look around the rest of the museum. Ruth Pollard gave an interesting and light-hearted talk about her life in journalism and the people she had meet and interviewed. There was a serious point to her talk in that she said that access to information for the whole nation was vital and that the sources and management of that information had to be open and honest.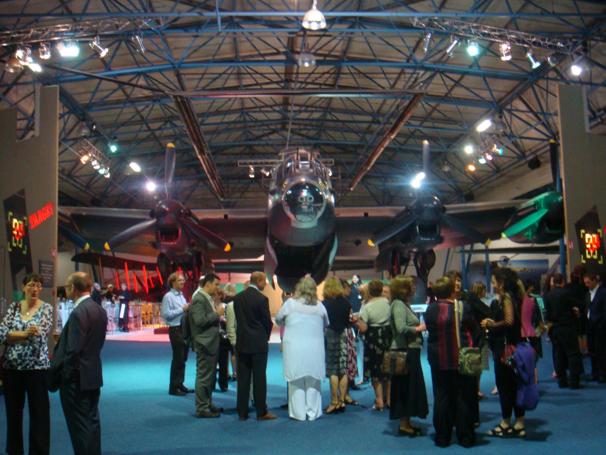 For those wanting to make a late night of it when we returned to the university campus there was a late night bar and a chance to join in a karaoke session. As I was chairing one of the sessions the following day I declined and went to bed. Next morning one of the first sessions was entitled "Continuing Professional Development – The Difference Between Knowing the Path and Walking the Path." Carol Brooks (from PTEG), Carol Barker (from CDG) and Muriel Mitchell (Affiliates) discussed various ways to make mentoring for staff successful and rewarding. With reference also to how to become a mentor and what it involved.
After a coffee break there was a session lead by Karen Newton (Affiliates), Viki Lagus (CDG) and Carol Brooks ( PTEG) on Portfolio building and included a session of Open Forum when delegates were invited to submit various questions to the various speakers. This ranged from portfolio size and content, to how to find and keep in touch with a mentor, and how much time it would all take. With many places working with reduced staffing, or indeed working, as a solo librarian time management is a skill some people have difficulty developing.
This was followed by the closing plenary session and the Libraries change lives award. The winner was announced as: Across the Board: Autism support for families, a Leeds library project which helps local families whose children have autism has won the CILIP Libraries Change Lives Award 2009. The winner was announced by the 1999-2009 Poet Laureate and Chair of the Museums Libraries and Archives Council, Andrew Motion. Full details can be found at http://www.cilip.org.uk/aboutcilip/newsandpressreleases/news090715.htm. Leeds Library and Information Services, in partnership with specialist autism teaching staff and health professionals specialising in speech and language therapy, have been offering support to families who have children with autism. There are about 300 families in Leeds who have children with autism. Another 25 pre-school children are diagnosed by the Child Development Centers in Leeds each year.
Children with autism have difficulty with social communication and interaction. This can result in unpredictable behaviour and means that parents of autistic children may not see libraries as a natural venue where they can come for information, advice or guidance. Leeds libraries and their partners are changing this perception, and in doing so demonstrating the increasing value of library services to local communities.
Sir Andrew, Motion Poet Laureate 1999-2009, made the award and read from part of an earlier work of his. It was a most moving occasion. It was an amazing session as the finalists were all very worthy but the Leeds Library service showed outstanding understanding of a person's need for communication and information which was far from what could be described as 'normal'. However, the meaning of the word "normal" took on new meanings with this project and showed how vital it is that people who have some very serious health issues and their careers can be handled in a sensitive and informative way. Truly a bench mark for the future and one which should grow to nationwide coverage with sufficient funding to provide it.
After a short break I chaired a session entitled "Building a Successful Library web2.0 Service in 7 Steps." James Smith (Sunderland Libraries) and Nick Stopforth (Newcastle Libraries) gave a lively and hugely entertaining talk on how the right web tools can provide information on a vast number of topics, which in turn are all interlinked to provide even more in-depth information. There was also an interesting look at how web tools and services develop and then are superseded by new ones. There is a growing trend for some web services to gain world-wide use and then within a short space of a year of so can fade from use and be discarded by most users. An example of 'Myspace' was used as being on the downward trend with 'Twitter' on the upward trend. The 'life span' of such services, and their commercial value, can be difficult to predict and often are dramatic in their rise and fall. A library services dependence on such tools needs to be carefully watched and monitored. The session could have continued for several more hours but the conference was due to finish and I had to end the session.
The conference was a great occasion and like so many things 'Umbrella' is likely to develop and evolve into something slightly different in 2011. This year's delegate's numbers were higher than in 2007 and the number of trade stands was also up. The conference has a special niche for librarians of all types to gather, discuss and develop ideas which can then be taken back to home institutions for trail there and possibly implementation there. Costs are always a problem but I have to say that if you can only afford to attend one conference every 2 years, then this is the one to attend – see you in 2011 I hope.
I should like to thank the National Committee for their financial assistance in attending this conference, which is much appreciated.
886 views