ASSOCIATES (2009, November, v. 16, no. 2)
Feature
Using Leadership Quotes to Help Develop Rising Student Leaders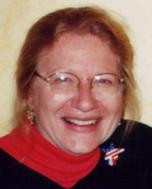 Linda Lemery
Mary B. Blount Library
Averett University in Danville, Virginia
linda.lemery@averett.edu

The most fulfilling part of my job is working with the work study students I'm lucky enough to supervise at Mary B. Blount Library here at Averett University in Danville, Virginia. These students are wonderful young people who are successfully balancing work study service with their educational course load.
A Bridging Program
The library student assistant program is a bridging program between student employment as part of the college experience, and eventual employment in the post-graduation workplace. Since library operations require reliable staffing, we share with students at the time of hire, expectations concerning attendance, quality and scope of work, initiative, cooperation, customer service and communication ability. Because they have information about how they will be evaluated from the time they start work, they determine how they will meet or exceed those expectations.
However, there's more to it than that. In this program, we're developing student leaders.
Sources of Inspiration
If we think about our own positive employment experiences, we're often inspired by coworkers or supervisors who do something really well, who are willing to share their expertise, and who believe in their employees' abilities to transcend how things have always been done in order to make improvements or develop processes that previously weren't even on the map. Further, we can be inspired by seeing presentations, by reading articles that quote experts or detail their processes, or through some other exposure to information that causes us to think differently than we did before about how to resolve a problem, or manage or create a process. We all want to draw inspiration from heads wiser or more experienced than our own. Particularly in the realm of personnel relations, it's useful to look beyond the local workplace to the writings of thinkers whose work seems to resonate as truth. Applying inspiration–drawn from all these sources–to solving problems is one mark of leadership.
Learning From Quotes
I have long drawn inspiration from quotes. Because my reading interests center around science, business, personnel management, leadership, education, communication, fiction, and nonfiction, I tend to read heavily in those areas. Working in a library is a dream job for somebody who loves to read about creative and innovative ways to solve problems. Certainly I feel that way about my own interest areas. Particularly when a paragraph or a sentence or a phrase brings together disparate ideas, I think about the concepts and then learn from finding out how I interpret those concepts. Sometimes I can apply what I think to the workplace; other times I can apply my clarified thinking outside work. I always learn from thinking about these quotes, whether I apply what I learn immediately or sometime down the road.
I have long felt that students might benefit from reading selected quotes as well. Hence, I have an 8×10-1/2 inch, plexiglass frame on my desk in which I keep thought-provoking quotes from the books I'm reading, for students. They pass the framed quotes every time they approach my desk. I change the quotes every time I post a newsletter.
It's important to convey to the students that the extra things we do for them — like the quotes — are just one of the many ways our university enriches the student learning experience outside the academic arena. Why we provide these quotes is listed in the document footer (see sample below); the source is listed near the top of the page. I generally use quotes out of Averett Library-owned books I'm reading, so that students who are interested enough to pursue reading more have easy –and free — access to the material.
Will This Make A Difference?
Though I don't get many comments about the quotes, I know students are reading them because the frame has been moved nearly every morning I work. Since the majority of our students work afternoons and evenings, the moving frame tells me I am reaching at least some of the students who I don't see on a regular basis.
I believe learning occurs incrementally for all of us, whether we're students or are working full-time somewhere in the workforce. For students, learning occurs incrementally as they absorb information from their coursework as well as information implicit in their environment. Everything is important. Everything matters.
The test as to whether this practice of posting leadership quotes makes any difference for students will come later in their lives, when they have to meet a challenge that requires that they draw from their academic, social, family, professional and personal background experiences. If they have the mental charts, they can pick out the information they need to chart the course. Having a wide array of resources to plumb for guidance in the face of challenge is a huge component of leadership.
---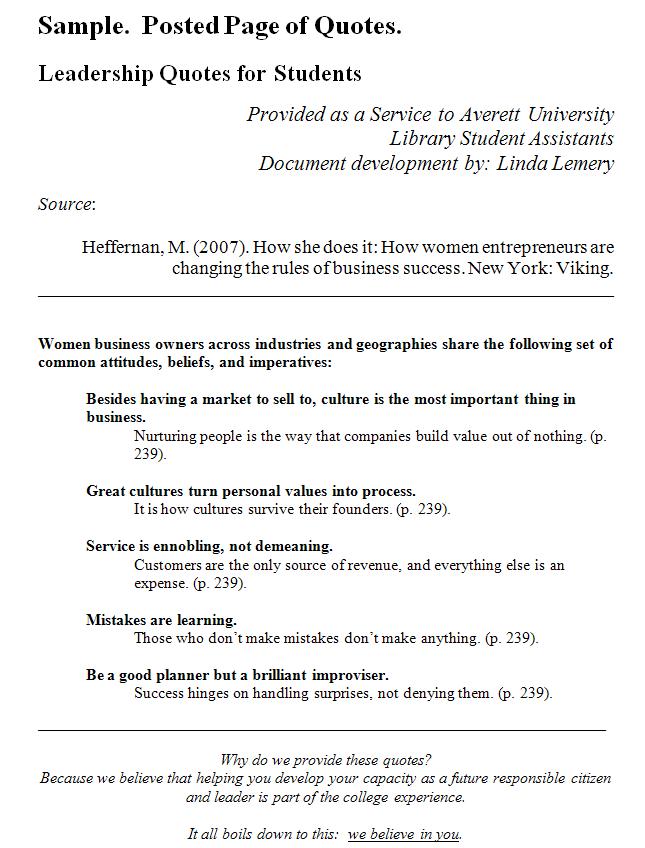 948 views