ASSOCIATES (2009, November, v. 16, no. 2)
Spotlight
Karen Hildebrandt, Alberta, Canada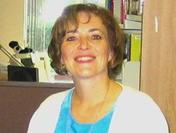 Circulation Services Coordinator
Concordia University College of Alberta
Karen.hildebrandt@concordia.ab.ca
Where do you work?
I have been working in the library at Concordia University College of Alberta, Canada, since 2001. I started here as the Systems Coordinator and since 2008 have been in the role of Circulation Services Coordinator.
What do you do?
The Information Services Coordinator and I are part of our library management team with the Library Director. My responsibilities are to coordinate and supervise all aspects of circulation including Reserves and Inter-library loans. I supervise three full time staff, six part-time staff and two student assistants.
How did you get involved in library work?
Working in a library was part of my destiny. It all started back in Mrs. Prentavost's grade three class. She was giving us basic library instruction and I found out that I could work in the library. I would have worked every recess and lunch hour if I could have but of course we all had to take our turns. I think I managed to pick up extra shifts when some of the other kids decided they would rather play than check-out or check-in books, shelve the books, or shelf-read. I was hooked.
In grade seven our junior high school had a "library option" so I happily signed up. If I was curious about something I didn't understand but was too embarrassed to ask about, I would sign out a book and read up on it. Unfortunately I could only take the "library option" once in junior high.
It wasn't until my oldest son started grade one that I found myself back "working" in the school library as a parent volunteer. By my fifth year of volunteering I had registered for the library technician (LIT) program at Grant MacEwan Community College in Edmonton, Alberta. I was going to school full time for two years, working part-time, volunteering one day a week at the school and still managing to have time with my husband and two young sons. I graduated in 1998 and began my first real paying job as a library technician working in an inner city school for two years. From there I moved on to the school where I had been a parent volunteer for so many years. I worked there for one year when the opportunity arose to apply for a position at Concordia University College of Alberta. With a lot of trepidation I applied and was completely astonished when I was called for an interview and then offered the position. I was the Systems Coordinator for about three years before I also took over the serials and became the Serials and Systems Coordinator. In April 2008 I was promoted to the Circulation Services Coordinator position and became a member of the library management team.
I've been so grateful for the opportunity to get the training and employment in a profession that I feel so passionate about. I first became involved with the Alberta Association of Library Technicians (AALT) while I was a LIT student by volunteering for some of the committees and in 2001 was elected co-chair for the annual conference. I also served as President-Elect and then President. During my term as President I became a member of the Canadian Library Association (CLA) and the Library Technicians Interest group (LTIG). Once my term as President was completed I was appointed Convenor for CLA LTIG.
I never dreamed that I would have the opportunities and experiences that I've had since getting my LIT diploma and especially since working at Concordia and as the LTIG Convenor. I'm so very fortunate that my employer supports my association involvement.
Some of the experiences I've had are:
Representative for library technicians on the CLA President's Council for the 8 R's: Recruitment, Retirement, Retention, Rejuvenation, Repatriation, Re-accreditation, Remuneration, and Restructuring. (http://ejournals.library.ualberta.ca/index.php/EBLIP/article/viewFile/5122/5325)
Attending the Training Gaps Analysis summit meeting based on the 8 R's study.
Planning the annual LIT networking supper at the CLA Conference.
Facilitating the annual LIT Program Chairs/coordinator meetings.
Committee member of the Grant MacEwan LIT program Advisory Committee and now chair of the committee.
Presenter at CLA as well as local library professional development events.
Member of the Cross Canada Library Technicians Connection (CCLTC) which is comprised of the Presidents of the Provincial LIT Associations as well as Convenors for the Provincial LIT Interest Groups.
I will be the keynote speaker for a LIT conference in Newfoundland in mid November (only about 12 hour flight across the country); speaker at the Alberta Library Conference April 2010; as well as tentatively presenting at the Manitoba Library Association (MLA) in May 2010 and the CLA annual conference in June 2010.
One of my goals is for library technicians to have a more visible profile within CLA. Ideally that would be a position on the Executive Council so that library technicians could see that this really is their national library association. In the meantime I have submitted a proposal to the Executive Council to form a Task Force to review and revise the "Education of Library Technicians Guidelines" document. I have been asked to represent LTIG as a member of the CLA Program Committee for next year's annual conference. My commitment to involvement isn't because I am looking for some kind of personal gain; rather it is to give library technicians a more visible profile and to show that each one of us can make a difference.
I recently completed my Bachelor of Applied Human Service Administration Degree (HSAD) which is similar to a management degree but geared toward non-profit organizations. How much more non-profit can you get than a library and a library in a small independent Christian academic institution? It was a challenging 2 ½ years but I learned so much during that time. The hardest part of working on an applied degree was that it all related to my work. So I would work all day and then come home and think about work another 3-5 hours while working on assignments and papers. I even thought about work in my dreams at night!
But just so you don't think I'm a total library geek and only live and breathe libraries, my biggest priority that always comes first is my family: my husband of 25 years, our two sons, our daughter-in-law, and our six year old border collie/black lab (who incidentally still thinks he's six months old and can fit on my lap!). My husband and I enjoy traveling and visited Australia for three weeks in early 2006. We do hope to return again one day. Maybe if we do I can even attend ALIA!
I love reading or just hanging out with my family. This year I've joined the women's choir here at Concordia. I am trying to get my music ear back after not singing in a choir for about sixteen years and loving every minute. When I was finishing up my last course people asked me what my next plan was. Would I now go on towards getting my Masters in library science? I told them at the time I didn't think so but would wait to see where life would take me. Well since then many doors have opened and more opportunities have presented themselves (many of which I've already mentioned). Being in the Spotlight for Associates is one of those opportunities.
Describe support staff activities in your area
There are many professional development opportunities for library staff. Our library is one of eighteen libraries in the NEOS Consortium (http://www.neoslibraries.ca/). NEOS offers several workshops throughout the year as well as hosts a one day mini conference for all its members. Provincially the Library Association of Alberta (LAA) offers many PD opportunities that can be attended in person as well as through the Education Institute (online webinars). LAA also hosts an annual conference. The Alberta Association of Library Technicians (AALT) also has a yearly conference with excellent PD opportunities. Most of Canada's provinces have a library association. They may also have a separate library technician association or they may have an interest group within the provincial library association. All provide excellent PD opportunities via their conferences.
Final comments
I believe that it is important that we are involved in what we are interested in or passionate about. Keep an open mind, be flexible and then just hang on as you never know, you could be on the ride of your life!
902 views