ASSOCIATES (2009, November, v. 16, no. 2)
Review
Bookmark 'em Danno – for Social Networking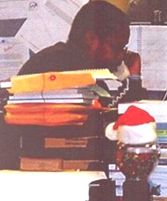 Michael D. Brooks
Saint Joseph's University
Philadelphia, Pennsylvania
Social networking sites are very popular with all age groups. The fastest growing demographic is baby boomers. They're not just for young people anymore. Two of my favorite sites are Facebook (http://www.facebook.com) and StumbleUpon (http://www.stumbleupon.com).
StumbleUpon is more like a community of people who engage in what is called "Social Bookmarking." We basically bookmark favorite sites and then share those sites with others.
What drew me to the service was the shear randomness of it. Since I surf the Web regularly and write Web-based reviews, I needed a way to explore and discover what is out there in cyberspace.
A convenient browser toolbar offers you the luxury of simply pressing a button and being randomly taken to sites you wouldn't ordinarily visit because you wouldn't know enough to know what to look for. You literally stumble your way online discovering a treasure trove of fascinating sites.
Whenever you discover a site you like, simply give it a thumbs-up by clicking on a thumbs-up icon on the browser toolbar and the site is added to your profile. If you don't like it, just click thumbs-down. If you added something and want to remove it, just click thumbs-down on the site and it's removed from your profile.
If you're afraid of stumbling upon objectionable sites, you can set your preferences to avoid such sites. An added benefit of the StumbleUpon community is the ability to visit members' sites and see what they like.
Careful though, stumbling can become habit-forming. Personally, I use it primarily as an online bookmarking service.
If stumbling is not your area of interest, then you can always join a social networking community like Facebook. I use the service a lot to play games, stay in touch with people and family that I wouldn't normally keep in touch with, and get involved in discussion groups,
The tragic passing of a friend from college has brought a few of us old college buddies back together. Since so many people use the service, Facebook is a great place to start if you looking for family as well as friends. A nephew and a niece of mine found family through it.
As more businesses, organizations, and educational institutions begin creating presences on Facebook, they're discovering that it's a convenient place to garner support for causes and efforts and to measure responses. People are becoming fans of their favorite places. There are also all kinds of support groups, as well. If someone has thought of putting one up, it's on Facebook.
I located a group for people who live with an often misunderstood and sometime misdiagnosed neurological disorder. Reading the comments of others and participating in discussions has been quite helpful. Another group I'm a fan of is Better World Books (http://www.betterworldbooks.com). I often extol their virtues in one of my blogs.
When I'm not on a social networking site, I'm online gaming. This is one baby boomer that plans to stay cyber-connected for a long time to come.
951 views