ASSOCIATES (2009, November, v. 16, no. 2)
Review
Book Reviews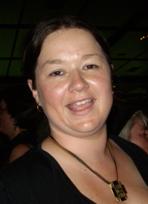 Ballarat Library Chick
Gemma Siemensma
gemmasiemensma@gmail.com
---
Book 1: Ex Libris – Confessions of a Common Reader by Anne Fadiman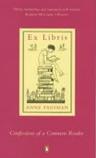 Ex Libris is an outstanding book for those who enjoy reading and the pleasures that a library offers the reader. The authors love of books and reading comes alive in every page as only a reader will appreciate. I enjoyed sharing her insightful look at books and their impact on an individual. Easy to read, honest and delightful in that it shares her personal enjoyment with the reader. The book consists of a series of short essays on book and reading-related topics: happy arguments between new spouses about how to merge their collections; the peculiarities of how each of us treats books (to bend down a corner or not to bend), the joys of spelunking in used bookstores; and the like. Lovely!
---
Book 2: People of the Book by Geraldine Brooks

People of the Book is based on a true story of a real book known as the Sarajevo Haggadah. This Hebrew prayer book was discovered in Sarajevo and probably was created in the 15th century. The author did amazingly scrupulous research, learning the tools of the trade of book restoration as well as the history of the Jews through the centuries. Through the first person narrative of an Australian book restorer, Hanna Heath, we get to learn about the city of Sarajevo and its recent violent history as well as the fascinating story of the book through the ages. These stories, of course, are fictional. Each one is complete in itself as the book passes from hand to hand through the centuries. I learned more than I ever thought was possible for me to know about the art of book restoring. And, there is also the story of Hanna Heath herself, as she comes to terms with her own personal history. This was just such a wonderful book. It was a dedicated read though (ie. not 5 minutes here and there but chunks of time). I loved it. Just so fascinating and it reminds me that I know so little about world history and that sometimes I just feel so uneducated. Well worth the effort!
---
Book 3: Me and Mr Darcy by Alexandra Potter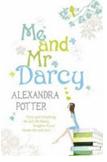 Summary: After a string of disastrous dates, Emily Albright decides she's had it with modern-day love and would much rather curl up with Pride and Prejudice and spend her time with Mr. Darcy, the dashing, honorable, and passionate hero of Jane Austen's classic. So when her best friend suggests a wild week of margaritas and men in Mexico with the girls, Emily abruptly flees to England on a guided tour of Jane Austen country instead. Far from inspiring romance, the company aboard the bus consists of a gaggle of little old ladies and one single man, Spike Hargreaves, a foul-tempered journalist writing an article on why the fictional Mr. Darcy has earned the title of Man Most Women Love to Date.This was only ok. The main character was kind of a ditz for a 29-year old. The story was cute, but I thought the Mr. Darcy fantasy appearances were a little far-fetched. I didn't feel the connection between Emily and Spike, but it was a cute affair. This would be a good beach read I suppose. I didn't think all the curse words were consistent with the type of character Emily was supposed to be, and the author slipped a couple of times with the accent making Emily sound more British than American like she was supposed to be…oh well. I might give the author another try.
---
Book 4: So many books, so little time by Sara Nelson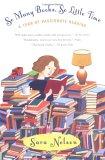 I don't know why but I love reading about books. I mean I have hundreds of books at home that I haven't read yet so why do I read about more books??? Hence my "To read" list keeps getting longer and longer and I think if I was locked up for ten years in my house I still wouldn't get through all the books I have to read! Anyway, I do love reading about books and thinking that I should "try that one" to push myself further. That's why I joined a bookgroup so I could read some things I have never dreamed of reading. Anyway, this was a great book as it reminded me that so much of what I read can be related back to certain situations in my life and that books have helped to shape me and the person that I have become.
---
875 views