ASSOCIATES (2009, November, v. 16, no. 2)
Feature
The Writing Process II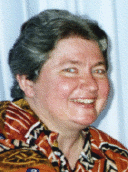 Tinker Massey
Masse36e@erau.edu
When last we spoke, I had completed the text of a book and completed a round of editing. There were several sessions of editing, developing an index, and talking about the final preparations for the book. And what name did I want to use on the cover? Who are they kidding? I couldn't use anything but "Tinker." No one knows my real name, Mary Eileen.
Well, the book got published in September, and I received my three copies. My first copy was immediately put aside for my Mom. She gets a copy of everything I do. My second copy goes to my own archives, but it first took some trips to show friends and colleagues. My third copy will go to the Director I worked with for nine years changing the management of a library from autocratic to team orientation. Her dedication to the process and her trust in me were beyond the job requirements. It was her mentoring that enabled me to do the book and accomplish the things I have done and do presently.
Neal-Schuman Publishers was given the task of selling my book in the USA, so I contacted them about the upcoming Charleston Conference. They were booked for a different show, so I would have to market alone. The company sent me a lot of discount coupon flyers for the book and I purchased a few copies of the book to take along and show. I was allowed to display the flyers in the Vendor Showcase on the first day of the conference and also had some at the problem desk. I handed out some flyers to people I knew and those I talked to as well. The next day, they moved the flyers to a table that held job vacancies and the conference schedule on a computer screen. By the end of Friday when I left, there were just a few handouts-Success!
I am considering trips to some nearby conferences with another company getting free passage into the vendor room if I sign copies and talk to the people. I don't think that would be difficult. Marketing is not the easiest task, but it is interesting. I like to meet people and this affords me that possibility. Talking about passions of your life makes the discussion easy. I am checking with Neal-Schuman right now to see if I am allowed to do this kind of thing.
From writing to editing to indexing to marketing, this is an interesting process and everyone involved has made it fun and easy. I have already contacted Chandos Publishing House about doing a second book on "Serials Management." I have identified a weakness in my knowledge base – electronic serials, and have signed my new director to write those portions of the book as a co-author. She cannot start the project until May 2010 when she finishes her PhD, but that leaves some time for me to organize the chapters and file the paperwork with the publisher. Organization comes before everything else, and then you can write it. This will be another how-to book that might make life easier for those who have to run a serials unit without much training. It's a scary world and any help you can get is great. I am hoping to complete that book in about a year and a half, then start on a third about "Microfilm Management in Libraries." The one thing I am trying to say is, if you have something to espouse and a different slant to pursue with that knowledge, you might be the one to write the next book. It is lots of work, but a library worker has a great deal of attention to detail and that gets things done. Build your writing skills, work at your organizational abilities and you too could finish that book you always wanted to write! It was a dream and goal I once had that is now an achievement!
Managing Change and People In Libraries by Tinker Massey.
Cambridge, England : Chandos Publishing House, Sept. 2009.
Can be purchased through Chandos, Neal-Schuman, and Amazon.com
784 views