ASSOCIATES (2010, March, v. 16, no. 3)
Spotlight
Kareen Turner, Fayetteville, Arkansas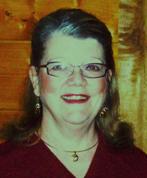 Lending Unit Supervisor, Interlibrary Loans
Mullins Library, Fayetteville, Arkansas
akturner@uark.edu
Where do you work and what do you do?
I live in Northwest Arkansas and have worked at the University of Arkansas University Libraries, Mullins Library, Fayetteville, Arkansas. I've been here since 1997, first working in the Borrowing Unit, starting as the receptionist (LAT 1), then the Processor (LAT 2) and finally as the Primary Searcher (LAT 3), before transferring over to the Lending Unit as their Supervisor.
I have been in the Lending Unit now since 1999 and we became part of Access Services in 2008.
How did you get involved in library work?
I started as a student assistant in High School and became a work study student in college, working my way through the 4 years of college and also helping to pay my husband's tuition the last two years after we got married. Since then, I've worked in various libraries-several academic libraries, several overseas and stateside military base libraries, while my husband was active duty in the USAF. We've been stationed in Nebraska, South Dakota, Louisiana and spent 10 years in Germany and England, UK. When we first got here, we were coming back from a second tour of Germany, at Ramstein AB and I had worked for the Stars and Stripes Bookstores that tour. Since I had also worked for B. Dalton Booksellers, a smaller member of the Barnes & Noble's organization, I decided to try to get back into the library work. I was tired of being in retail. I worked for a small bookstore in Rogers, Arkansas while looking and landed a job here at the University of Arkansas two years later. I love the work I do as I get in contact with libraries all over the world.
Describe support staff activities in your area.
I became involved with the Arkansas Library Paraprofessionals soon after I started here. We started out as a roundtable with Arkansas Library Association in 1991, moving up to a division in 2000. After several years, I was elected the Chair, which consisted of a three year commitment as Chair Elect, Chair and then Past Chair. Since then I've been very active with this organization as an adviser and on the Conference committee each year. There are three major events sponsored by ALPS: a spring conference, a business meeting as part of the fall conference under ArLA and a one day mini session workshop in November. We average 85-125 active members, all from academic, public and three special libraries within the state.
Final comments
I've really enjoyed my involvement with ALPS and now with ALA-LSSIRT. I was asked by my dean to get involved with LSSIRT, not knowing at the time that I would volunteer and be elected as Secretary two terms. I've met some wonderful people, made friends with other support staff all over the world and it's led to great discussions about various work flow methods, etc. This is really a great group of people that I have thoroughly loved getting to know better. I never thought I would be this involved with American Library Association, a dream I've had since high school and wondered about careers, leaning towards an MLS but never getting it. I wouldn't have missed these chances for the world. Thanks everyone!
814 views