ASSOCIATES (2010, March, v. 16, no. 3)
Review
Amlodipine What?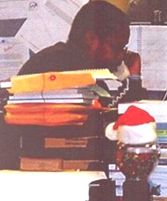 Michael D. Brooks
Saint Joseph's University
Philadelphia, Pennsylvania
Everyday subtle reminders of our mortality manifest themselves in our lives. Whether we take notice is up to us. Occasionally, those subtle reminders rear up and transform themselves into sobering wake-up calls. I got mine just a few short days ago. I experienced a heart attack.
Since then, I've been dealing with the post-procedural aftermath of recuperation and recovery. One of my many efforts has been my tenacious endeavor to understand the effects and benefits of the many pharmaceuticals that were prescribed. So I embarked on a campaign to find out about what it is I'm now taking.
Not being one to exercise patience with trying to look for and understand the various Websites dispensing endless information about medicines and medical advice, and not being one to put much faith in the copious variety of convoluted library databases (now I understand the reluctance of some people to use those things), I did what the average person would do. I searched the Web looking for sites that fit my criteria.
I wanted to find medical Websites that are maintained by reputable organizations and that don't present the information in such a way that I'd need a medical degree to understand the information contained within them. What I discovered on my own is represented in the following list of sites that proved helpful to me.
The basic search functions are common to each site. I simply typed in the name of each drug I'm now taking and found the resulting information simple to understand and very informative. Examining more than one site helps with ascertaining as much useful information as possible. What one site does not have, another will. The sites are also simple to navigate.
DrugWatch.com
(http://www.drugwatch.com/)
This is a Website designed specifically to update and maintain information about drugs. It is sponsored by a law firm: The Peterson Firm, LLC (http://www.petersonfirm.com/), The Petterson Firm, LLC- Company Profile (http://www.corporationwiki.com/Florida/Melbourne/the-peterson-firm-l-l-c-5476248.aspx).
Drugs.com
(http://www.drugs.com/drug_information.html)
This information database is sponsored by four Medical Information Suppliers: Wolters Kluwer Health (http://www.wolterskluwerhealth.com/pages/welcome.aspx), Physicians' Desk Reference (http://www.pdrnetwork.net/), Cerner Multum (http://www.multum.com/), and Thomson Reuters (http://www.micromedex.com/).
MedlinePlus
(http://medlineplus.gov/)
This is a Medical Information database maintained by the National Library of Medicine (http://www.nlm.nih.gov/).
PDRHealth
(http://www.pdrhealth.com/home/home.aspx)
Is a database that is also part of the Physicians' Desk Reference (http://www.pdrnetwork.net/).
WebMD
(http://www.webmd.com/default.htm)
And then there is the ever-popular WebMD. More like an online magazine than database, the site is supported by MedicineNet.com (http://www.medicinenet.com/script/main/art.asp?articlekey=128).
* * *
In addition to searching for heart medication information, I also searched for Websites that had simple-to-navigate information about heart-healthy nutrition. These are some of the sites I found:
Healthline.com
(http://www.healthline.com/hlc/healthy-fried-chicken?micrositeId=23)
A site maintained by a health information company called Healthline Networks (http://www.healthline.com/).
Healthy Recipes
(http://www.americanheart.org/presenter.jhtml?identifier=3060793)
Is a site maintained by the The American Heart Association (http://www.americanheart.org/presenter.jhtml?identifier=1200000).
Heart Healthy Food: Food Network
(http://www.foodnetwork.com/search/delegate.do?fnSearchString=heart+healthy&fnSearchType=site)
This list of heart-healthy food recipes is maintained by the Food Network (http://www.foodnetwork.com/). Who knew?
Heart Healthy Recipes – MayoClinic.com
(http://www.mayoclinic.com/health/heart-healthy-recipes/RE00098)
This site is maintained by the Mayo Clinic (http://www.mayoclinic.com/).
These lists are by no means definitive and should not be used to self-diagnose or stand in as substitutes for professional healthcare providers. They simply serve as guideposts to finding easy-to-understand information quickly and easily.
1,134 views