ASSOCIATES (2010, March, v. 16, no. 3)
Spotlight
Sunita Sagade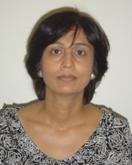 Library Technician
Corrective Services, Sydney, Australia
sunita.sagade@dcs.nsw.gov.au
Where do you work and what do you do?
I work at the Corrective Services, NSW, staff library. My role as Library Technician includes a variety of duties some of which are circulation desk activities, serials processing, document delivery, equipment pool management and running information literacy sessions. In short, I have a finger in every pie! I love all aspects of my job, well maybe not chasing up overdue resources.
How did you get involved in Library work?
I have always had a fascination with libraries. And I was interested in helping people so I decided to put the two together and that's how my journey in the library world began.
My first step was to enrol in the TAFE (College of Technical and Further Education) Diploma (Library and Information Studies) in Sydney, Australia. After completing my diploma I did some volunteering work in a library before I got my first job.
Describe support staff activities in your area?
ALIA (Australian Library and Information Association) is the professional association for the library and information sector in Australia and runs a number of activities targeted at different interests within the library profession.
The ALIA NSW Library Technicians group provides professional networking opportunities through out the year. This could be meetings of the group, workshops, library tours and even unconferences.
There is also the biannual Library Technicians conference held in any major city Australia wide. The last one was in Adelaide, South Australia in 2009. I find conferences are a great way to network with other library professionals and find out what's currently happening in the profession.
I am fortunate that all activities I attend are supported by management at my workplace.
Final Comments
Today libraries are an exciting place to be, advances in technology have changed the shape and form of libraries. Now libraries and their collections are more accessible to library users, giving library professionals the means to offer a client centred service.
878 views