ASSOCIATES (2010, July, v. 17, no. 1)
Spotlight
Jim Jackson, England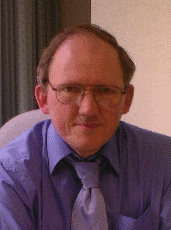 Law Library Supervisor
Law Library
University of Exeter, England
J.G.Jackson@exeter.ac.uk
Where do you work and what do you do?
I work for the University of Exeter in the Academic Services Library and Research Support Division. I am part of a team who run the Library Customer Services section and I am in charge of the day to day running of the Law Library. Over the years I have had many roles and worked in many different locations. The University library has 5 sites, most of which are on our main campus. However, one library is located on the other side of the City. This library is for our School of Education and deals with teacher training and also as part of the Peninsular Medical School.
Our Main Campus houses the main University Library, The Law Library, Research Commons and Arab World Documentation Unit. So you can see we have a diverse collection of buildings, all of which have been upgraded and remodelled over the years, and we are now in the process of having further building work to create a new central University Library with added facilities which will be called The Forum.
I am in charge of the day to day running of the Law Library, and deal with all manner of different things, ranging from ensuring we have the correct staffing on our front counter, Inter Library Loans, and helping students and academic staff locate the materials they require for their work. This can vary from answering questions face to face, or electronically via various forms of electronic mail. No two days are ever the same and I also have to have in mind ideas for improving the service we provide, development and implementation of new procedures. A standard day for me will start with a check of all our systems and the computers which run them, and ensuring that any computers which do not work, receive the attention from IT support staff. Next is to ensure that we open on time and any problems from the previous evening are dealt with. This will be followed by the processing of the electronic notices sent to students for overdue books and reservations. I may spend some time on our front desk dealing with student questions and helping with more in depth enquiries. Law is to me a fascinating subject which provides an insight into how a society develops and works and enables its citizens to live their lives. Although, our main focus is our students and academic staff, we get a large number of people who want to do their own research in law, and we will provide some guidance to external users.
How did you get involved in library work?
In many ways I came in Librarianship via a classic way – a love of books, a desire to share the knowledge in those books with others, and something of a tidy mind. That's not to say that my book collection at home is in class mark order! I have maintained my teaching skills with new technology and now able to help people use a variety of databases for legal and other academic research. I also do a lot of 'back room' jobs, such staff rota planning, stock moving, receiving printed journals and ensuring that subscriptions are up to date and that journals arrive on a regular basis. While ensuring that library stock is maintained in good order and that the circulation of our book stock is not hampered by some people who assume that a book loan has an indefinite period. Some library users will have special requirements because of a disability and these people may require some extra guidance and help which I am happy to provide.
Describe support staff activities in your area.
Staff training is something that has always interested me, and I have been grateful for the opportunities that have been offered to me. Staff here can take part in a variety of on-site training, and are always encouraged to take advantage of these opportunities. This ranges from Customer Care courses, to Finance training and advanced circulation management.
Final comments
Now more than ever staff have the opportunity to take part in external courses which provide professional accreditation, such as the CILIP Certification award or CILIP Chartership. Both of which provide an acknowledgment of certain library standards, and may assist in future job applications. Details of these can be found at
http://www.cilip.org.uk/jobs-careers/qualifications/pages/qualifications-.aspx
I have been involved in both qualifications, and my membership of a professional organisation has proved very worth while to me and one which I would urge library staff to take part in. There may be opportunities that perhaps your current job role does not offer you, but which you can learn and practice. Perhaps Chairing meetings, organising meetings, publicity, skills that once learnt might be useful in your work place and add a new dimension to your CV.
734 views