ASSOCIATES (2010, July, v. 17, no. 1)
Review
A Database for Writers and Aspiring Writers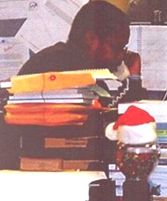 Michael D. Brooks
Saint Joseph's University
Philadelphia, Pennsylvania
One of the most comprehensive databases for writers is Duotrope's Digest <http://www.duotrope.com/>. Designed to be a useful resource for fiction and poetry writers, Duotrope's Digest is a one-stop shop for electronic and print literary magazines.
The database and membership are free. Membership is optional, but offers the additional feature of being able to track your submissions. They do ask for contributions in order to keep the database free. So there are no ads.
The homepage is clean and simple. There is no clutter.
The menu bar includes, but is not limited to, a Home/Search link. Clicking on it refreshes the page and presents you with what they call a Random Market. It's basically a randomly selected literary magazine which is hyperlinked. If the random magazine catches your interest, just click on the magazine's cover icon. That will bring up the Publication Details page. The details page will have some basic information about the magazine as well as key information about publication schedule, pay rates, report times, etc.
If what you read piques your interest further, a Website link will direct you to the magazine's homepage.
The same type of information is available if you fill out the form on the Duotrope's Digest homepage, but you'll be presented with a list of similar magazine titles. You can tailor your searches for genre-specific publications, article length, style, and type of format. For those who write poetry, a link above the form will bring up a form page listing publications that will be poetry specific.
If you know the titles of particular publications you're interested in submitting to, click the Browse/Find by Title link and type in the titles of the magazines you want to check out. This ability is one of three options available to you. If you don't know of any specific titles, your second option is to click one of the letters of the alphabet. This will bring up a list of titles starting with that letter. A third option is a set of links allowing you to browse all titles alphabetically, by pay, response time, and acceptance.
Another useful feature is the Deadline Calendar link. This link takes you to the Theme and Deadline Calendar page. This page will have an alphabetical list of titles, themes, and publication deadlines.
To the right of the homepage is a color-coded legend identifying the designations as they appear on the Publications Details page.
An RSS feed is available if you want to be kept abreast of changes and updates.
The database is such a useful resource that the Francis A. Drexel Library at Saint Joseph's University has a link to it on their Fiction page. This page is part of their Library Toolkit initiative. The Toolkits are resources compiled by the librarians in support of the various courses offered by the university. In the case of Duotrope Digest, the link is provided in support of the students doing graduate coursework in the Writing Studies program.
If you've ever written something that you wanted to publish, but didn't know where to submit you work, Duotrope's Digest is a good place to start.
971 views