ASSOCIATES (2007, November, v. 14, no. 2)
Feature
The Witch Fire of 2007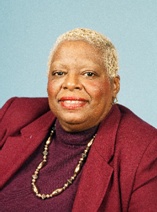 Bessie Mayes
Sunday, October 21: 7:30 a.m.
I peered out the doors of the bedroom balcony, as I awaken to an early sunny day. I was excited since this day would be mine to savor, to do whatever I wanted to do. I contemplated the professional football games that would be played today and the early morning gardening shows as I descended the stairs.
Warmed by the rays coming through my dining room sliding glass windows, I pulled the blinds back to expose the view of lush farmland and Lake Hodges below me. I loved this view. Looking at the mountains beyond, I observed that the brush was still dry on the very large hillside beyond my small backyard from the lack of rain. I was happy not to be looking at someone else's home site as had been the case in other places I had lived. The open space behind my home was a nature preserve which provided the perfect place for wild animals, such as coyotes and mountain lions, to sustain their life. The preserve held many species of birds, including cranes that nested in the trees near the shallow end of the lake. On occasion, you could see an eagle swoop down on rabbits or other rodents for a meal as the smaller animals ran for their lives. Looking at the scene, I tried not to remember the image of a huge rattlesnake that crawled through my backyard one day trailing after a rabbit to its hole.
Across the lake, along the mountain ridge, stood custom built homes that looked back across the lake in my direction on my ridge. Every Fourth of July, my next door neighbors and I looked across this ridge to watch the firework displays put on by the cities of Rancho Bernardo and Poway exploding over their cities from our balconies. We would discuss who had the best ones that year. Then the Wild Animal Park in the San Pasqual Valley would end the firework display over the area with their show for park visitors. But this morning was my day to rest and enjoy some football games on television. I had an appetite as well that day, and decided to make coffee and some breakfast.
Sunday, October 21: 12:30 p.m.
The morning garden shows had ended, and I watched the second of two professional football games. I glanced out toward the back yard and saw what I thought was fog. This was unusual to say the least, as fog does not occur at this time of day. I got up to see what this could be. I noticed that whatever it is was had filled the valley surrounding Lake Hodges, leaving it with a dense white haze. I returned to watch my game.
Sunday, October 21: 1:30 p.m.
I glanced out my door again while sitting on the couch, and I no longer see the valley at all. I jumped to my feet and ran to the sliding glass door to get a better view. I opened the door and I immediately smelled smoke. It's a fire. I began to pace back and forth. My thoughts were that the fire is close by, and huge. And this time is was on my side of the valley, unlike previous small area fires had been. So this meant I had to find out where the fire was burning. I wondered whom I could call, and decided it had to be 911. Due to the smoke being so thick, I was afraid that the fire would roar across the hillside at any moment. I didn't want to call 911 though, because this was not a true emergency yet. So I picked up the remote and flipped through the local channels attempting to find out if any coverage about the fire was available. While I did this, I kept an eye on the smoke in the valley, which was now coming into my house. I checked for local news for a while. Then the smoke bellowed into my house, which caused me to cough. I then called 911 who referred me to a 211 number. I called the number and waited just a few minutes before someone answered. The 211 operator informed me there were two fires burning, but could not tell me where they were in relationship to my home. I had never heard of the locations she said the two fires were burning. I hung up the phone, and begin to pray as I looked out the door at the smoke. The smoke was now so dense it shrouded the street below me and the houses. I could not see them at all now. As a 'veteran' of the Cedar Fires of October 2003, I knew that the fire could rage over the dry hillside at any moment and trap me in the house. That had almost happened in the 2003 fires, as the sky was red with flames all around us and ash fell like large snow flakes covering the ground inches deep in a soft powdery substance. The fire was less than a mile away from my home then. As my sister had packed us up to leave, a police car drove by ordering everyone to evacuate the area immediately. We had decided to evacuate to a hotel in Mission Valley instead of Qualcomm Stadium to be able to watch the developing fire on television and have more comfort. That was what I would do now. I went upstairs to pack, leaving the television on a local channel in hopes of more news about the present fires outside my door. I was now terrified of what could happen to me if I don't get out.
---
UNION-TRIBUNE-online news-blog-CALFIRE
3:17 p.m. October 21, 2007
RAMONA – The 78 Fire has burned 3,000 acres between Ramona and Santa Ysabel. Many homes near Witch Creek and San Diego Country Estates have been evacuated to Poway High School on Espola Road at Titan Way, county emergency said. Cal Fire Battalion Chief Kelly Zombro said he's notified the cities of Ramona, Escondido, Poway and San Diego that the fire is headed their way. "It's just like the Cedar fire. It was just like the Cedar fire right off the bat."
---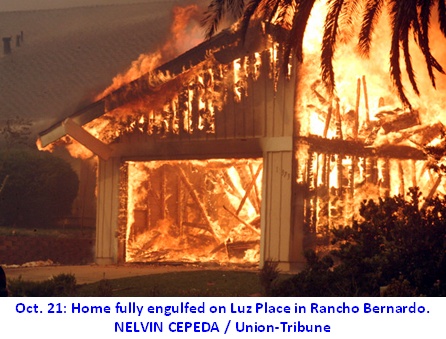 Sunday, October 21: 2:40 p.m.

I grabbed my passport, birth certificate, and pictures of my parents. I would need their faces to help me through this. I grabbed clothing still on the hangers, both casual and dressy in case my stay went longer than four days and I would need to go to work. Same for shoe wear. The one bag contained the necessities of dressing and bathing. I placed the bags in my car. I went back to the television to see if reports were coming in. Finally, they were. To my already agonized mind, the reports were vague. No reporters could get near the fires. I sat down in despair. The smoke is thick outside and is flowing inside my house. I began to cough again. With no news on the television that is useful to the area I am in, I decided to go out to SEE where the fire is coming from. I got into my car, and wondered as I backed out of the drive if I would be able to come back. I am glad I packed the car with my belongings.
Sunday, October 21: around 3:30 p.m.
I entered interstate 15 north heading toward the city proper of Escondido, California. I got off at the next exit to see if I could get a look at the back side of the county. I could see smoke, but not the area it is coming from. I got back on the freeway heading south this time on interstate 15. That is when I spotted the huge column of smoke on the third mountain behind where I live. Still feeling a little uncertain, I headed for home, thinking the fire is at some distance yet, and stood a good chance of being put out by air assets before it got to my area, as has happened before. When I arrive home again, I called my next door neighbors. None of them are home. I called my sister in Los Angeles to tell her about the fires. Her advice was to be very vigilant and keep her informed of my movements. All the news channels were now engaged in the fires. I began to flip back and forth between them to gain information about my town of Escondido.
Sunday, October 21: late afternoon/evening around 8:30 p.m.
I could not see the smoke outside my now closed patio doors. There was now panic on the airwaves with reporters sending out the calls for evacuations of major areas. I heard the call for the evacuation of the entire city of Ramona. I have kept my sister up on the information. She has a calming affect on me, but insists that I leave immediately for safer territory. None of the news we heard locally had made it out nationally, so I am her only source. After talking with my sister, I received a call from friends in the nearby community of Rancho Penasquito, the next exit below the Rancho Bernardo community. They wanted me to come there for safety reasons and the smoke factor. I told them I would if I have to evacuate. I wondered how long that would be since Ramona was already being evacuated to Escondido. I was beyond panic and fright. I was in total fear.
---
October 21, 2007
Witch fire growing

Cal Fire Capt. Randy Scales said the Witch fire has spread to 8,000 acres and winds are continuing strong with no sign of dying.

He said there are no reports of injuries so far at that fire, but some structures had been destroyed.

As of 6 p.m., the fire was heading in a west-southwest direction and fire officials were considering advisories for Escondido, Poway and Lakeside.

The fire began near Julian and Ramona and is spreading west-southwest. As of 6 p.m., the fire had reached as far as the Sutherland Dam near Highway 78.

Posted by Craig Gustafson October 21, 2007 06:22 P.M.

(http://weblog.signonsandiego.com/news/breaking/2007/10/witch_creek_fire_grows.html)
---
Sunday, October 21: 11:15 p.m.

I called my next door neighbors who were now home. I informed them that I am leaving since the fire is close. My neighbor came over to pick up a key to the house in case he has to enter. I told them I am going to Rancho Penasquito, a few miles south of Escondido. I prepared to leave, taking a shower and changing my clothes. I called my sister in Los Angeles to inform her that I am finally leaving for another place. She is relieved, and says she can now go to sleep. It was 11:30 p.m. I also called friends, Pam and Bobby, that are vacationing in Hawaii to let them know how serious things have become. Their home is two miles north of me. The husband is a fireman. After informing them of the emergency and where I was going, I went to get dressed. After getting dressed, I took a last look at the news reports on television. I heard them then announce that Escondido is now on the advisory evacuation area list. I immediately felt sorry for Ramona evacuees figuring that they may now have to move on past our city as well. At 12:30 a.m., I left the house. After saying a prayer to God, asking for His protection over the house, I backed out of my driveway. Shaken and uncertain, I don't know what is going to happen. I arrive at my friends at the Taylor house. They were packing up, too, just in case they had to evacuate. Their items are placed near the door, as we watched the television for more news of the fires. It was after 1:00 a.m. Monday morning, the 22nd of October.
Monday, October 22: 2:00 a.m.
All the local news stations have signed off. I fell asleep.
Monday, October 22: 4:00 a.m.
I was awakened by the ringing of my cellphone. It was my friends in Hawaii. She yelled at me to "wake up and turn on the news! You have to evacuate your area." I turned on the television to find that the local news was back on. I flipped through the channels. It was true. I assumed my friend Bobby was now in contact with the firemen on the lines here and was getting information from them. The area to where I had evacuated was now under a mandatory evacuation order. I proceeded to awaken the family at 4:30 a.m. As all pitched in to load their cars with the packed items at the front door, more news came in about the fires. Escondido had received mandatory evacuation reverse 911 calls ordering the city residents to evacuate at 2:30 a.m. that Monday morning the 22nd. As we placed the items in the cars and van, the ash fell on us. The air is thick with ash and we cannot breathe. I had forgotten to get a heavy fumes mask from storage in my garage. We finished loading the cars, and I noted other families leaving the neighborhood, too. Since I knew the 'routine' from the 2003 Cedar Fires, I suggested we call ahead this time to secure for all of us a hotel room at the 'evacuee rate.' We left in a car caravan for the safety of Mission Valley at the Hilton. I could only hope that the fires wouldn't make it there like it did in 2003. It was around 7:30 a.m. The sun was coming up, but nothing but a grayish, dirty haze hung in the air. The ash fall was picking up. I placed my hand over my mouth and nose to breathe. The sky had turned that weird purple color I had seen in the 2003 fire. Soon it would be fire red in color. I was afraid that the neighborhood would burn down. I was afraid, period. And I didn't know what to expect. All the memories of the Cedar fire came rushing back to me as we pulled away from the house. It felt surreal.
---
Witch fire roars west across Rancho Bernardo and Poway –
9:34 a.m. October 22, 2007 SAN DIEGO – The Witch fire, pushed by strong Santa Ana winds, roared west Monday morning across Rancho Bernardo and Poway, destroying hundreds of structures and forcing thousands of people from their homes as it follows the same path taken by the disastrous Cedar fire four years earlier.
(http://www.signonsandiego.com/news/metro/20071022-0934-bn22fire3new.html)
---
Monday, October 22: 9:30 a.m.
We arrived at the hotel and our rooms. I made calls to my family on the east coast, and friends in the local San Diego area to inform them I was safe. I also called my sister to let her know where I am. I called my friends in Hawaii to let them know I was safe. The husband fireman had a request. Would I consider picking up their dogs, Paia and Titus, at the pound near the areas of evacuation? Their dogs were staying at a compound while they were away in Hawaii. The fireman assured me that it would be safe to return to Escondido where their house was, and where his father was staying after being evacuated. He also assured me that a fellow off duty fireman was watching his house along with that fireman's house to protect it from the approaching fires. I hung up the phone and contemplated the request. I loved their dogs, and them. And I knew they were out of their minds with worry about their well being. The dog compound could not vouch were the dogs would be taken in case they got an order to evacuate. I had to go back to get them and take them back to Escondido, which was now under a mandatory evacuation order. I told the Taylor sisters, Lillian and Linda, were I was going and what I was going to do. Linda volunteered to help me. I instructed Lillian to inform others who called that I was 'gone on an errand."
Monday, October 22: 10:30 a.m.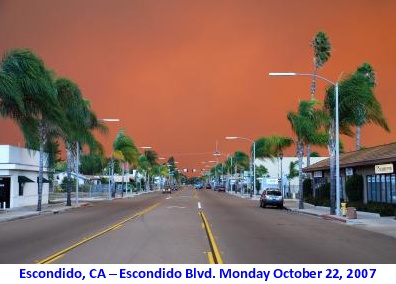 I arrived at the dog compound in the city of Del Mar. The dogs were ready to go, and I put them in my SUV. We headed for interstate 5 with instructions from their owners to attempt to go to Escondido via interstate 15 first, then if I could not enter, to the Vista Animal Hospital where the doctors had offered shelter. I would have to pass the city of Vista on the way to Escondido. Interstate 5 north was backed up with fleeing residents and truck traffic that had been diverted off interstate 15, which had been closed to traffic due to the fire. Only a portion of interstate 15 was open. I made it as far as Rancho Penasquito before being blocked by police. After being turned back by the police on the freeway, I decided to take a back road into Escondido via the city of Rancho Bernardo. As I passed by the golf course, I noted that now familiar sight of the red sky which I learned so much about in the Cedar fire. It meant the fire was upon me. As I quickly passed through the now empty streets of Rancho Bernardo (RB), I sped up to loop back to the freeway and was again blocked. The ash was falling like a heavy snow, and I was afraid the car would stall from the ash getting into the engine. I abandoned the attempt to get to Escondido via Rancho Bernardo, and returned to interstate 15 south via that portion that was still open, leaving RB.
---
Wildfires seen as eclipsing the Cedar fire of 2003

By Angelica Martinez
UNION-TRIBUNE BREAKING NEWS TEAM
By Tony Manolatos
UNION-TRIBUNE STAFF WRITER
9:22 a.m. October 22, 2007

A thousand fire engines have been called and about a quarter of them have arrived.

Metcalf described the fire conditions as "extraordinarily dangerous" and "dramatically worsening." "This is nowhere near finished," he said. "This is worst than many of us imagined. We're seeing 100 to 200 feet flame lengths and truly explosive fire behavior."

The Witch fire is rapidly burning in two directions – to the west and to the south. It has crossed Interstate 15 at Lake Hodges into Rancho Bernardo.

"I think it will go to the ocean before it stops," Metcalf said, which means the fire would pass through Rancho Santa Fe, Solana Beach and Encinitas.

Metcalf also is concerned that the Witch fire will take the same path as the Cedar fire, south through Wildcat Canyon, Barona, Lakeside and Santee.
---
Monday, October 22: around 11:30 a.m.
We were back on Interstate 5 heading north in an attempt to take Highway 78 back into Escondido. The traffic of people fleeing on the interstate had backed it up to a crawl. As I passed the city of Del Mar again and approached Solana Beach, I noticed that large chunks of ash were now falling on us and the sky has turned orange red. This meant the fire was nearby. I felt trapped in this traffic, and immediately thought of the family that perished in their cars in the Cedar fire while fleeing the fire storm. The fire had reached the ocean. I was in shock and astonished, too. How could it have reached the ocean? In the Cedar fire, the ocean cities had been the haven from the fires. We began coughing again, and now the dogs were freaking out in the back. My helpful friend calms them as I maneuvered through traffic to exit at Highway 78. We were almost done. We had been in traffic for an hour. Around 1:35 p.m., we entered the deserted streets of Escondido. I took the back roads to my friend's home. As I arrived at the turn off into their neighborhood, I was met by a newly arrived police officer. Before he could set up the road blocks, I begged him to let me deliver the dogs to the house. He relented, and we soon arrived at the fireman's house. The sky was dark red, and I could feel the warmth of the approaching fire. We rushed to put the dogs inside the home with the relative huddled there. I hoped for their survival, as the situation looked dire. My friend and I returned to the car, and sped away. We returned to the hotel at 2:30 p.m. From then on, we watched as house after house perishes in the fire. It wasn't until I arrived home on Wednesday night on October 24th that I could see just how horrible this fire had truly become. It was worse than the Cedar fire.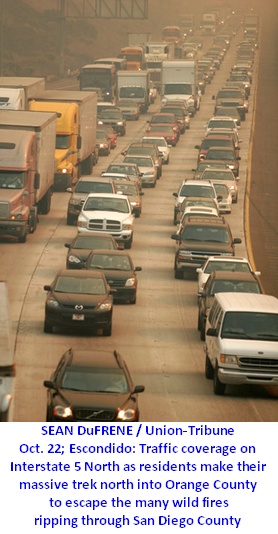 Wednesday, October 24: Morning at hotel.
My fireman friend in Hawaii had returned home, and was now calling. He was in my neighborhood approaching my home to see if it was still there. I waited. He saw it, intact, undamaged. But he reported others that were burned on my street and below me. I didn't have emotions at that time as he relayed the addresses of these homes. Days and nights of watching homes burn, waiting to see if they would report your home next being engulfed in flames, had taken its toll. Yes I was relieved. Relief flooded my body. I grabbed my head. I felt like pins were being pushed into my body, and I could not feel the pain from any of it. My neighbors had lost their homes. I couldn't, couldn't believe that. That wasn't supposed to happen to us.
Wednesday, October 24: late evening
I arrived home in Escondido, the mandatory evacuation had not yet been lifted. I approached my neighborhood to find it blocked by policemen. I pulled up to them and asked if I could go home. He asked for my address and turned to check to see if my house is among the burned out ones. Not finding it, he tells me to go have a cup of coffee in the restaurant across the street or in the mall and relax for a few hours. He said I might be able to enter after the fire inspectors have completed their task of securing the area and noting burned homes. He then said, "over 30 homes burned down, the area has to be deemed safe for return." I returned to the Taylor home to wait it out. As I drove off I burst into tears, sobbing. This can't be true, this can't be happening. Returning at 5:30 p.m., I am allowed to enter the gates by my house upon showing my license to a policeman. The first sight I see upon entering the gate are four homes completely gutted and burned to the ground. I am struck by the family, who are looking at the damage. I drove to my house and saw it standing. Surreal. I opened the garage and quickly closed it behind me. I don't want anyone to see me, and I don't know why. I wanted to give the other families private time to deal with their disaster. As I entered my home, the smoke was gone but soot stands in various corners and doors. I looked outside in the backyard to see the once lush hillside, burned to the dirt. Even the once white rocks were blackened by the flames. The hill was a large mound of dirt. The mountains were blackened and all the vegetation was gone. The trees in Lake Hodges were burnt and black. I could see areas I had never seen before due to their prior lush branches. The home directly behind me stood, but those near the hillside, the homes of eight families, had burned to the ground. One was still smoldering. As I turned, I spotted my barbecue grill with the propane tank still attached to it. "Oh my God," I thought. I had forgotten all about it being there. In the hotel room, we had witnessed firemen on television hosing down larger tanks near homes to keep them from exploding into flames and burning the house down. Remembering this action now, I shook my head in disbelief. The fire had come right up to my backyard, and had turned and went in another direction. The flames and embers that had been so deadly to other homes and would be the cause of many homes catching fire on my own street, had not caused any damage to mine. Upon entering my house, I had laid prostrate on the floor in the dining area, thanking God for spearing my home. I could now only bow my head in shock. I went inside to unpack. I was still traumatized. I still cry, even as I write this log. For days, policemen, firemen and the national guard patrolled our streets. I felt guilty using my lights at night, well aware that Rancho Bernardo had no power. The ridge across Lake Hodges was dark for a week. The smell of smoke from burned out homes and land was, surreal. I no longer heard the howling of coyotes. The wildlife was gone. Yet, county and city officials did an outstanding job in keeping us safe. Their leadership did and is still functioning in outstanding ways. The citizens are looking for ways to express their gratitude to them. All the local news reports have been glowing about how the more affected families have been taken care of by local government, with the help of the national government as well. I did locate other friends after I returned home, and found them safe with no damage to their homes. They relate stories of miracles, where their home or other friend's homes were the only one left standing on a burned out street.
Wendee was so kind, as I told her about this experience. She encouraged me to pass on my experience to you, as it might even help me to deal with some of my deep emotions. The Witch Creek fire was the most horrific experience I have had to date. It surpasses for me the horror of the Cedar fire in 2003, as it has for many here in San Diego. Because our city and county managers learned mighty lessons from that fire, only a few lives were lost. Evacuations occurred ahead of the fires to allow for an orderly transition around roads. The fires are not all out here yet, but at least the Witch fire has finally been contained. It was the last one to have complete containment. And no, no trick or treaters came out in our neighborhood. I am sure they knew we had enough of witches.
---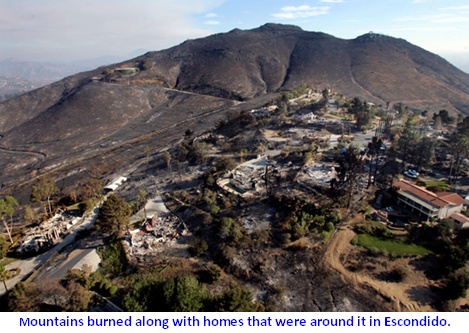 Fire References

County asks for 1,000 more firefighters
By Jeff McDonald, Janine Zuniga and Kristina Davis
UNION-TRIBUNE STAFF WRITERS
October 22, 2007
A pair of wildfires roared through San Diego County yesterday, killing one person, injuring at least 17 others and destroying an untold number of homes and businesses, overwhelmed fire officials said.
Mandatory evacuation orders were issued after 11 p.m. in the San Pasqual Valley, home of the San Diego Wild Animal Park. Officials said they had teams standing by to evacuate some its hundreds of exotic animals if necessary.
http://www.signonsandiego.com/news/metro/20071022-9999-1n22main.html 
Blaze 'is very active and moving quickly'
By Craig Gustafson
UNION-TRIBUNE STAFF WRITER
October 22, 2007
RAMONA – Fire officials evacuated the entire community of Ramona late last night as the Witch fire consumed at least 8,000 acres and sent flames more than 100 feet into the air.
Roads out of the town were jammed as people sought safety after authorities contacted 10,000 households by phone at 9:15 p.m. Ramona's population is 36,000.
An evacuation order came later for San Pasqual Valley between Ramona and Escondido. There had been earlier evacuations from north and south of Ramona, including San Diego Country Estates and along Old Julian Highway.
http://www.signonsandiego.com/news/metro/20071022-9999-bn22witch.html
Other stories:
http://fire.signonsandiego.com/    Details on burned structures.
http://www.sdcountyemergency.com/newsreleases/110207_210EvacArea.pdf    Evacuation areas.
http://www.signonsandiego.com/news/metro/images/071022witchmap.pdf
---
Bessie is a frequent contributor to Associates and is also on the Editorial Board. She is the Senior Cataloger and Cartographic Specialist, Space and Naval Warfare Systems Center, in San Diego.
948 views