ASSOCIATES (2010, November, v. 17, no. 2)
In memory of Bob McKee – Former Chief Executive Officer for the Chartered Institute of Library and Information Professionals
Jim Jackson
Affiliated Members National Committee of CILIP Member
My first contact with Bob, as he always asked me to call him, was when he first started as Chief Executive of CILIP, as I recall it was one of his first days.  I had written to him on behalf of the Affiliated Members National Committee to wish him luck with the new job and to invite him to meet with us.  His response, as with most things, was an enthusiastic 'Yes let's meet' and soon after that we did.  This was the start of a long friendship and a determination to work together for CILIP as a whole and for the Affiliates group.  This does not mean to say that there were not occasions when we strongly disagreed with each other, as there were several.  Overall Bob was always supportive and keen to develop new ideas for promoting libraries, their services and their staff.  So when I started the Book IT event, in 1999, Bob was there in the background offering support.  In 2000, the Affiliated Members held their Annual General Meeting at the British Library in London.  Bob was one of the speakers and was presented with a framed poster of the Book IT project, in acknowledgement of his support.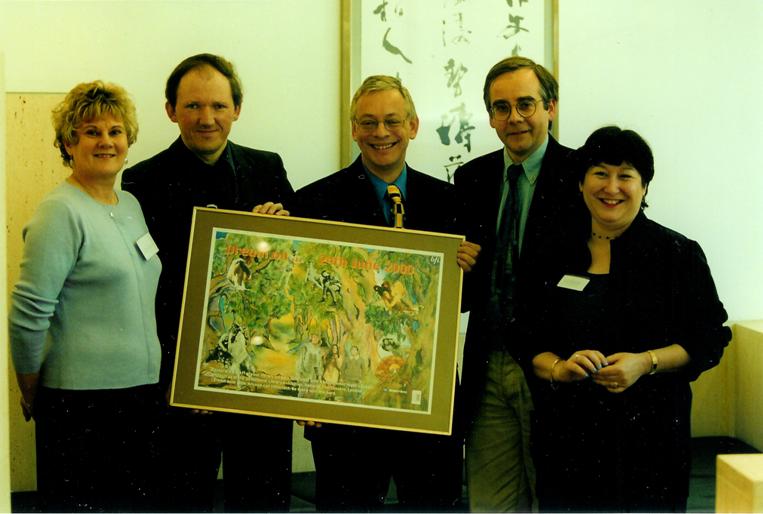 In this picture there is Muriel Mitchell, Jim Jackson, Bob McKee, David Sharp, and Karen Newton. David Sharpe was from the British Film Institute and agreed the sponsorship of the poster.  You can read about this event at: http://associates.ucr.edu/jackson300.html. The event was a huge success thanks to the help of library staff all over the world, the then Library Association (now CILIP ) and the British Film Institute.
My first visit to an Umbrella conference was in Manchester in 2003, where I attended a variety of seminars and networking events.  Bob was there of course and although surrounded by library managers and directors of various companies, Bob was still keen to say, 'Hi' to me and introduce me to other people.  I have always found such events useful for meeting people and developing a network of useful contacts. When CILIP decided to develop the Framework of Qualifications (FoQ), Bob was one of a number of officials who requested that front line staff be involved with the project.  After all, the project was for their benefit.  I attended various meetings of the FoQ over a period of time, during which feedback was always past to him for comment.  When at last we finished the project work and the FoQ was released, Bob was one of the first people to congratulate the Affiliates on their input to the scheme.  When the first people commenced the Certification programme there was enormous support for them.  Refer to http://associates.ucr.edu/305fjac.htm  for an article I wrote on the launch of the Certification program.  At the Umbrella conference in 2005 when the first Certification Awards were issued Bob was there to shake hands and congratulate the recipients.  A truly memorable event.
When the Umbrella conference was first help at the Hatfield campus of the University of Hertfordshire I was welcomed into the Sponsors lounge by a shout of 'Hi Jim glad you could make it – love the T-shirt'.  It was Bob in full voice and as full of enthusiasm as ever for my American Library Association T-shirt.
There was some tough talking when we started the process of asking for Affiliates to be given the right to vote at CILIP AGM's.  Many hours were spent discussing options and possibilities, and it was not an easy task.  However, after much discussion it was put to the vote and was supported by Bob at the AGM in 2008.  Afterwards Bob commented that now we had the vote what did we want next?  I replied how about the chance to join the new Policy Forum and for an Affiliate to become the President one year?  Well, we have had input to the Policy Forum and helped shape it to carry out what was intended.  As for the President – well we are waiting for is the right candidate!
Bob's lasting legacy I hope will be an acceptance that library staff of all grades from Directors to shelver's, are important in their own way, and he would do his best to promote their services and careers.  At a time when libraries are under so much threat from budget cuts Bob was there in the midst of the fighting – fighting for our future.  His retirement would have given him time to concentrate on service provision for everyone but sadly this was not to be the case.
His passing is a great loss to everyone, his family, his friends and the library community in general and I for one am privileged to have known him.
877 views